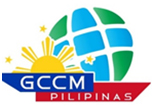 Global Catholic Climate Movement – Pilipinas
Rm 206, One Annapolis Building, #5 Annapolis St.
Cubao, Quezon City, Philippines
April 26, 2017
Dear Friends/Partners,
Greetings of love and peace from the heart of creation and from the very Heart of Our Loving Creator!
On April 29th, the 100th Day of the Trump administration, thousands will be in the streets of Washington D.C. and all over the US to show their government and the world that they are standing for the wellbeing of our planet. Solidarity events of the same kind will also happen in many parts the world.
In the Philippines, the Global Catholic Climate Movement – Pilipinas, together with various groups from different sectors of society will organize a solidarity activity in Manila to raise awareness and to highlight our own issues on climate change and human rights and also the current and possible impacts of the Trump Administration in our country.
Dubbed 'Beat the Heat, Cool the Planet', the solidarity activity will aim to gather members from faith based groups/institutions, climate justice organizations, human rights advocates and affected communities.
We invite you then to participate, organize and join the call for solidarity for human rights, climate justice and for the protection of our common home.
Program of Activities:
6:00 - 7:00PM Eucharist
Malate Church
7:00 - 7:15PM Candle Lighting/Vigil
Malate Church
7:15 - 7:40PM Peoples Climate March
around Plaza Rajah Sulayman
7:40 - 9:00PM Program and Cultural Presentation
Plaza Rajah Sulayman
Hoping for your active presence.
For Earth - our Common Home,

Fr. John Leydon
Chairperson, GCCM-Pilipinas
A Christmas Message from our Parish Priest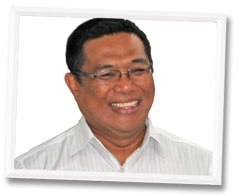 On the occasion of the great feast of Christmas, I wish all the parishioners and guests of the Our Lady of Remedies Parish – Malate Catholic Church, the joys and blessings of Christmas and a grace-filled New Year.
This year has indeed brought much joy, fun and challenges to us in different measures coloring our memories of 2016. Many exciting things came our way as we keep striving to grow as a parish, serving our community, and promoting God's mission among us and in this world.
To the alarming conditions brought about by climate change and to the life-threatening social and economic challenges facing our country nowadays which continue to cause concern and anxiety for many, the parish has been working together for a collective response through our existing and upcoming parish programs and trusting our "Emmanuel" (God is with us).
Christmas is an opportunity to thank so many Parishioners and supporters who are helping the parish with financial and material resources, and especially our parish volunteers who have been quite active in some form of ministries, organizations or parish activity. They have given tirelessly, generously, and joyfully of their time, talents and services making this parish such an energetic and faith-filled community. This is what gives life and will continue to give life to the parish.
In this 'Year of the Parish', we hope to build and strengthen the communion of our communities and to challenge or encourage more people to become more involved. I pray that the grace of Christmas will brighten our lives, renew our faith and enthusiasm and strengthen our bonds of friendship. May we all be blessed with peace and joy at Christmas and in the New Year!
Rev. Fr. Leonito Distor
Parish Priest
MESSAGE
Roman Catholic Archbishop of Manila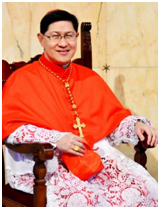 November 20, 2016, the Solemnity of Christ the King, is the closing of the Extraordinary Jubilee of Mercy. It is also the fiesta of your parish, Our Lady of Remedies (Malate Church). I thus warmly greet all of you Happy Fiesta and proclaim: Christus Vincit. Christus Regnat. Christus Imperat. (Christ conquers, Christ reigns, Christ commands). With all these events your fiesta acquires multi-dimensional significance. Mary, our Lady of Remedies, is the Mother of Mercy and her Son, Jesus Christ, is God's gift of mercy to us. Jesus is mercy.
Throughout the Holy Year of Mercy, we reflected on the mercy of God for us. We delved into its meaning and manifestation. We looked into ourselves and asked, "Is God's mercy in us?" Your fiesta celebration points you to Mary, the Mother of Jesus, as the path to all remedies. It is because she knows Mercy first hand; she bore Him in her womb. There is no earthly suffering that she cannot bring to her Son, and which her Son cannot understand. In our celebration of our Holy Year of Mercy, Mary was our fellow pilgrim. She leads us to her Son.
Let this be your enduring lesson from these celebrations: God's gift of mercy Jesus Christ borne in the womb of Mary, our Lady of Remedies, our Mother of Mercy.
+ Luis Antonio G. Cardinal Tagle
Archbishop of Manila
MESSAGE
Apostolic Nunciature – Manila, Philippines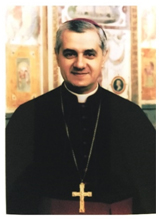 It is my pleasure to send heartfelt greetings to the community of the Our Lady of Remedies Parish in Malate, Manila, as they celebrate their Annual Parish Fiesta.
This is made more significant by the fact that the occasion falls on the closing of the Extraordinary Jubilee Year of Mercy declared by Pope Francis from December 8th, 2015 to November 20th, 2016.
In
Misericordiae vultus
, the Bull of Indiction of the Holy Year, Pope Francis tells us:
"No one has penetrated the profound mystery of the incarnation like Mary. Her entire life was patterned after the presence of mercy made flesh. The Mother of the Crucified and Risen One has entered the sanctuary of divine mercy because she participated intimately in the mystery of His love… Mary attests that the mercy of the Son of God knows no bounds and extends to everyone, without exception. Let us address her in the word of the Salve Regina, a prayer ever ancient and ever new, so that she may never tire of turning her merciful eyes upon us, and make us worthy to contemplate the face of mercy, her Son Jesus (no. 24)."
I cordially greet the Priests, the Pastoral Council and all the parishioners of Malate Catholic Church. I pray that this Fiesta Celebration may also be an occasion to renew together your commitment to be promoters of God's mercy in a world that is very much in need of it. In the name of His Holiness Pope Francis, I bless you.
Archbishop Giuseppe Pinto
Apostolic Nuncio to the Philippines
3 November 2016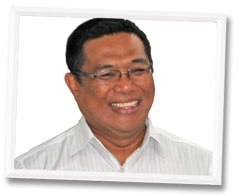 I am delighted to extend my heartfelt greetings to all the parishioners and devotees of Our Lady of Remedies as we, once again, are gearing up together for the Fiesta celebration with its highlight on November 20 in this year of the Eucharist and the Family and in the Jubilee of Mercy. Our theme this year is, "Maria at Pamilyang Pilipino, mga Misyonero ng Eukaristiya sa Taon ng Awa".

Everything about Mary is about Jesus. She is deeply associated with her Son, Jesus, who gave himself as the Living Bread for the life of the world by his sacrifice on the cross. Mary lived out a Eucharistic sacrifice that seeks to give her whole self to God in works of love and service so as to enter into the work of redemption for all of creation. In reference to the reflection on the 51st Eucharistic Congress in Cebu last January, 'Mary summons us to take it to heart in thanking God who has done great favors to us and to the rest of creation; in offering of oneself in union with Christ's offering of himself to the Father, in interceding for the needs of all and in nourishing life.' This is not only a Christian vocation but a human vocation, a family vocation, a Filipino vocation.

May Our Lady of Remedies, a sign of hope, inspire us and accompany us throughout life, opening our hearts to faith and constantly surround us with God's love.

Rev. Fr. Leonito Distor
Parish Priest