Urbi Et Orbi (to the city [Rome] and the world)
Message of His Holiness Pope Francis
Easter 2017
Dear Brothers and Sisters, Happy Easter!

Today, throughout the world, the Church echoes once more the astonishing message of the first disciples: "Jesus is risen!" – "He is truly risen, as he said!"

The ancient feast of Passover, the commemoration of the liberation of the Hebrew people from slavery, here finds fulfillment. By his resurrection, Jesus Christ has set us free from the slavery of sin and death, and has opened before us the way to eternal life.

All of us, when we let ourselves be mastered by sin, lose the right way and end up straying like lost sheep. But God himself, our shepherd, has come in search of us. To save us, he lowered himself even to accepting death on the cross. Today we can proclaim: "The Good Shepherd has risen, who laid down his life for his sheep, and willingly died for his flock, alleluia" (Roman Missal, IV Sunday of Easter, Communion antiphon).

In every age, the Risen Shepherd tirelessly seeks us, his brothers and sisters, wandering in the deserts of this world. With the marks of the passion – the wounds of his merciful love – he draws us to follow him on his way, the way of life. Today too, he places upon his shoulders so many of our brothers and sisters crushed by evil in all its varied forms. The Risen Shepherd goes in search of all those lost in the labyrinths of loneliness and marginalization. He comes to meet them through our brothers and sisters who treat them with respect and kindness, and help them to hear his voice, an unforgettable voice, a voice calling them back to friendship with God.

He takes upon himself all those victimized by old and new forms of slavery, inhuman labour, illegal trafficking, exploitation and discrimination, and grave forms of addiction. He takes upon himself children and adolescents deprived of their carefree innocence and exploited, and those deeply hurt by acts of violence that take place within the walls of their own home.

The Risen Shepherd walks beside all those forced to leave their homelands as a result of armed conflicts, terrorist attacks, famine and oppressive regimes. Everywhere he helps these forced migrants to encounter brothers and sisters, with whom they can share bread and hope on their journey.

In the complex and often dramatic situations of today's world, may the Risen Lord guide the steps of all those who work for justice and peace. May he grant the leaders of nations the courage they need to prevent the spread of conflicts and to put a halt to the arms trade.

Especially in these days, may he sustain the efforts of all those actively engaged in bringing comfort and relief to the civil population in beloved Syria, so greatly suffering from a war that continues to sow horror and death. Yesterday saw the latest vile attack on fleeing refugees, resulting in the death and injury of many. May he grant peace to the entire Middle East, beginning with the Holy Land, as well as in Iraq and Yemen. May the Good Shepherd remain close to the people of South Sudan, Sudan, Somalia and the Democratic Republic of Congo, who endure continuing hostilities, aggravated by the grave famine affecting certain parts of Africa.

May the Risen Jesus sustain the efforts of all those who, especially in Latin America, are committed to ensuring the common good of societies marked at times by political and social tensions that in some cases have resulted in violence. May it be possible for bridges of dialogue to be built, by continuing to fight the scourge of corruption and to seek viable and peaceful solutions to disputes, for progress and the strengthening of democratic institutions in complete respect for the rule of law.

May the Good Shepherd come to the aid of Ukraine, still beset by conflict and bloodshed, to regain social harmony. May he accompany every effort to alleviate the tragic sufferings of those affected by the conflict.

The Risen Lord continues to shed his blessing upon the continent of Europe. May he grant hope to those experiencing moments of crisis and difficulty, especially due to high unemployment, particularly among young people.

Dear brothers and sisters, this year Christians of every confession celebrate Easter together. With one voice, in every part of the world, we proclaim the great message: "The Lord is truly risen, as he said!" May Jesus, who vanquished the darkness of sin and death, grant peace to our days.

Happy Easter!

(© Copyright - Libreria Editrice Vaticana)




We are Easter People… and 'Alleluia' is our song!
Fr. Kevin McHugh
One of our parishioners recently reminded me of a Homily I preached one Easter Sunday. It was the opening line that caught her attention. When spoken aloud there is something very solemn, very dramatic about it: We are Easter People… and 'Alleluia' is our song!

St Augustine, one of the great saints of the Church, was a Bishop in the country we now call Algeria. One Easter morning, about 1600 years ago, while preaching in his Cathedral he spoke these immortal lines:

"If we were silent about the joy that comes from the risen Jesus,
the very stones of our cities would cry out.
For we are Easter People and 'alleluia' is our song"!

Here in Malate church we 'sing our song' during the Easter Vigil which begins at 3:00AM. Yes, that's right, 3AM! Those who have been able to join in this dawn celebration will recall the jubilation that is expressed in the opening verses of the magnificent hymn of praise – the Easter Proclamation.

Rejoice, heavenly powers! Sing, choirs of angels!
Rejoice and dance, bright stars and blazing suns!
Jesus Christ, our King, is risen!
Sound the trumpet of salvation.

Let our joyful voices resound this night!
Let God's people rejoice on this Day of days.
With joyful hearts and spirits set afire
draw near to sing this Easter Candle's praise!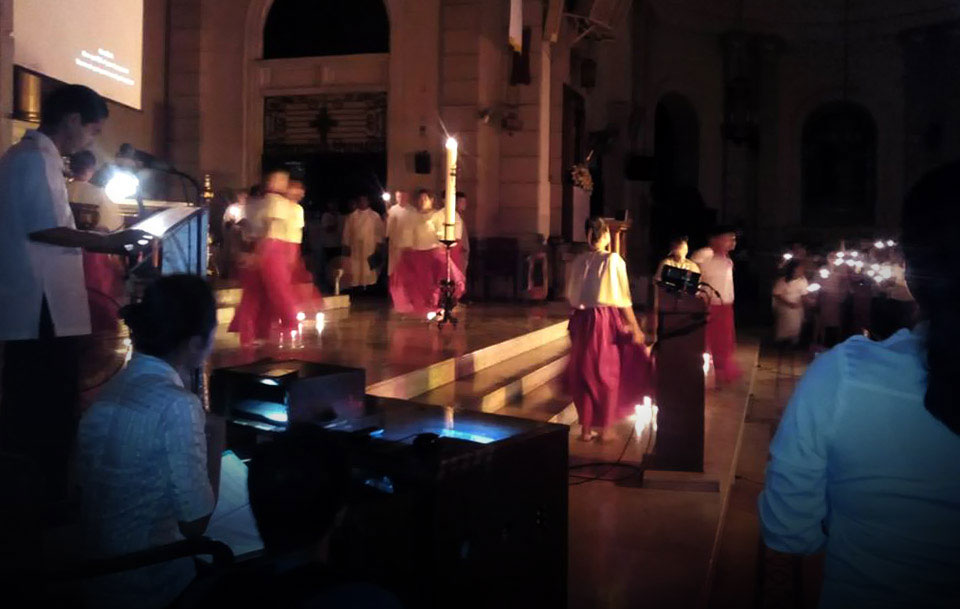 A group of dancers then perform the Pandango sa Ilaw around the Candle as if to say, the Christian community of Malate welcomes the Risen Christ.

The celebration of Christ's Passover from death to life – the Passover of the Christian community – draws powerfully on the rich imagery of the Old Testament Passover stories: the sacrificial lamb, the Passover meal, the passage through the Sea of Reeds, and the entry into the Promised Land.

In the early part of the Vigil the dominant symbol is the Paschal Candle. It is both the 'pillar of fire' that led the people of the old covenant through the wilderness, and the light of the risen Christ that shines in the lives of the people of the new covenant. It is placed in a prominent place in the Sanctuary and is lighted for Liturgical Services during the whole fifty days of Eastertide.

Why is the Easter Vigil the most important celebration in our Christian calendar? Because after joining the disciples in an experience of sorrow and defeat we publicly attest to the foundation of our faith: Christ is Risen!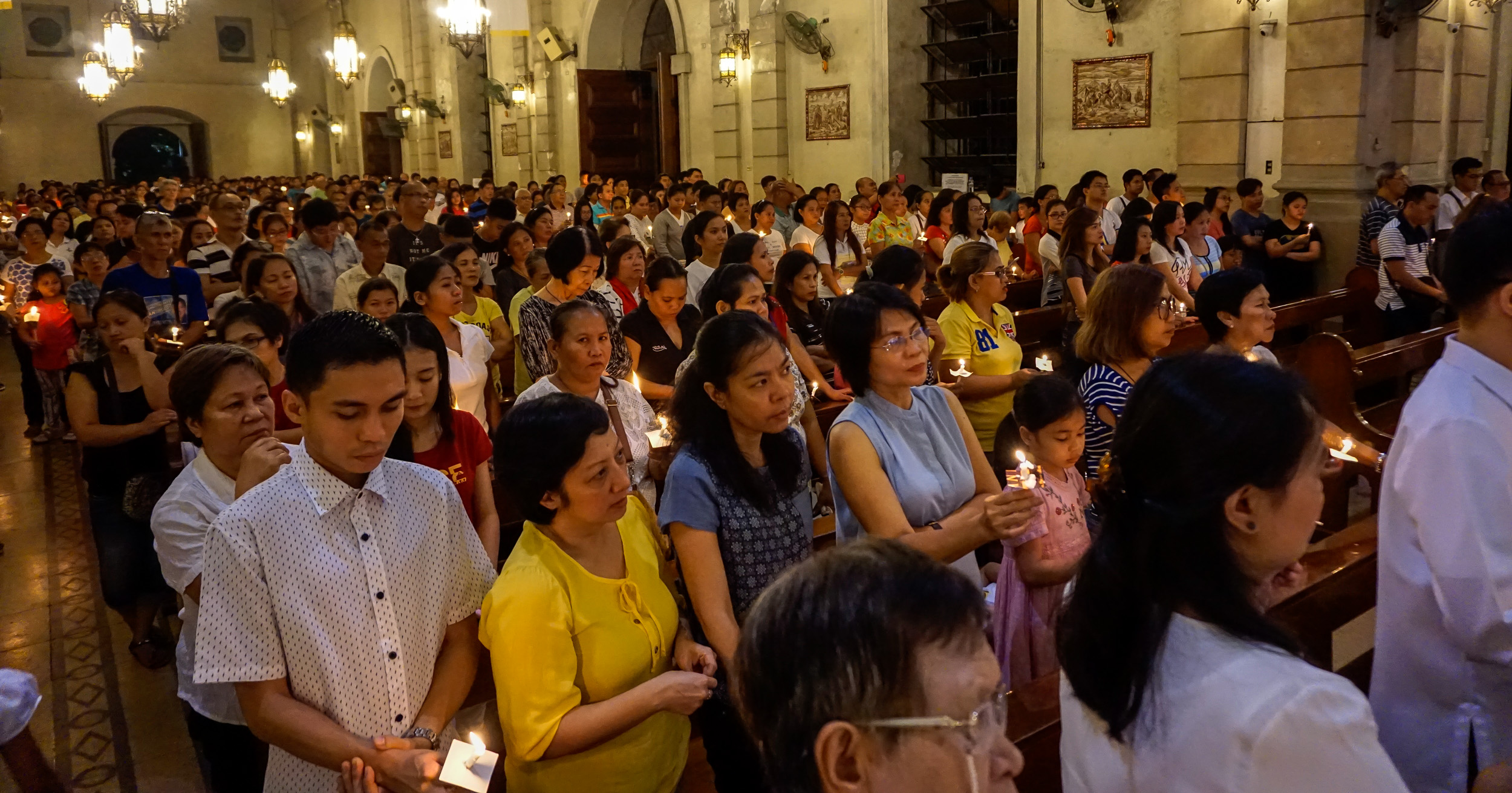 He has conquered all the forces of evil arraigned against him.
By his Death and Resurrection he showed the world that:

Light is stronger than Darkness.
Good is stronger than Evil.
God is more powerful than Satan
Life is stronger than Death!

Jesus opposed the forces of evil in this world and for this he was killed. But this was not the end; Jesus was raised by the Father and is gloriously alive among us today.

It is because of Christ's victory over the forces of evil that we, the baptized, can walk with faith and hope in the newness of life. We can face failure and rejection, persecution, and even death itself knowing that the God of Jesus is also our God who will never desert us.

So, dear readers, with Christians all over the world, let us rejoice during this Easter Season. Christ is risen! Hallelujah! We are Easter People… and 'Alleluia' is our song!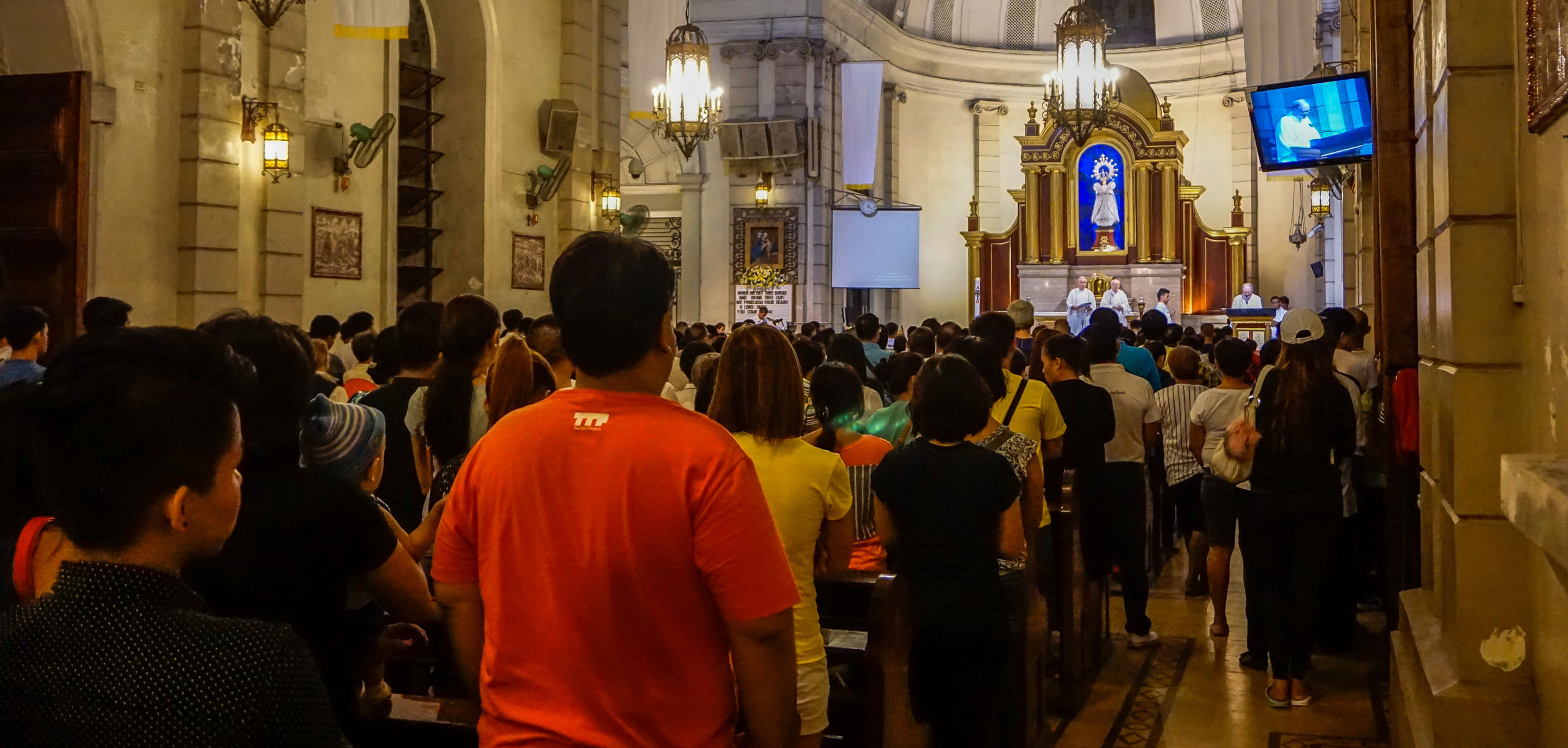 Dust You Are and Unto Dust You Shall Return!
Fr. Kevin McHugh
These are the words you will hear on Ash Wednesday when the Priest or Lay Minister puts ashes on your forehead.

There has been a long custom in our Church to make ashes from palms that were used on the previous Palm Sunday. Ashes are like dust. But what does it mean when we say that we came from the dust of the earth? The Bible does not give us a scientific answer but the Book of Genesis describes the emergence of humanity into our world in this way. "The Lord God formed man from the dust of the ground, and breathed into his nostrils the breath of life; and the man became a living being." (Gen 2:7). We believe that that we have come from Creator God. We are not our own masters. We did not call ourselves into this life. We came from the breath and life of God.

The ashes are reminders of our littleness before God. We are all equal in the sight of God; men and women, young and old, sinner and saint. In themselves, ashes have no value – except in the sight of God. They are nothing but dust. We are nothing without God.

At the beginning of Lent, through the Signing of the forehead with ashes in the form of a Cross, the Church challenges us to take a fresh look at our lives. The message is clear. Don't delay, don't hesitate, now is the time to "Come back to me with all your heart" (Joel 2:12).

What is being asked of you this Lent? Is there something in your life that you need to deal with because you know it is holding you back from wholeheartedly following Jesus? An injury you can't forgive, a jealously that is gnawing at your heart, an anger that is 'eating you up'?

Take time this Lent, even five minutes a day, to sit quietly and look at your life. Ask the Holy Spirit to guide you. The more open and responsive we are to the promptings of the Holy Spirit, the quicker our heart is renewed. "I will give you a new heart and put a new spirit within you. I will remove the heart of stone from your bodies and give you a heart of flesh instead" (Ezek. 36:26).

The penances or little sacrifices we undertake express our desire for this new heart. God works with us and on us in this conversion process, shaping us like the potter forms her clay. How do we compare with those who indeed fasted and prayed but incurred the judgment of God because they neglected that which was far more important - justice? (Is. 58).

True conversion awakens in us a real concern for the plight of others, a determination to fight the causes of injustice, even at great cost to ourselves. "Rend your hearts and not your garments" (Joel 2:12).

Down through the centuries our church, following the Gospel of Ash Wednesday (Matt.1-6, 16-18), encourages us to PRAY, FAST and GIVE ALMS.

In closing I will relate a true story. True, because it happened to me when I was a young boy of 13, a student in a Boarding School for Boys. I 'gave up', that is, I fasted from eating candies for the whole of Lent. Any candies that I received from others I put in a 'supot' and kept for myself. I ate them all on Holy Saturday as I travelled to my home – a four hour journey by bus. I fasted from candies - Good; but I did not share them with others -Bad, Selfish. I had missed the whole point of the exercise. Following the practice of the Death Squad people I should have printed on my T-shirt, DON'T FOLLOW ME!

What are you going to 'give up' or abstain from this Lent? Here are a few suggestions. For children / youth. Depending upon your age you might consider: Cutting down the time on the Computer / Cellphone from 10 hours a day (joke lang) to 1 hour. No drinking of "soft drinks". Limiting yourself to one Snack a day. Offering to help your mother with household chores. Come home from School at the agreed time – it will save you from being scolded, so it is a Win-Win decision. Go to Mass every Sunday during Lent. Befriend someone in school that has few friends.

For Adult men: I will NOT ALLOW other people to make me angry by the way they drive. I will not drink Alcohol….watch inappropriate material on my Computer….. waste time and money in the Casino.

For Mothers. I will spend quality time with my teenage children every Sunday. I will try to convince my family to come together in our home for one meal every Sunday. I will try to minimize the consumption of Water, Electricity, and Plastics in my home.

The Lord is calling all of us to take seriously the words of the Prophet Micah:
"The Lord has shown you what is good.
He has told you what he requires of you.
He wants you to promote justice.
You must love to show mercy.
And you must be humble as you live in the sight of your God." (Micah 6.8.)

Points to ponder:
Do you know of people who would admit that their lives are 'in ashes'?

Do you know people who, though no fault of their own have 'bit the dust of the earth; those who live on the dust of the earth and not in a house, who squat on the bare floor; those who have eked out from the dust just enough to have a small pot of rice for a large family.

There are also those who cry out from the ashes of a broken marriage; or children who suffer from the dust of verbal and physical and sometimes sexual abuse.

We all know people like this so during Lent we are challenged to join the HAPAG-ASA Program of the Archdiocese.


A Woman of No Distinction
By Chris Kinsley & Drew Francis
2007
I am a woman of no distinction
of little importance.
I am a women of no reputation
save that which is bad.

You whisper as I pass by and cast judgmental glances,
Though you don't really take the time to look at me,
Or even get to know me.

For to be known is to be loved,
And to be loved is to be known.
Otherwise what's the point in doing
either one of them in the first place?

I WANT TO BE KNOWN.

I want someone to look at my face
And not just see two eyes, a nose,
a mouth and two ears;
But to see all that I am, and could be
all my hopes, loves and fears.

But that's too much to hope for,
to wish for,
or pray for
So I don't, not anymore.

Now I keep to myself
And by that I mean the pain
that keeps me in my own private jail
The pain that's brought me here
at midday to this well.

To ask for a drink is no big request
but to ask it of me?
A woman unclean, ashamed,
Used and abused
An outcast, a failure
a disappointment, a sinner.

No drink passing from these hands
to your lips could ever be refreshing
Only condemning, as I'm sure you condemn me now
But you don't.

You're a man of no distinction;
Though of the utmost importance.
A man with little reputation, at least so far.

You whisper and tell me to my face
what all those glances have been about, and
You take the time to really look at me.
But don't need to get to know me.

For to be known is to be loved and
To be loved is to be known.

And you know me.
You actually know me;
all of me and everything about me.
Every thought inside and hair on top of my head;
Every hurt stored up, every hope, every dread.

My past and my future, all I am and could be.
You tell me everything,
you tell me about me!

And that which is spoken by another
would bring hate and condemnation.
Coming from you brings love, grace,
mercy, hope and salvation.

I've heard of one to come
who could save a wretch like me
And here in my presence, you say
I AM He.

To be known is to be loved;
And to be loved is to be known.

And I just met you.
But I love you.
I don't know you,
but I want to get to.

Let me run back to town
this is way to much for just me.
There are others: brothers,
sisters, lovers, haters.

The good and the bad, sinners and saints
who should hear what you've told me;
who should see what you've shown me;
who should taste what you gave me;
who should feel how you forgave me.

For to be known is to be loved;
And to be loved is to be known.
And they all need this, too.
We all do
Need it for our own.


I brought a young Filipino priest to his new parish, until then cared for by Columban missionaries.
"How do you like your new assignment?" I asked him when we met a month later.
"Fantastic", he replied, adding a comment which I will never forget:
"The people will convert me – if I let them!"

In 2016, I needed to somehow thank my family and friends whose hearts went out to the survivors of the horrific typhoon that, overnight, killed seven thousand Filipinos.

I put together a small book of short stories about a few of the people who converted and inspired me.
Such people have made me more thankful for the gift of life, the joy of the Gospel, and the call to mission.

I am happy to share a selection on the Malate parish website.


~ Fr. Michael Martin
Columban Missionary


Forgiveness - Elmer Rex
By Fr. Michael Martin
Excerpts from "Walking in Their Light"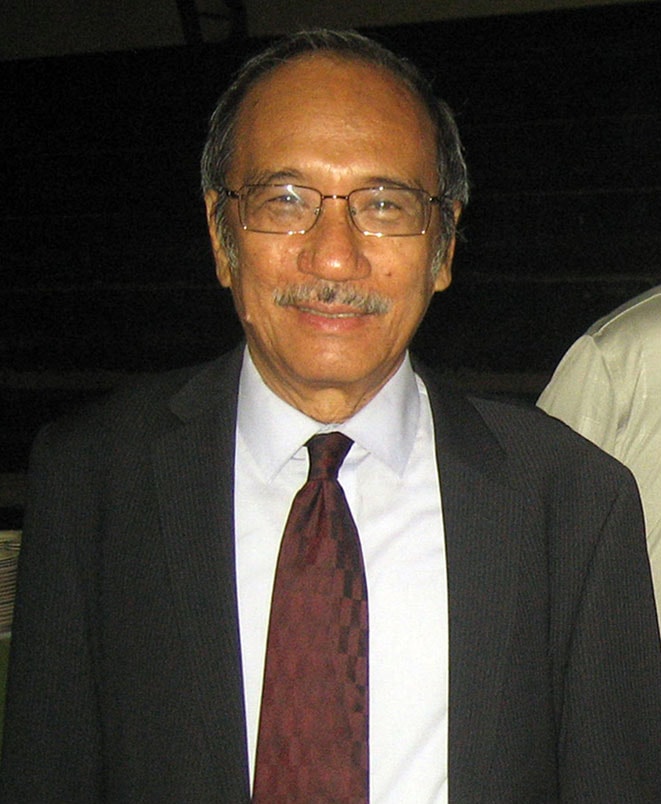 Elmer Rex - This man chose to break the chain of violence.
Going back to Kabankalan, even for a short visit, was a pleasure; I had spent ten years there, it was home away from home.

This time, I was chatting to the relatively new Filipino parish priest, Msgr. Pepe Iledan, when the phone rang. Obviously an emergency, it was a call for him from the local hospital: "Please come over, Elmer Rex has been shot".

In shock, both of us hurriedly got into the nearest vehicle, which was the one I had driven there earlier, and rushed immediately to the town's small, but always busy, hospital. Informed that Elmer was alive and conscious, my companion went straight to him, knowing I would check on other available resources. There were two doctors with Elmer Rex and several nurses were assisting them; he had been shot at close range just above his neck in the back of his head, and they had intervened to limit and stop the bleeding.

The bad news was that the hospital had no X-Ray equipment, and the doctors had no way of knowing what brain damage he might have suffered. We all knew the nearest hospital with proper equipment and specialist doctors was a hundred kilometres away in the city of Bacolod. Kabankalan had its own ambulance, but that had gone off with another patient a short while earlier.

The first good news was that the bullet seemed to be embedded in the skull bone, but obviously treatment was urgent. The immediate available alternative transport was the vehicle I was using, a Toyota HiAce Van. It's usual driver was not with me, so I readily offered to drive, and, within minutes we were on our way, accompanied by a doctor and a few hospital personnel, including Elmer Rex's wife Cecile, who was in fact the head nurse in the hospital.

Elmer Rex and his wife and family were long-time friends. A geologist, he worked for a wealthy enterprising family and in addition, with four young socially conscious town mates, published a local newspaper. Their paper was special; it promoted transparency and accountability, and exposed anomalies.

Politically, Elmer represented those who were most dedicated to social change; he was a friend and adviser to the Church-supported organizers of sugar cane workers and small settler farmers in the hills. He was actually walking towards the office of a Church-sponsored group working with detainees when he was shot from behind, at almost point blank range. He was seen as a threat by some of those entrenched in power. His wife had recently been attacked by a man wielding a knife, so they had been warned.

The result of our mad rush to the city was that Elmer Rex got to the hospital, got an x-ray, was properly treated, and fully recovered. The bullet which was intended to destroy him was a .45 calibre, and it lodged in the skull bone – at its hardest and thickest point - at the back of his head. The surgeon said that the bullet was within a fraction of a millimetre from reaching his brain. He was a lucky man to be alive.

Looking back, the fact that the engine of our HiAce vehicle died out as we entered the city, and we had to transfer all our load to a local shuttle bus, is of little significance to the story – but it did not seem like that to us at the time when we were rushing a seriously injured friend for emergency surgery and treatment.

Elmer, Cecile, and their three children later emigrated to the U.S.A., and brought with them their talents, their love of the Philippines, and their faith. Over the years, we Columbans enjoyed visiting them as friends and seeing their lives as a blessing to many.

In recalling the past, pain is unavoidable, but their forgiveness of those who attacked them stands out. "How can we call ourselves Christians if we get caught up in a chain of violence and retaliation?" the family reflected, "Someone has to stop the cycle of violence." Elmer vividly remembers the shot that was meant to silence him, and says "I prayed for life, I prayed that I would continue to be a voice that would denounce the injustice which breeds violence.

God has given me a voice and extra time so that somehow, wherever we are, we will be life-giving, and forgiving."

Life-giving, yes indeed; forgiving, certainly; light giving, absolutely.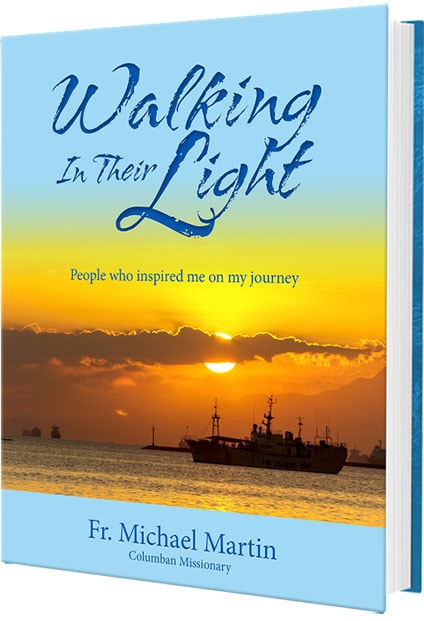 This material is protected by copyright. For more information please write to walkingintheirlight@gmail.com



Advent with Mary
By Sr. Redempta Twomey
December 6, 2016
Advent is the gentlest of times. It is Mary's time and your time and the time when, if you open your heart, you will be aware of a quiet, persistent call underlying all the hard and harsh and difficult things in your life. You are being asked to let go of your very real anxieties, your recurring fears and to trust in the mystery of this time. It takes a good deal of courage and commitment to stay waiting with Mary.

She has so many ways of being present to us, but it is especially in Advent that we meet Mary as one who understands our vulnerability, the terrible fragility of our being human. A young woman, pregnant and with little support, she knows the road we walk. Here she is in the final weeks of her pregnancy, tired from the long journey to Bethlehem, among strangers, alone with poor, anxious Joseph. No angel now. No Elizabeth to help her.

St Paul has written of this great mystery of the Incarnation, 'hidden from all eternity'; saints have exulted in the glory of this unassuming woman; artists have painted her on a thousand canvases, made sculptures, composed great music to honor her. We recognize her as "the highest honor of our race."

But what did Mary know in those final weeks of her pregnancy? What did she have to sustain her, to comfort her at this critical time when the birth of the infant in her womb was imminent? The bleakness and poverty of her surroundings - like so many back alleys, refugee camps or shacks today - were a far cry from the angel's stirring words, the promise of "the throne of David his father" (Lk 1:32). She didn't understand; she reflected over and over on her situation. Regardless of the extraordinary circumstances, of there being 'no room at the inn', of her being without her kin at this most crucial time in a young woman's life, of being far from home and from all that was familiar, she first of all and above all, trusted in God's word to her. She believed. This is what Elizabeth saw and what she sang out so that we, down the centuries, could look at Mary and join in this great song: "Blessed is she who believed" (Lk 1:45).

We can take stock of our lives, often bleak, often anxious, littered with broken promises, with failures and betrayals. It may be that we have no one to help us, no friend to turn to, no hope for the future. Mary knows our situation, understands us like a mother and will help us to believe in God's promises, even as she did. Wait with her this Advent, trust her; she will bring you to her Son.

"Following her, you will never go astray. Asking her help you will never despair. Keeping her in your thoughts, you will never wander away. With your hand in hers, you will never stumble. With Mary protecting you, you will not be afraid. With Mary leading you, you will never tire. Her kindness will see you through to the end." (St Bernard).

Columban Sr. Redempta Twomey is the Assistant Editor of The Far East Magazine in Ireland.



Self-confessed Sinners
By Fr. Kevin McHugh, MSSC

It is over 30 years ago since I heard the story about an Indian Jesuit priest who conducted a Retreat for a group of Religious Sisters here in Manila. One of the statements that helped change my life and my ministry was this. God loves us before we sin, while we are sinning and after we have sinned. And therefore, God forgives us before we sin, while we are sinning and especially after we have sinned. I have tried to apply all this to myself and find that while I believe in my head that this is true, I still find the need to confess my sins…. to "go to confession".

As a Confessor, I have shared this insight with those penitents who had been away from Confession for many years and were carrying a heavy load of guilt. The fear, the doubt that they could ever be forgiven had prevented them from plucking up the courage to go to confession. To know that they had already been forgiven by a merciful God was great news for them; they could now lay down their heavy burden since there was no need to carry it any further.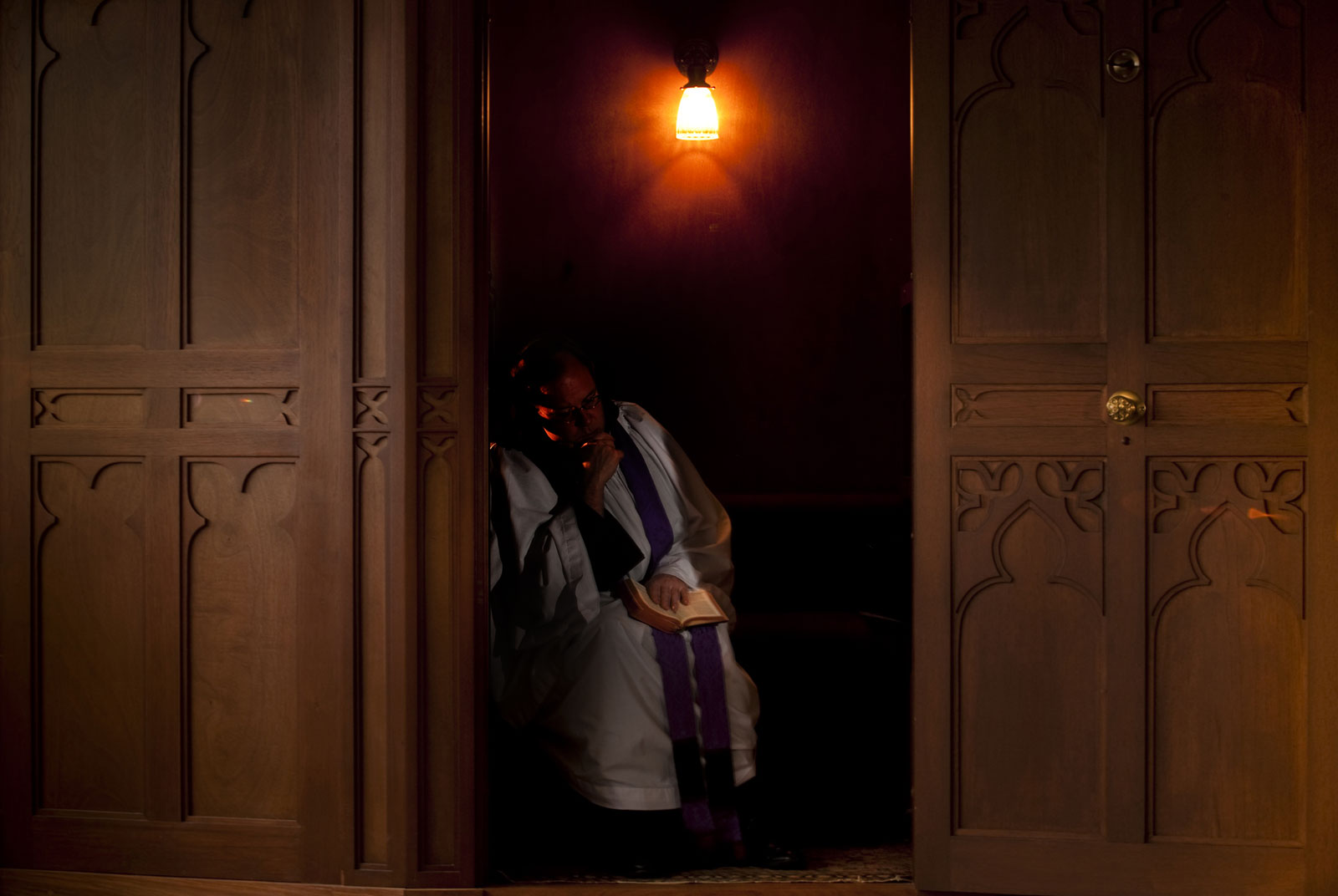 Recently, I chanced to read an article by the late Dominican Theologian, Fr. Herbert McCabe, which gave me additional assurance that what I had been sharing with penitents over the years was accepted Catholic teaching. In Self-Confessed Sinners McCabe says: "When you come to confession, to make a ritual proclamation of your sin…. you are not coming in order to have your sins forgiven…… you come to celebrate that your sins are already forgiven".

To emphasize his point, McCabe says in another place: "You are not forgiven because you confess your sin. You confess your sin because you are forgiven".

Most of us have the mistaken notion that we have to "earn" God's mercy. We have to plead for it, otherwise it will not be granted.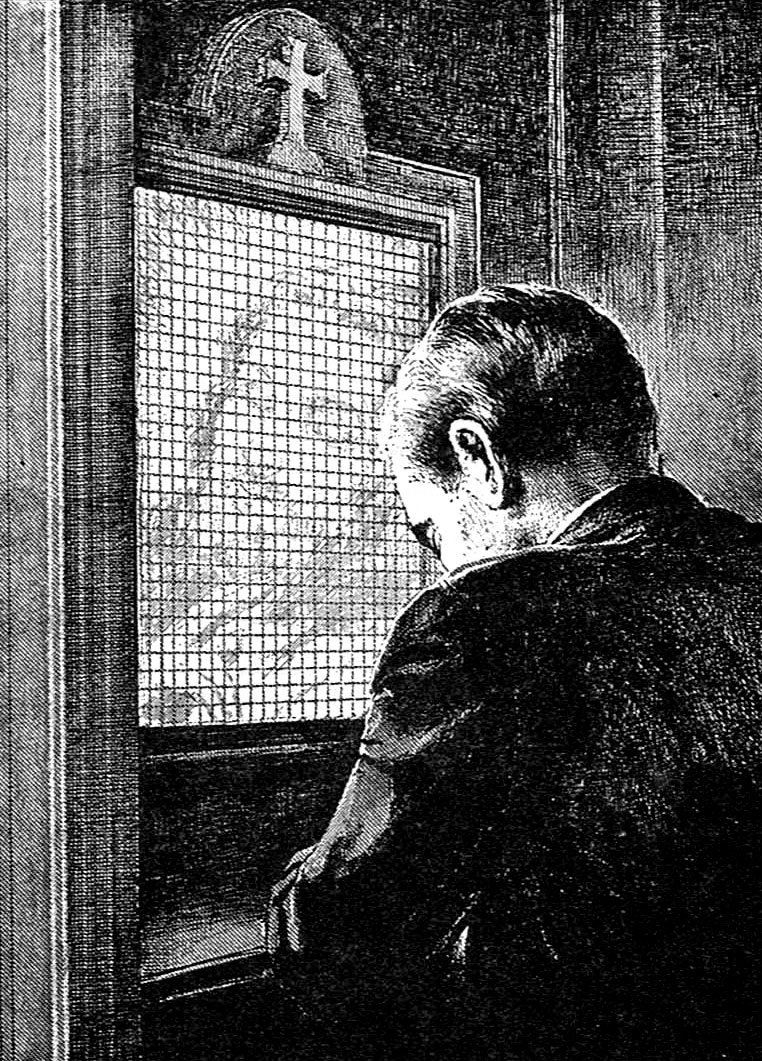 McCabe continues, "Never be deluded into thinking that if you have contrition, if you are sorry for your sins, God will come and forgive you – that he will be touched by your appeal, change his mind about you and forgive you. Wrong thinking! God never changes his mind about you. He is simply in love with you. This is all the real God ever does, because God, the real God, is just helplessly and hopelessly in love with us. He is unconditionally in love with us". "God's love for us doesn't depend on what we do… or what we are like. God doesn't care whether we are sinners or not. It makes no difference to him. He is just waiting to welcome us with joy and love."

The three parables of Jesus as relayed in Chapter 15 of St Luke's Gospel underline this basic truth about God. All three have similar endings. They describe how an ordinary Housekeeper, a conscientious shepherd and a prodigal father insist on a feast to celebrate that what was lost has been found.

In the Opening Prayer that we occasionally use at Mass here in Malate, we pray:

"What do you look like, O God of compassion?
A shepherd who carries home the lost sheep:
a woman who sweeps the whole house to find a single coin:
a father who never gives up hope that the child who hurt him
will come home to be loved.
So in Jesus you have come searching for us -
and when you find us, you welcome us with open arms
May we never forget how much we are loved.
May we never refuse to love others as much.
We ask this through Christ our Lord. AMEN".

In this YEAR OF MERCY, may we all take to heart the advice of Pope Francis and approach the Sacrament of Reconciliation because we know that we have already been forgiven by a loving, merciful God.


Pope Francis' homily at the Mass of the Easter Vigil
"Peter ran to the tomb." (Lk 24:12) What thoughts crossed Peter's mind and stirred his heart as he ran to the tomb? The Gospel tells us that the eleven, including Peter, had not believed the testimony of the women, their Easter proclamation. Quite the contrary, "these words seemed to them an idle tale" (v. 11). Thus there was doubt in Peter's heart, together with many other worries: sadness at the death of the beloved Master and disillusionment for having denied him three times during his Passion.

There is, however, something which signals a change in him: after listening to the women and refusing to believe them, "Peter rose" (v. 12). He did not remain sedentary, in thought; he did not stay at home as the others did. He did not succumb to the sombre atmosphere of those days, nor was he overwhelmed by his doubts. He was not consumed by remorse, fear or the continuous gossip that leads nowhere. He was looking for Jesus, not himself. He preferred the path of encounter and trust. And so, he got up, just as he was, and ran towards the tomb from where he would return "amazed" (v. 12). This marked the beginning of Peter's resurrection, the resurrection of his heart. Without giving in to sadness or darkness, he made room for hope: he allowed the light of God to enter into his heart, without smothering it.

The women too, who had gone out early in the morning to perform a work of mercy, taking the perfumed ointments to the tomb, had the same experience. They were "frightened and bowed their faces", and yet they were deeply affected by the words of the angel: "Why do you seek the living among the dead?" (v. 5).

We, like Peter and the women, cannot discover life by being sad, bereft of hope. Let us not stay imprisoned within ourselves, but let us break open our sealed tombs to the Lord so that he may enter and grant us life. Let us give him the stones of our rancour and the boulders of our past, those heavy burdens of our weaknesses and falls. Christ wants to come and take us by the hand to bring us out of our anguish. This is the first stone to be moved aside this night: the lack of hope which imprisons us within ourselves. May the Lord free us from this trap, from being Christians without hope, who live as if the Lord were not risen, as if our problems were the centre of our lives.

We see and will continue to see problems both within and without. They will always be there. But tonight it is important to shed the light of the Risen Lord upon our problems, and in a certain sense, to "evangelize" them. Let us not allow darkness and fear to distract us and control us; we must cry out to them: the Lord "is not here, but has risen!" (v. 6). He is our greatest joy; he is always at our side and will never let us down.

This is the foundation of our hope, which is not mere optimism, nor a psychological attitude or desire to be courageous. Christian hope is a gift that God gives us if we come out of ourselves and open our hearts to him. This hope does not disappoint us because the Holy Spirit has been poured into our hearts (cf. Rom 5:5). The Paraclete does not make everything look appealing. He does not remove evil with a magic wand. But he pours into us the vitality of life, which is not the absence of problems, but the certainty of being loved and always forgiven by Christ, who for us has conquered sin, death and fear. Today is the celebration of our hope, the celebration of this truth: nothing and no one will ever be able to separate us from his love (cf. Rom 8:39).

The Lord is alive and wants to be sought among the living. After having found him, each person is sent out by him to announce the Easter message, to awaken and resurrect hope in hearts burdened by sadness, in those who struggle to find meaning in life. There is so necessary today. However, we must not proclaim ourselves. Rather, as joyful servants of hope, we must announce the Risen One by our lives and by our love; otherwise we will be only an international organization full of followers and good rules, yet incapable of offering the hope for which the world longs.

How can we strengthen our hope? The liturgy of this night offers some guidance. It teaches us to remember the works of God. The readings describe God's faithfulness, the history of his love towards us. The living word of God is able to involve us in this history of love, nourishing our hope and renewing our joy. The Gospel also reminds us of this: in order to kindle hope in the hearts of the women, the angel tells them: "Remember what [Jesus] told you" (v. 6). Let us not forget his words and his works, otherwise we will lose hope. Let us instead remember the Lord, his goodness and his life-giving words which have touched us. Let us remember them and make them ours, to be sentinels of the morning who know how to help others see the signs of the Risen Lord.

Dear brothers and sisters, Christ is risen! Let us open our hearts to hope and go forth. May the memory of his works and his words be the bright star which directs our steps in the ways of faith towards the Easter that will have no end.

http://www.news.va/en/news/pope-at-easter-vigil-urges-us-to-let-risen-christ