GOSPEL
Matthew 13:1-23
On that day, Jesus went out of the house and sat down by the sea. Such large crowds gathered around him that he got into a boat and sat down, and the whole crowd stood along the shore. And he spoke to them at length in parables, saying: "A sower went out to sow. And as he sowed, some seed fell on the path, and birds came and ate it up. Some fell on rocky ground, where it had little soil. It sprang up at once because the soil was not deep, and when the sun rose it was scorched, and it withered for lack of roots. Some seed fell among thorns, and the thorns grew up and choked it. But some seed fell on rich soil, and produced fruit, a hundred or sixty or thirtyfold. Whoever has ears ought to hear."

The disciples approached him and said, "Why do you speak to them in parables?" He said to them in reply, "Because knowledge of the mysteries of the kingdom of heaven has been granted to you, but to them it has not been granted. To anyone who has, more will be given and he will grow rich; from anyone who has not, even what he has will be taken away. This is why I speak to them in parables, because they look but do not see, and hear but do not listen or understand. Isaiah's prophecy is fulfilled in them, which says: You shall indeed hear but not understand, you shall indeed look but never see. Gross is the heart of this people, they will hardly hear with their ears, they have closed their eyes, lest they see with their eyes and hear with their ears and understand with their hearts and be converted, and I heal them.

"But blessed are your eyes, because they see, and your ears, because they hear. Amen, I say to you, many prophets and righteous people longed to see what you see but did not see it, and to hear what you hear but did not hear it.

"Hear then the parable of the sower. The seed sown on the path is the one who hears the word of the kingdom without understanding it, and the evil one comes and steals away what was sown in his heart. The seed sown on rocky ground is the one who hears the word and receives it at once with joy. But he has no root and lasts only for a time. When some tribulation or persecution comes because of the word, he immediately falls away. The seed sown among thorns is the one who hears the word, but then worldly anxiety and the lure of riches choke the word and it bears no fruit. But the seed sown on rich soil is the one who hears the word and understands it, who indeed bears fruit and yields a hundred or sixty or thirtyfold."


The Parable of the Sower - 16 July 2017
Reflection / Homily
Brother Erl Dylan Tabaco


What kind of ground are we? What kind of preparations have we done so far in order for the seed of faith to get into the depths of our hearts, germinate and yield a bountiful harvest? These are the questions that we need to ponder as we examine the kind of life that we have.

During my final comprehensive exam in theology, one of my panelists asked me, "Why do we need to make a sign of the cross? How would you explain the gesture that we are doing when we touch our forehead, our chest and our shoulder?" It sounded easy because we used to do this before and after any activity. But when I reflected on the gestures about touching our forehead (representing the Father), our chest (representing the Son) and our shoulders (representing the Holy Spirit), the first thing that came to my mind is how God moves in our lives. God moves in vertical and horizontal directions. God is present throughout human history. There was a time when our forefathers in the Old Testament thought of a God who just stayed somewhere out there. A God who showed might and power that even to mention His name "Yahweh" is prohibited. He only existed in the mind as a powerful and unreachable God. But in the fullness of time, God sent His Son out of perfect love. Now, God became one with us and shares our human condition. He took everything that is human except sin. Jesus Christ, the Word of God dwells in our heart.He stays in our heart through his Spirit to make us active sharers of his divine love. The more we share God's presence in our lives, the more we become a fertile ground where good and bountiful harvest is expected from us.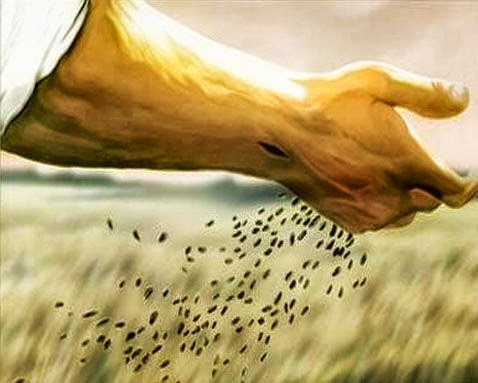 That's how I understood the movement from our forehead to our chest and eventually to our shoulders which summarize how we journey with our faith life. Our faith should not remain on the head level alone. It must be deepened by a personal relationship with a God who loves us first, perfectly expressed by Jesus' death on the cross as a sign of self-giving love. This love should form our hearts and reflect a deep personal relationship with Jesus. Ultimately, this personal relationship should be translated into action by loving, caring and understanding our brothers and sisters.

Our readings for today are full of symbolic images which point to a reality on how God manifests his ways. God is always at work using everything that we have so that He can establish His Kingdom here on earth. No one could stop Him in making His will be done in all circumstances of our lives. My theme for today's reflection is the "generosity of the sower and the receptivity of the ground." God, the source of everything is always generous. His generosity is limitless, boundless and unconditional. Oftentimes, it is us who put limits to His generosity, thinking that God's grace is only available for good people. But God gives sunlight to both the evil and the good, and he sends rain on the just and unjust alike. Like in the story of Matthew's gospel that we just heard……The sower went out to sow, as he sowed, some seeds fell on various grounds. Here the sower represents the act of God who lavishly poured out His love for us. As he sowed the seeds he was not thinking whether the seeds fell on the right ground or not. He just sowed them and waited for the right time for those seeds to bear fruit. Those seeds represent the Word of God, the living word that Jesus taught and lived out throughout his earthly life. It is the Word of God that brings sight for the blind, food for the hungry, freedom for the oppressed, healing for the sick, good news for the poor and light for those who lived in darkness. These seeds have a transformative power in us if we allow our hearts, the ground of our faith, by accepting and cooperating God's work in us.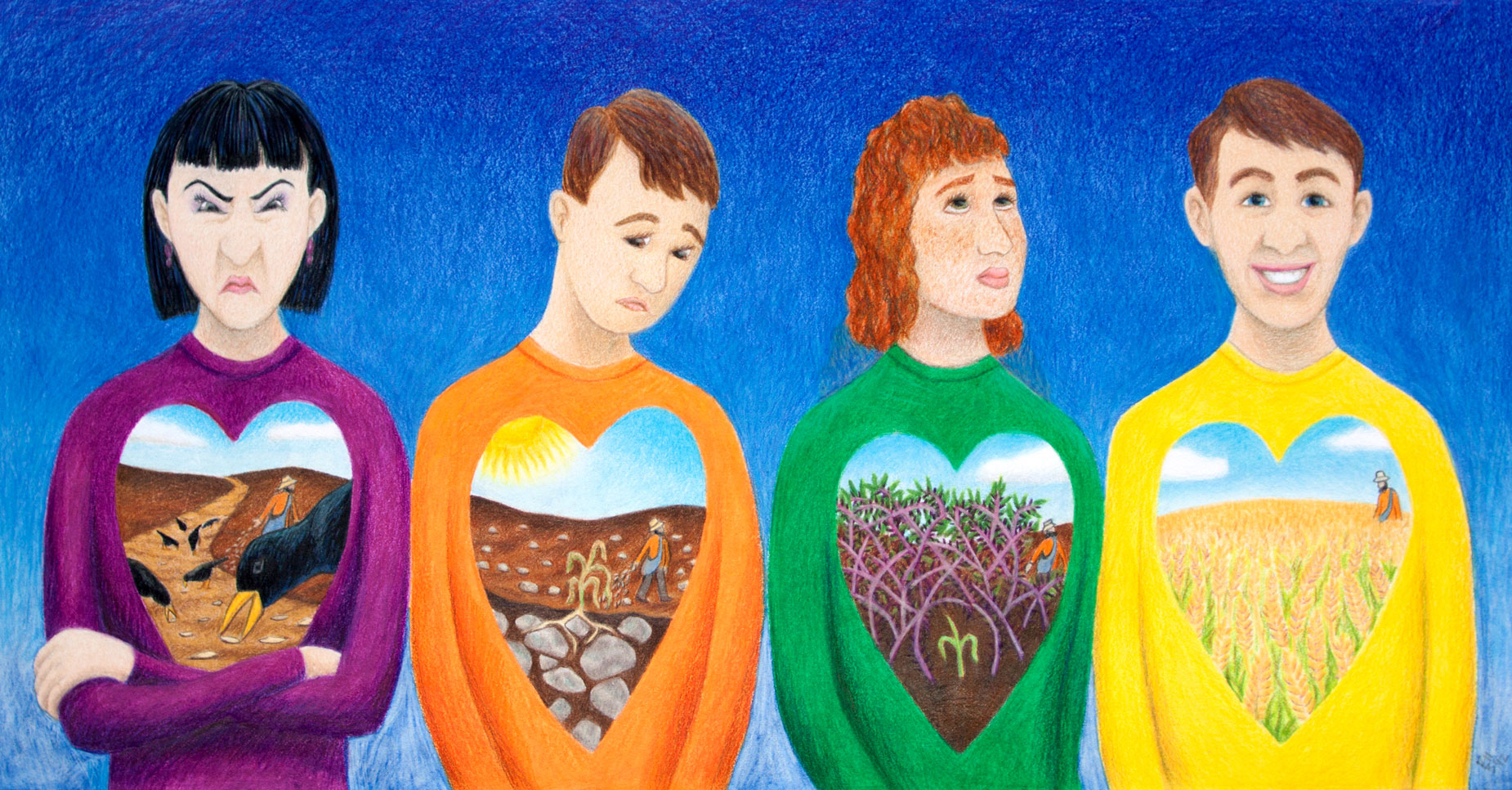 God, the generous sower, allowed the seed of faith to take root in our ground. But how open are we to receive His Word? In the parable, we encounter four kinds of ground where the seeds fell. These four kinds of ground represent our individual hearts which are the recipient of the seeds that Jesus constantly plants. Those seeds that fell along the path are those whose hearts are hardened by their self-gratifying needs. There is no room for the seed to take its roots because the ground is covered by layers of selfishness, complacency and indifference to the needs of others. The seeds that fell on the rocky ground are those whose hearts have initially accepted the Word of God with joy and excitement. But since the commitment to allow the seed to take its roots is not strong enough, the seeds wither. The commitment is shallow because the heart is pre-occupied with appearance and external observance of the law. The motivation was more of self-appraisal by giving impressions to others. The seeds that fell among thistles are those whose hearts are ready to cooperate with God as long as their lives run smoothly. If problems and difficulties come, when the journey of life becomes rocky and bumpy then the heart tends to falter. There are conditions set in allowing the seed to sprout on the ground. Then the last ground, the fertile one which makes the seeds grow and produce crops in hundredfold are those whose hearts are open to God in whatever circumstances of life. This ground has a solid foundation because the heart is totally open to the Will of God. And this is God's dream for all of us. This is what our journey is leading to. But before we get to be this fertile ground, we need to recognize that at some point in our lives we are like those grounds which never bore fruit because of our self-centered ambitions and longings. If we won't die with our pride, resentments, anger, fear, greed, cling to power and earthly riches, we will never bear fruit. This should not discourage us. In fact, we need to boast on our weaknesses and shortcomings because God's grace has overcome it. God is always working in us. He never gets tired doing good things to us. He always does the first move to make our ground fertile and he will always wait for the right time for the good harvest. The Lord never gives up on us. No matter how rough the path is, how rocky and thorny the ground is..….our God is always generous. He was, He is and He will always be. How about us? Are we generous enough to allow our hearts, the ground of our faith, to make the seeds grow and bring forth a bountiful harvest? As we examine our hearts today, let us be humble and accept our need of God in our lives. Amen.





GOSPEL
Matthew 11:25–30
At that time Jesus exclaimed:
"I give praise to you, Father, Lord of heaven and earth, for although you have hidden these things from the wise and the learned you have revealed them to little ones. Yes, Father, such has been your gracious will. All things have been handed over to me by my Father. No one knows the Son except the Father, and no one knows the Father except the Son and anyone to whom the Son wishes to reveal him.

"Come to me, all you who labor and are burdened, and I will give you rest. Take my yoke upon you and learn from me, for I am meek and humble of heart; and you will find rest for yourselves. For my yoke is easy, and my burden light."


The Praise of the Father / The Gentle Mastery of Christ
Reflection / Homily
Brother Erl Dylan Tabaco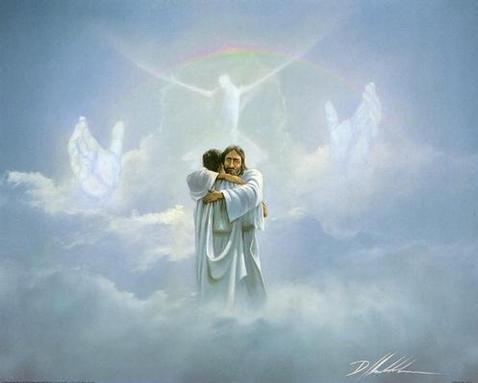 Our faith is strongly link to our image of God. The more we discover God in our lives, the more we grow in faith. All of us have our own images of God. And these images are constantly evolving in our consciousness. Some might have an image of a punishing God, who usually associate that life's tragedies is a punishment of God for the wrong things that we have done. Others might have an image of a controlling God, thinking that God suppresses human freedom. Human culpability is not at work here because everything is determined already by God. For us children in our times, we grew up with a notion that we needed to be good all the time so that God would reward us. Or else something bad might happen if we are being naughty. We all have these images. Either we got it from our parents, grandparents or friends. But predominantly our image of God is shaped by our experiences. We cannot impose our own image of God to someone who is still discovering who God is in his/her life.

Our readings for today re-echo the image of a God who loves us tenderly. A God who embraces us from all our pains, miseries and weaknesses. God is love. God is mercy. God's profound tenderness. It is very beautiful and powerful image. Isn't it? But is it true to all circumstances. Sometimes this image of a loving is being questioned by those people who are experiencing tragedies in life. I remember in one of my encounter in Divine Mercy Village in Cagayan de Oro City. Last December 15, 2011, a strong typhoon named "Sendong" hit my city and left a tremendous damages both properties and people's lives.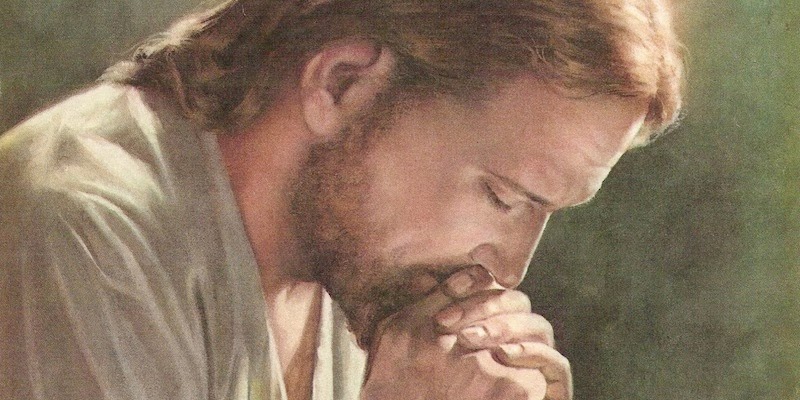 It seems that some parts of the city were like a ghost town. I have heard many stories of agony and despair. There was this woman who lost her husband and 4 children. Even until now their dead bodies were still missing. She is the only one who survived in her family. Looking at her I have no words to lighten her pain. I guess what she needed at that time is someone who could spend with her, being there to listen to her cry, anguish and grief. Where is God in the midst of tragedy? Why did God allow me to live? This is too much for me. What have I done to experience all this pain and suffering. God…God…God…why me? These are the questions that I heard from her. I have no answer. I cannot understand how she felt. She has all the right to express those things.

For my reflection today I would like to focus on three things which are essential in our journey of faith. First, we grow in faith when we journey to our inner self. At certain point in our lives we encounter events that would shake our ground. We don't know what to do. We became helpless. Don't be afraid to ask questions especially if this is the best way to express how we feel. We need to journey into our hearts, which is the seat of all emotions. We need to confront our pain, anguish, doubts, fears, worries and even our darkness. This is not an easy process. It would take courage and will. It would take patience and gentleness to oneself. In our first reading today as what has been prophesized by the prophet Zechariah "Shout for joy, daughter of Jerusalem! For your king is coming, just and victorious, humble and riding on a donkey." We are not alone in this journey. For we have a humble God who is riding in a donkey accompanying us on our way. God's way is not like a magician who would take away all our feelings in just a snap of his finger. Our God will get into our feelings and keep telling us to have a space for Him. He would search those restless part within us and in there He will show how wondrous his deeds.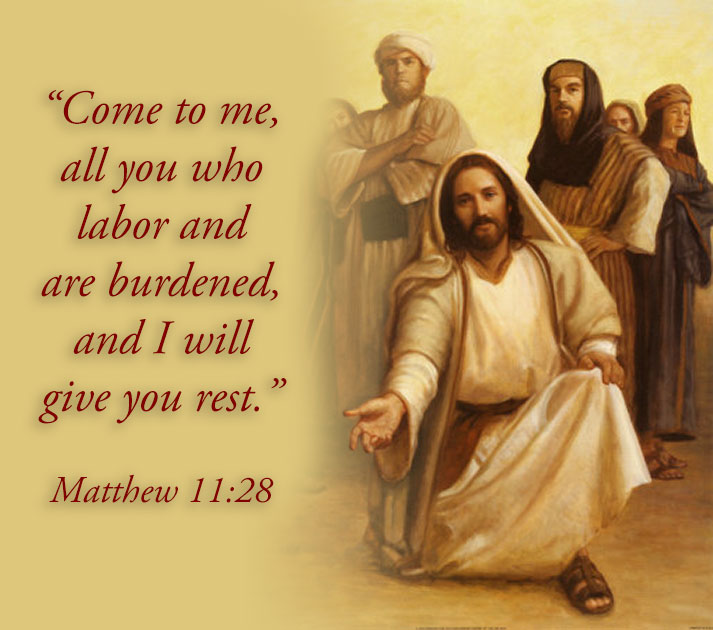 He would show how profound his tenderness for all of us. Out of God's initiative through the working of His grace, we would realize that no matter how painful the process is, no matter how broken we are…..there is always a spark of hope within us because our God has taken the most sacred space in our heart. And this is the 2nd point of my sharing; our journey of faith enables us to accept our need for God in our lives. We need to humble ourselves and accept the fact that we don't have all the answers of our questions. Sometimes we just have to pause and allow those questions to give way to the inner working of the Spirit. In Paul's letter to the Romans, we are reminded that "our existence is not in the flesh, but in the Spirit, because the Spirit of God is within us." Whenever we have the Spirit within us, all our pains will be turned to joy, all our despair will be tuned to hope and all our brokenness will be turned to wholeness. This is how the Lord works. We just have to entrust everything to Him. He knows what to do. And this is the last point of my reflection; our journey of faith is leading us to the heart of God. When we recognize and confront all our feelings and acknowledge our need for God then our Lord conquers everything. What a consoling words that we just heard from the Gospel of Matthew: "Come to me all you who are weary and burdened, and I will give you rest. Take my yoke upon you and learn from me, for I am gentle and humble of heart, and you will find rest." This is our journey of faith. Do not be afraid for our God is always with us. As we grow in faith, our image of God will also be purified. We just have to be patient, gentle and meek in heart. Every story of our faith journey always leads to a fruitful life.

The same story that I shared of that woman who have lost everything but through time God put back together all her brokenness. After 6 years, I have heard that the same woman is now one of the leaders in their Basic Ecclesial Community (BEC). The God whom she taught as a punishing God, a distant God and a God who doesn't care is the God who brought healing and wholeness to her life. Yes she lost her love ones and everything that she has………but her faith transforms her in becoming the person that God wants from her. Her story is our story as well. We all have different circumstances but it's the same journey that we are about to take…a journey of faith, a journey leading to the heart of God. My question is: "Do we make space for God in our lives?" May the tenderness of God's love empower us always to entrust our lives to Him. Amen.





GOSPEL
Matthew 10:37–42
Jesus said to his apostles:
"Whoever loves father or mother more than me is not worthy of me, and whoever loves son or daughter more than me is not worthy of me; and whoever does not take up his cross and follow after me is not worthy of me. Whoever finds his life will lose it, and whoever loses his life for my sake will find it.

"Whoever receives you receives me, and whoever receives me receives the one who sent me. Whoever receives a prophet because he is a prophet will receive a prophet's reward, and whoever receives a righteous man because he is a righteous man will receive a righteous man's reward. And whoever gives only a cup of cold water to one of these little ones to drink because the little one is a disciple— amen, I say to you, he will surely not lose his reward."


The Conditions of Discipleship / Rewards - 2 July 2017
Reflection
Brother Erl Dylan Tabaco


In my childhood years I used to hear my classmates saying: "When I grow up I want to become a doctor… I want to become a dentist… I want to become an actor… I want to become a lawyer… I want to become the president of the Philippines. These are the usual ambitions that any kids used to dream of. Then my teacher asked me and the rest of my classmates why we wanted to become someone like those we mentioned. Some responded that they want to be a doctor or lawyer because they want to get rich and famous. Others wanted to get special status in the community. And the list of reasons was getting longer and longer. I haven't heard someone saying I want to become a priest. Even me myself I didn't want to become a priest even the idea of serving in the Church was not yet in my consciousness.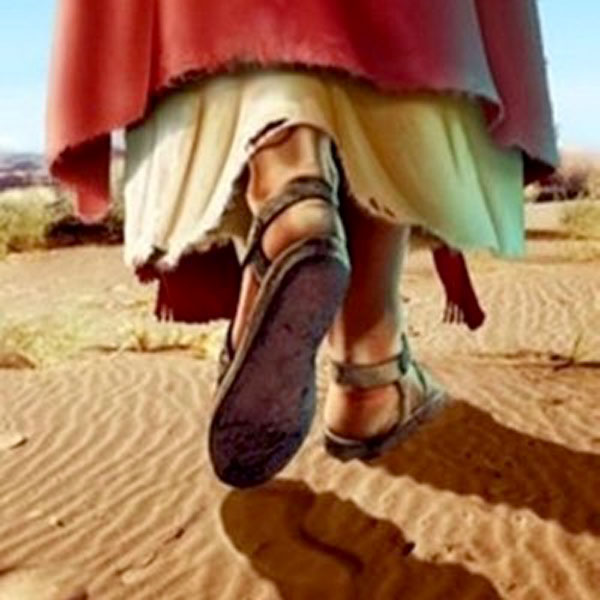 While I was reflecting those responses I asked myself why is it that nobody wanted to become a priest. What does it take to become a priest? Are they the only one who can serve and become Christ's disciples? Is it not possible that one can become a doctor and a disciple of Christ at the same time? Is it not possible that being a lawyer could also be Christ's disciples as well? Why not? These are the questions that I often asked.

Oftentimes, we limit our understanding of being a disciples of Christ. As if being a disciple is only for selected few. My dear brothers and sisters all of us are called to discipleship. God does not prefer someone from the other. Every moment of our lives God is calling us to share in His mission. We are called in different ways. God can never be outdone in generosity. He keeps on giving us bountiful blessings to show how much He loves us.

Our calling is not about us. It is all about our God who loves us first and make us worthy to His call. But how do we know if God is calling us. How do we recognize His voice amidst the many voices that feed our restless heart? We are turn between two lovers, isn't it? The world that we lived in keep telling us to become rich, to have more and more until all our worldly longings control our lives. The world re-echoes the message of power, fame and dominance. When we have special status in the society our life would be more dignified than the others. It breeds the culture of competition and exploitation. The more power you have the more voice you have in the society.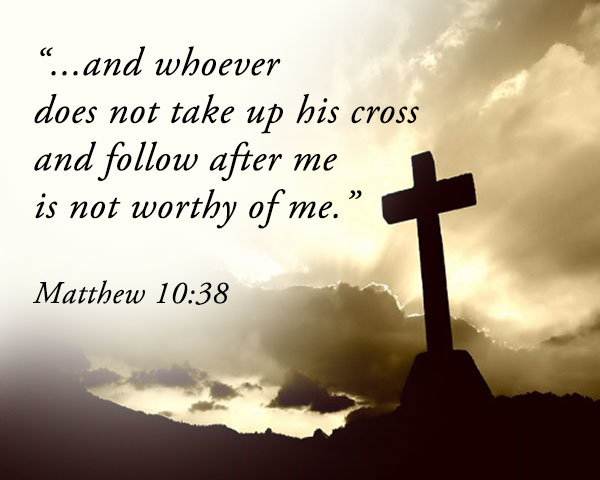 These are strong voices that affect our life's choices and perspectives. These are the voices that make us difficult to understand what God wants from us. If our mind and heart is worldly then Jesus Christ will be the most uncomfortable person to be with. He would challenge us always because His life is contrary to the standards of the world. He came down from heaven not to live like the worldly king that we have. He came down not to store earthly riches and to have power that ostracized others. But Jesus came down to give us life and to teach us what servant hood is all about. He came down to teach us how to love, how to gives ones' self to others and most especially to teach us how to live our lives with deep faith in Him and His Father. Even in our trying times when we ask whether God abandoned us, Jesus gave us a profound answer in His death on the cross. For Jesus, suffering done outside the context of love is torture. But is suffering is done in the context of love is salvific. It is life-giving. He gave us the real meaning of suffering. This is the cost of discipleship.

In our readings for today, what is being highlighted are the values necessary for someone who wish to follow Jesus. The values that are non-negotiable in becoming God's disciple in shaping the world through the values that God wants us to uphold. In our first reading in the Book of Kings, we encounter the hospitality and generosity of the rich woman to Elisha. Her discerning heart makes her believe that Elisha is a holy man of God. When the prophet visited her house she was receptive to the invitation of God. Her hospitality was enormous which made her home a dwelling place for the prophet. God is indeed never be outdone in generosity. Her generosity was rewarded by an unexpected blessing which is to bear a son. A great gift that only God can give. In our lives, how open are we to receive stranger. How do we treat those who are different from us especially the poor and the voiceless members of our society? Are we generous with them? Are we open with them or we just ignore thinking that they don't exist at all. If our lives form part of Jesus' mission then it will be fruitful and life-giving.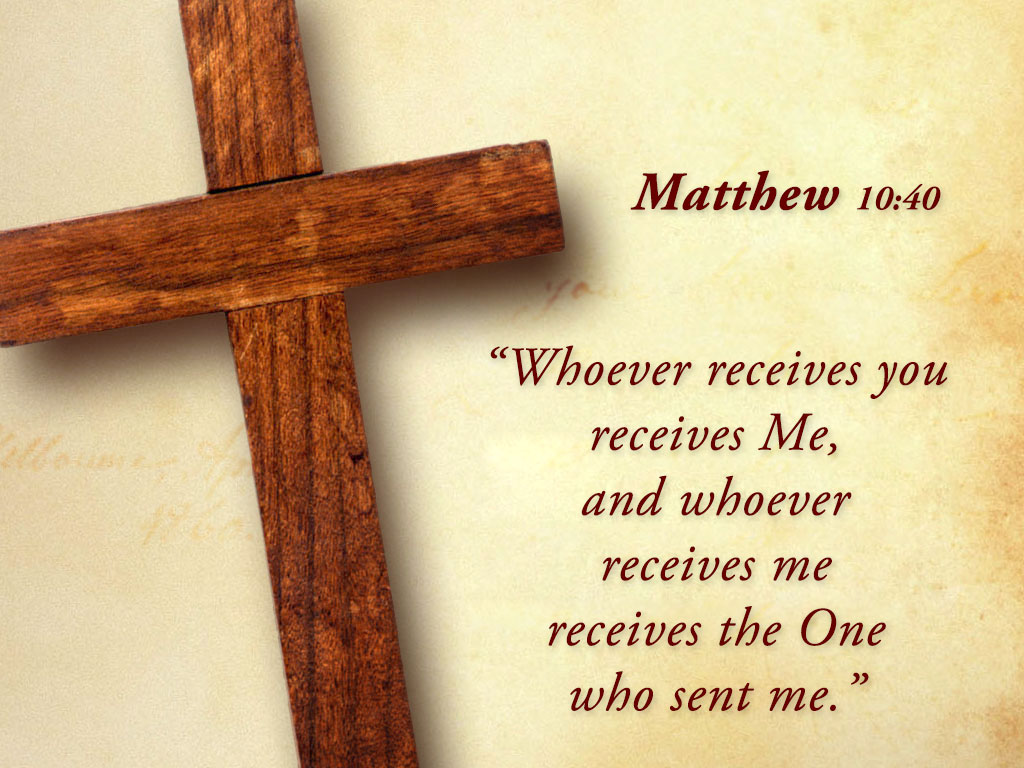 When we follow Jesus our life will be transformed. Our life will never be the same again. And every transformation there is a corresponding cost. There is a price to pay. And that is price is too great and precious that earthly wealth can't buy. There can be no resurrection without crucifixion. There could be no Easter Sunday without Good Friday. There is no shortcut in following Jesus. Discipleship is always a process and this process involves dying and rising. And this is the message of our 2nd reading today from the letter of St. Paul to the Romans and the Gospel of Matthew, "Whoever does not carry his own cross and follow me is not worthy of being my disciple." What are our crosses today? Are they heavy enough to endure in our road to discipleship? It's good to reflect our crosses in life. It could be our wrong decisions that we made in life. For some their crosses would be the kind of life that that they have now which is full of fear, anxiety, greed, envy and low self-esteem. Could it also be our difficulty to forgive ourselves which make us difficult as well to forgive others and eventually accepting God's forgiveness? Or could it be our favorite sin that blocks our growth in becoming the person that God wants us to be. God knows our crosses and he wants us with full trust to surrender those crosses to Him. There is nothing that the Lord can't do for us. He loves us so much. He died for us. And there is no greater love than this. Are we willing to follow Jesus and be his disciples in this fast changing world? You, I and all of us are called by God. May we have an open heart to respond to His invitation. Amen.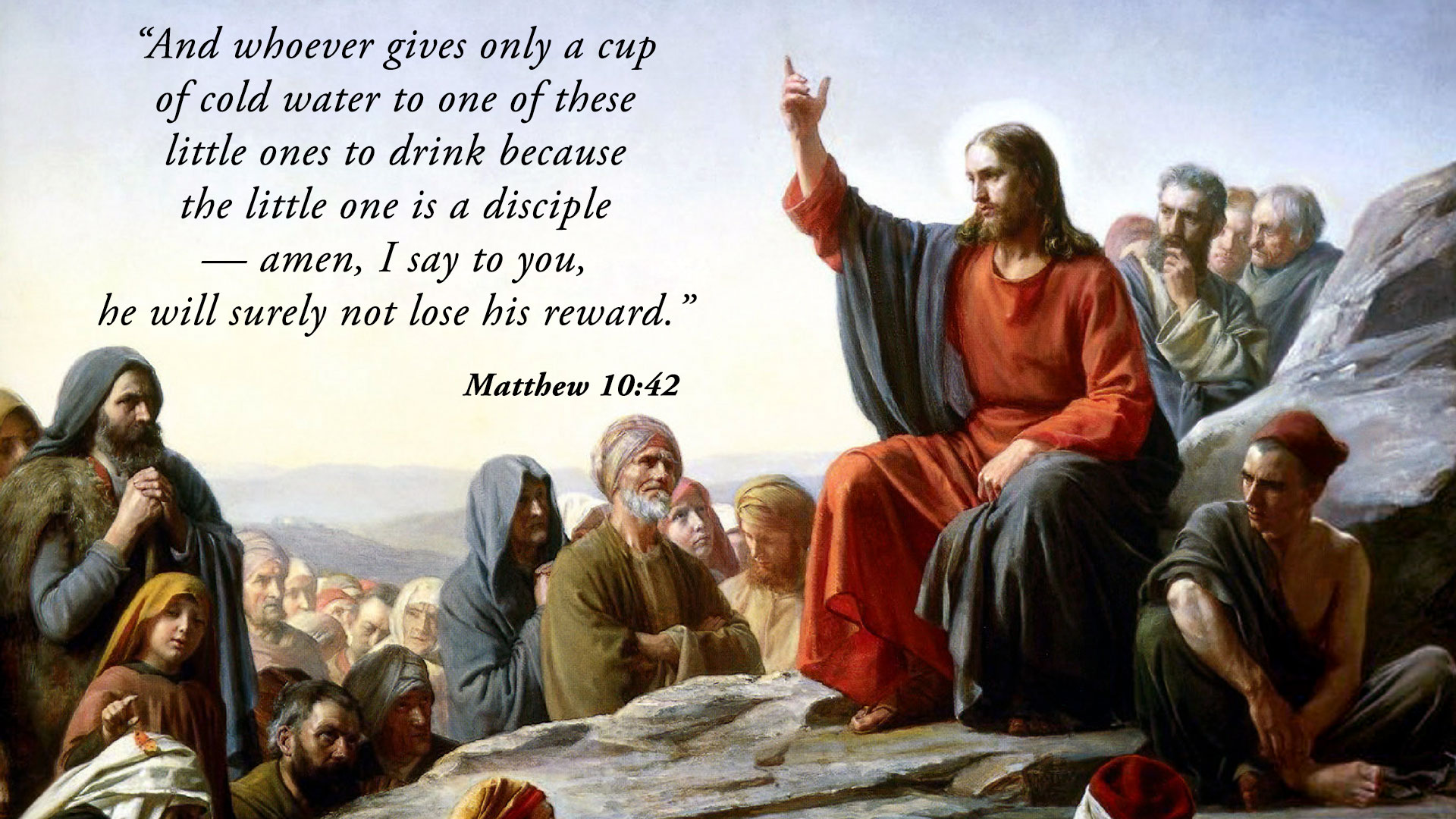 Poyong, The Little Prince
Kurt Zion, Columban Father, Philippines
(Repost from Columban Interreligious Dialogue http://columbanird.org/)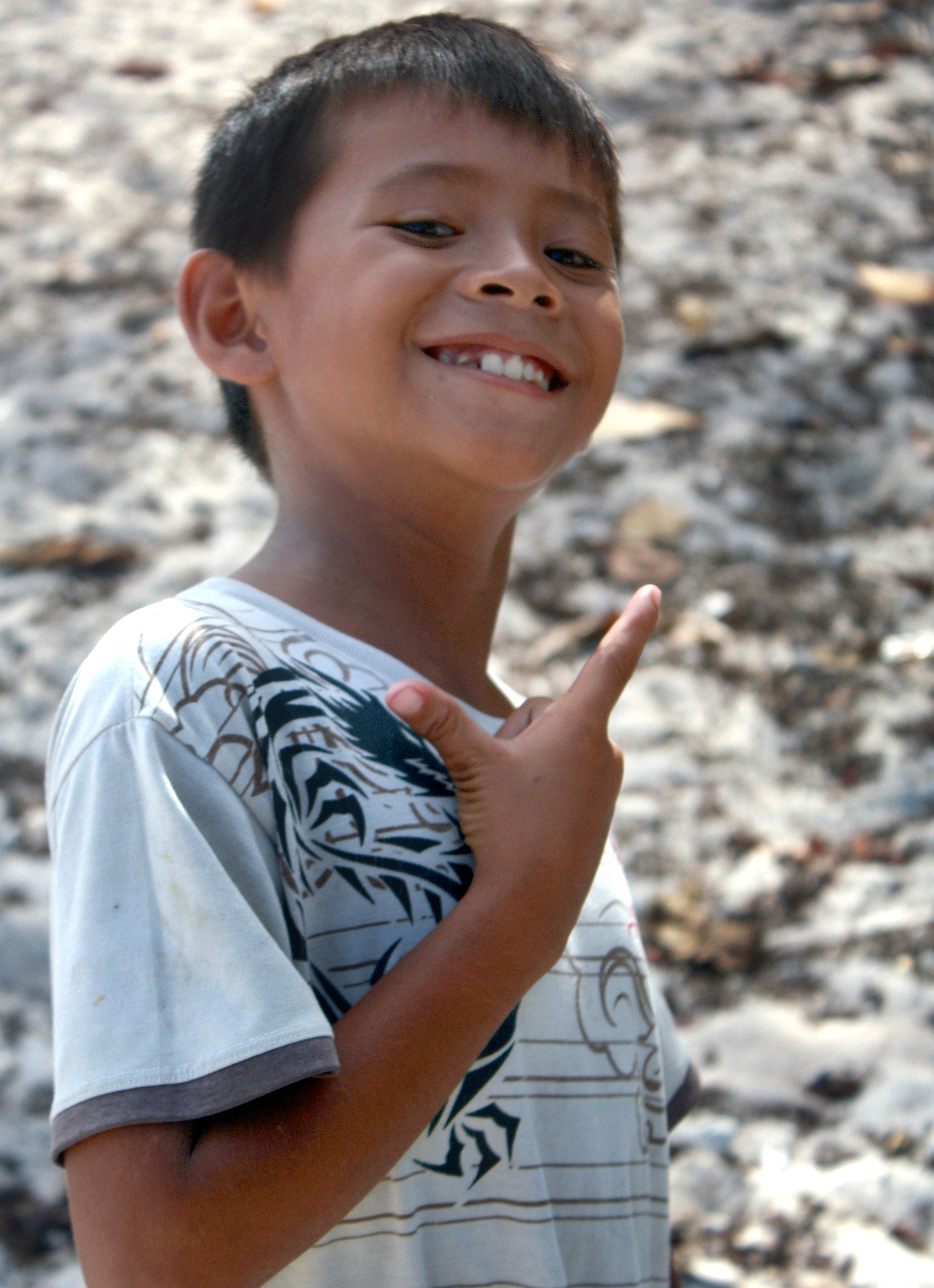 "Mamiss kita kuya!" (I will miss you big brother!), Poyong said while I sipped my last cup of coffee on the island. During that entire week, I got to know him and his friends. On the first day on the island, a medical mission was being conducted which included free circumcision operation for boys. He bravely volunteered to be circumcised and so we accompanied him.

I had been living on the island for almost a week as part of the Silsilah Summer Course on Muslim-Christian Dialogue in Zamboanga City, where young Muslims and Christians come and live together for about a month. After the course I decided to spend a week on the island of Great Sta. Cruz.

The first occupants of the island were Tausugs who left Jolo to escape the war and fighting during martial law days. Now there are about 87 registered families and a total population of about 400 people on the island. I was adopted into the family of Isnira (Ka Indah) and Hanapi Kasan, a couple with their two sons, Firsaud and Rashid. The family lives with the parents of Ka Indah, Inah Amina and Amma Ali. The family also looks after Poyong and his sister Jamila, who are the children of Ka Indah's sister.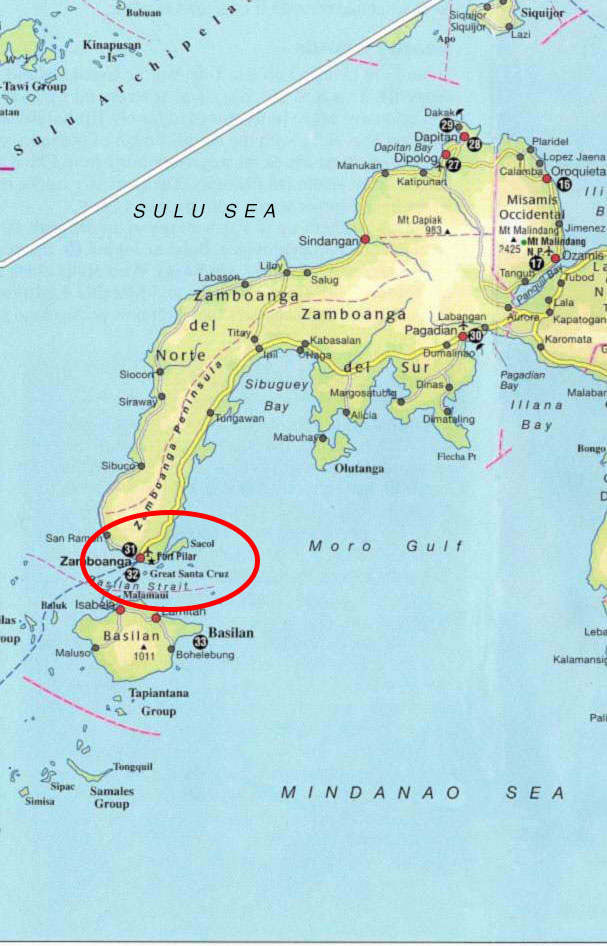 One evening, I found Ama Ali praying inside the house. After his prayers, he told me that as a young man, he decided to focus his life to Allah and perform the "ibadat" which includes doing the "lima waqto" or praying five times a day. After he was done praying, I got a chance to ask him if I go with him to catch crabs and he told me I could. On that night we spoke about life on the island. Amma Ali observed that things has changed, men don't have time any more to pray but just work and work because life is getting harder and harder on the island. I asked him about a rosary-like thing I saw him carrying one time. He stood up and after some time came back and showed it to me. Then he gave me one of them. The rosary–like thing I referred to was the "tasbih" which they use in reciting the glories/names of Allah.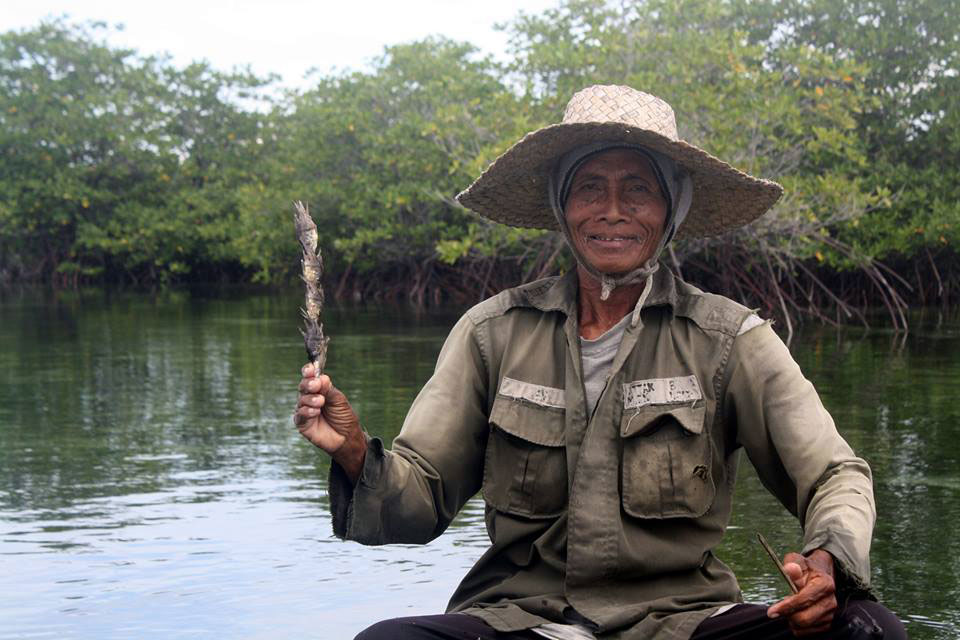 Amma Ali and I finally went out to catch some crabs the next morning. We sat on the boat and slowly paddled out into the sea. Amma Ali uses a crab trap called "panggal" and he has about 10 of them. We went into lagoon. He dropped the traps as we went deeper into the lagoon. When he was done, he exclaimed, "Allahu Akbar!" (God is great!) then we went on shore to the place were he takes his rest. I noticed there were newly planted mangrove shoots near the shore and so I asked him about them. He told me that he used to cut a lot of mangrove trees for firewood and other things and so in order to replaced what he took from the mangrove forest, he has been planting mangrove trees. Most of the other trees he planted like guavas, lemon and papaya were dying out because of the dry weather. After about an hour, he decided we return to check the traps. He picked up all the traps and only 3 crabs were caught but still he said, "Alhamdullilah!" (Praise be to God!) He added that these days he has been getting less and less, smaller and smaller crabs. He considers the pollution and over harvesting of crabs to be the reason why there are lesser and smaller crabs.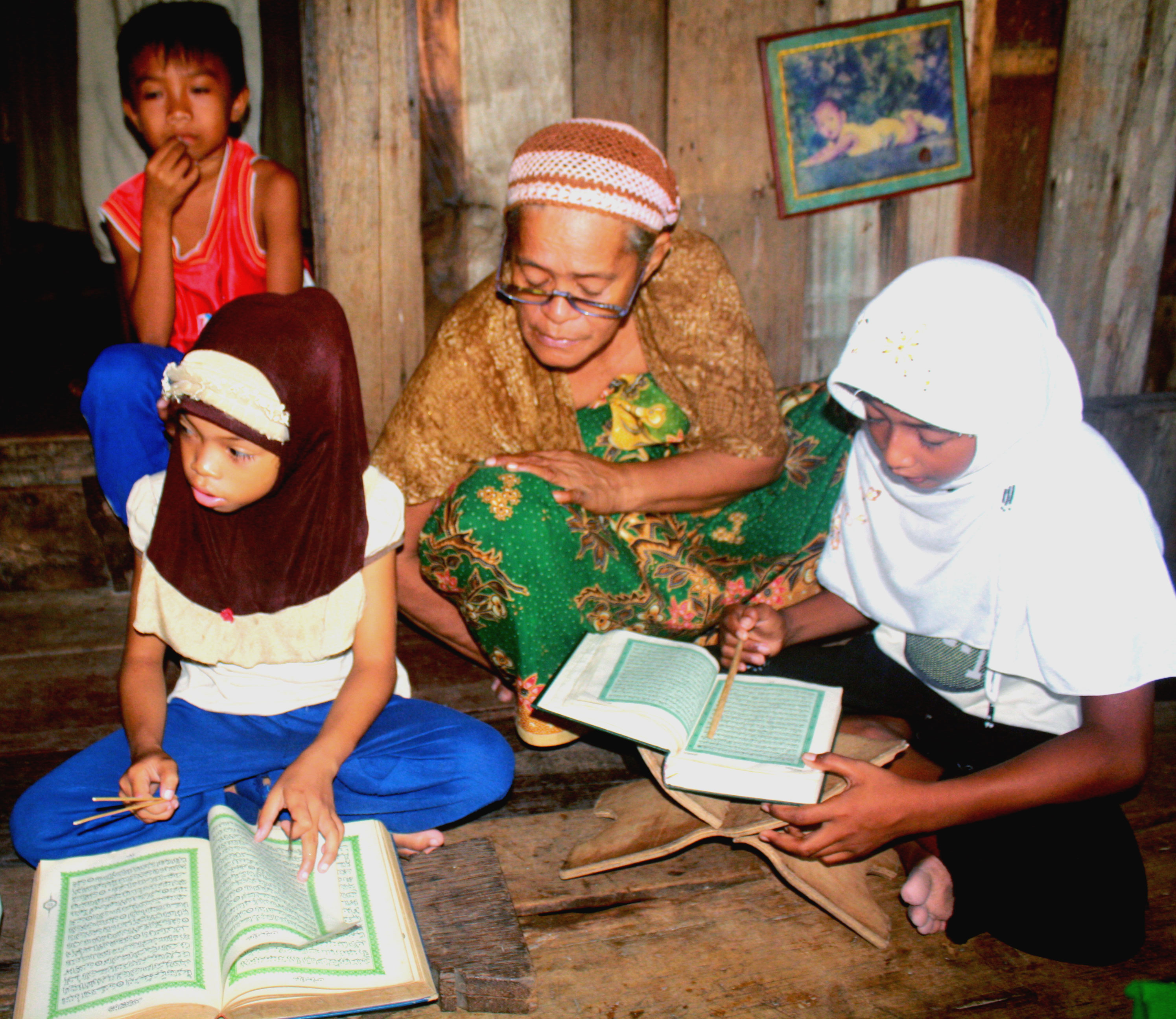 Inah Amina teaches children to read the Quran. Everyday girls and boys come to do "pangadji" or the reading of Quran, some of them to it in a singing manner and are very beautiful to listen to. Among those that come is "Edeng" another grandson of Inah Amina. Edeng comes to the house to check on me and join me on my walks together with the other children. Edeng is the son of Ka Badzair, who is the eldest brother of Ka Indah and the community leader of the island.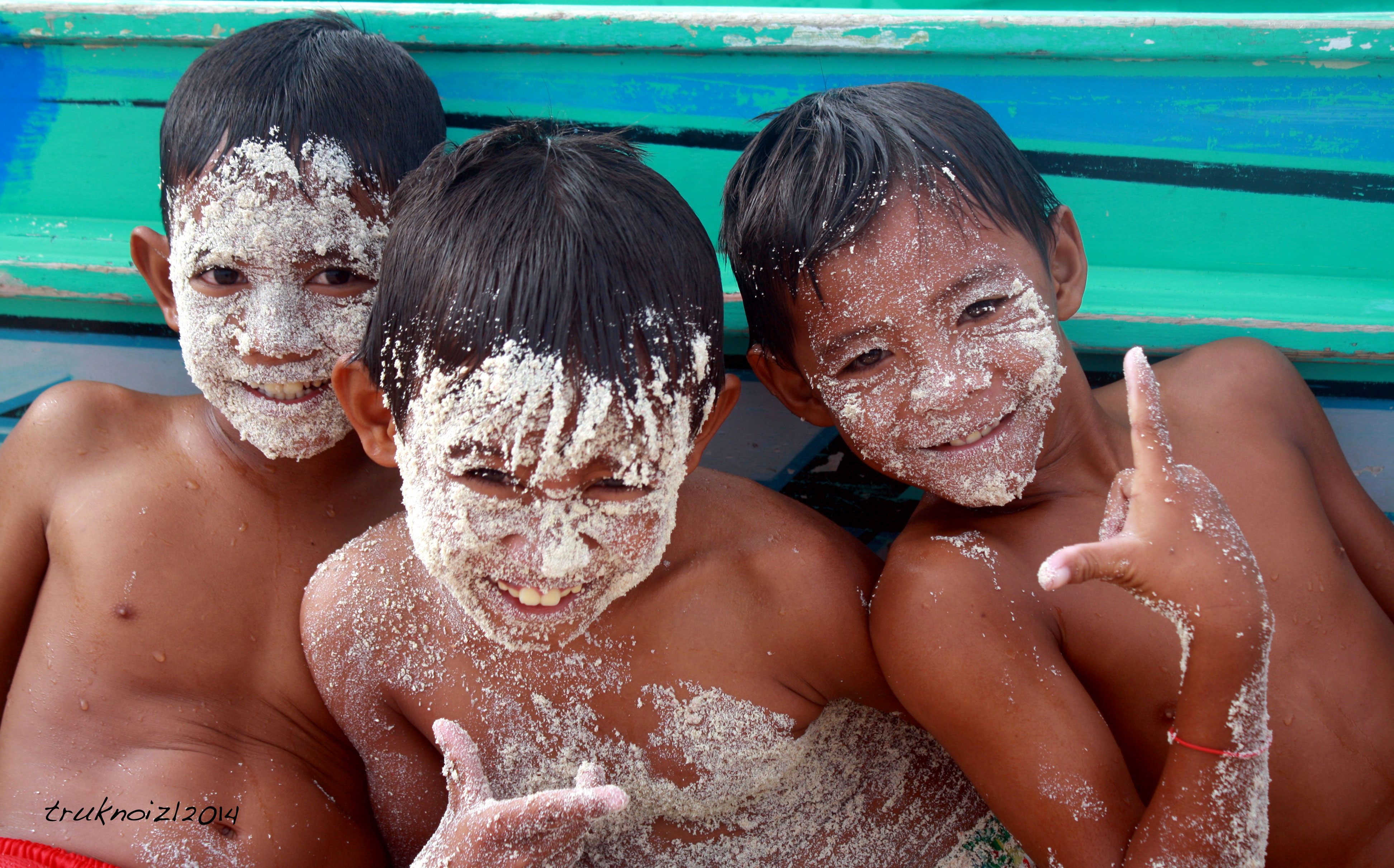 My encounter with Poyong the Little Prince, the family of Ka Indah and the entire community on the island helped me understand what dialogue is all about. I remember the conversation of the Little Prince and the Fox. The Little Prince asked the fox to play with him and the fox told him that the prince has to tame him first. Taming is according to the fox like establishing ties. Fr Michel de Girord used the story of the Little Prince to explain what dialogue is in his book "A Parable of Dialogue: The Little Prince Revisited". Dialogue requires taming the other person. It means that like the fox we are all wild to one another – we unknown to each other, strangers and sometimes violent to each other. We must also allow ourselves to be tamed. I am like the fox to the people of the island. The island and the people have tamed me. I have been considered a friend and a family. Poyong, the Little Prince has tamed me. The fox told the little prince a secret: "It is only through the heart that one can see rightly what is essential is invisible to the eye." May we begin to see the other through our hearts and not merely through our eyes!

What I have learned about IRD from this, and other experiences?

Interreligious dialogue is about building relationships. It requires more than just understanding the other at the intellectual level like answering empirical questions. It is a lived experience – something one has to encounter, using all the senses.

Dialogue requires that one is not just interested to learn from them but to show genuine interest, how? studying their faith, attending their religious celebrations, asking real and not just for the sake of asking kind of questions. It must also go beyond intellectual inquiries but more into personal interaction later on. Dialogue is not imposing oneself on people but making oneself vulnerable and open to people. When we allow ourselves to be vulnerable and open, people will see we are sincere and not just patronizing them. Allowing ourselves to be tamed.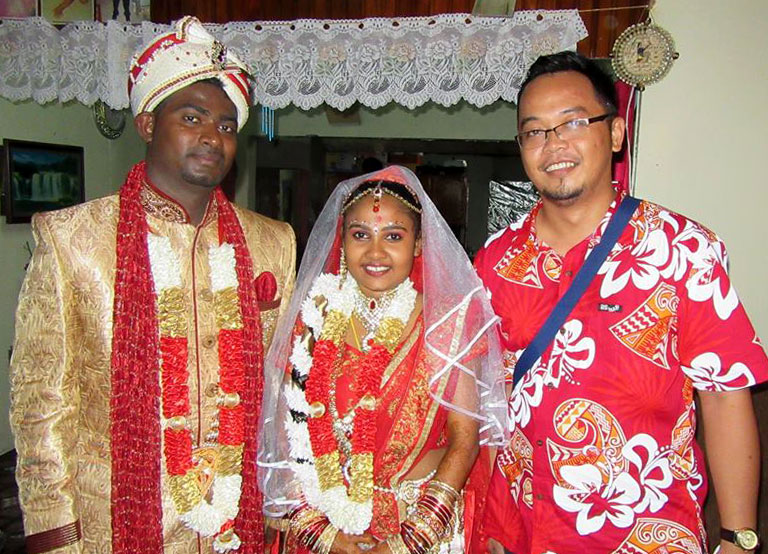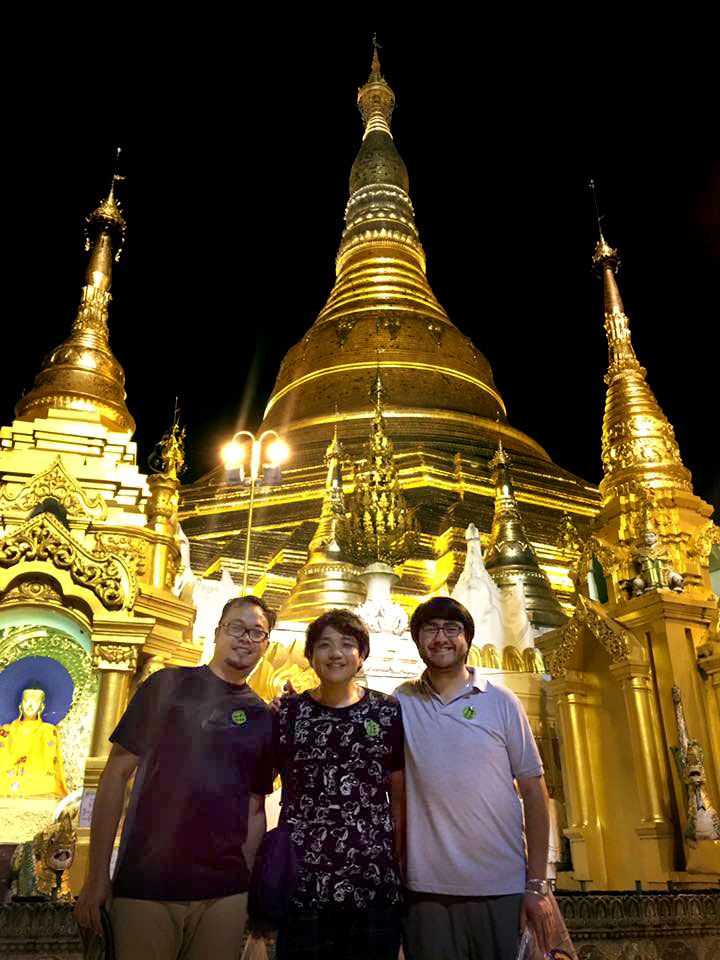 At an Indian wedding in Fiji With Columbans in Yangon

On a personal level, IRD has allowed me to evangelize through dialogue of life. It has personally deepened my own faith and demands of me to understand, study and know more not just the other's faith but also about my own self and faith. It also expanded my perspective about life and helped me in overcoming my introversion by learning to reach out first and become more vulnerable and open to people. Lastly, I have found IRD is a great platform for other Society priorities like JPIC.

(All photos by Fr. Kurt Zion)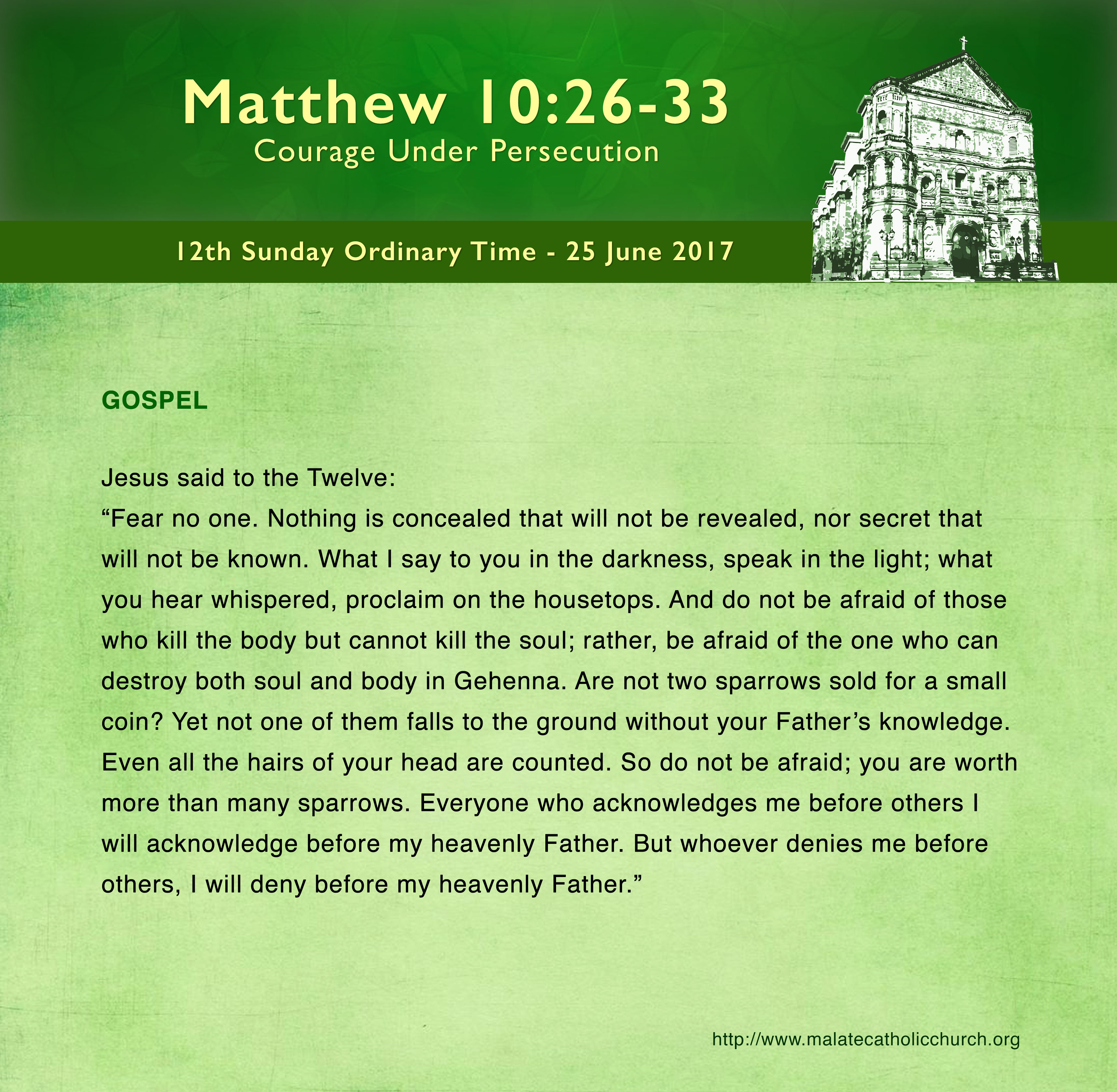 Courage Under Persecution - 25 June 2017
Brother Erl Dylan Tabaco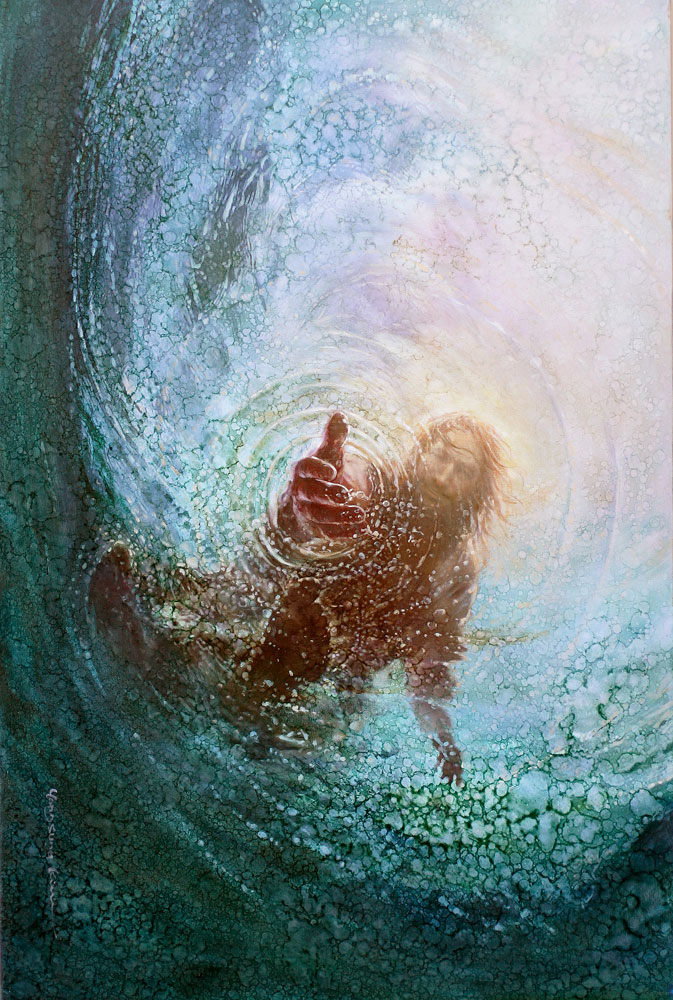 Do not be afraid. This is one of the most consoling words of Jesus that he always used to strengthen the faith of His disciples. I was amazed when I found out that these words "Do not be afraid" appear 365 times in the bible. And we know that there are 365 days in a year. It only shows that our God is reminding us that we are not alone in our journey. When things go wrong and when difficulties shake our ground, the Lord gives us the assurance that He will take care of us. He is with us every moment of our lives.

But brothers and sisters, how would these words of our Lord appeal to us when we are facing the different forms of evil in our society today. When we open our television or even the front page of the newspaper, the usual news that we encounter always inflict fear on us. On-going armed conflict in Marawi, terrorists attack in different parts of the world, widespread of deadly diseases, increasing number of victims in extrajudicial killing and continuing climate change which gives rise to different natural calamities. These are some of the recurring social issues that we are facing today which make us afraid of.

When we look into our own lives, we have many things also that we are afraid of. We are afraid if we still have enough food on the table. We are afraid to fail in an exam which would deem our chances of having a brighter future. We are afraid to fall in love because of the possibility to get hurt. We are afraid to reveal our true selves because of possible rejection from our friends and colleagues. We are afraid to open up to our love ones about some secrets of our lives because they may alienate us. We are afraid if we still have enough wealth in the bank, if we still have power to hold on and if we still have fame to boast ourselves. And the worst thing is that we are afraid that our sinful condition would give rise to God's anger and anything unpleasant things that happened in our lives, we often associate it that God is punishing us. It's sad to say that even our image of God is affected by our fears within us.

Fear is a greatest obstacle of faith. Fear paralyzes us to become the best version of ourselves that God wants us to be. We experience all these fears in every circumstances of our lives because we don't know what will happen in the future. But our readings for today invite us to get in touch with our fears and allow God to have space in our lives so He may touch those areas which are not life giving. As Christians we are always work in progress in becoming a faithful disciple of Jesus Christ. In our own journey, God is always cooperating with us. In our desire to follow Him we will be disturbed by some events in our lives. It is normal for us to experience fear because we don't have the full control of our lives.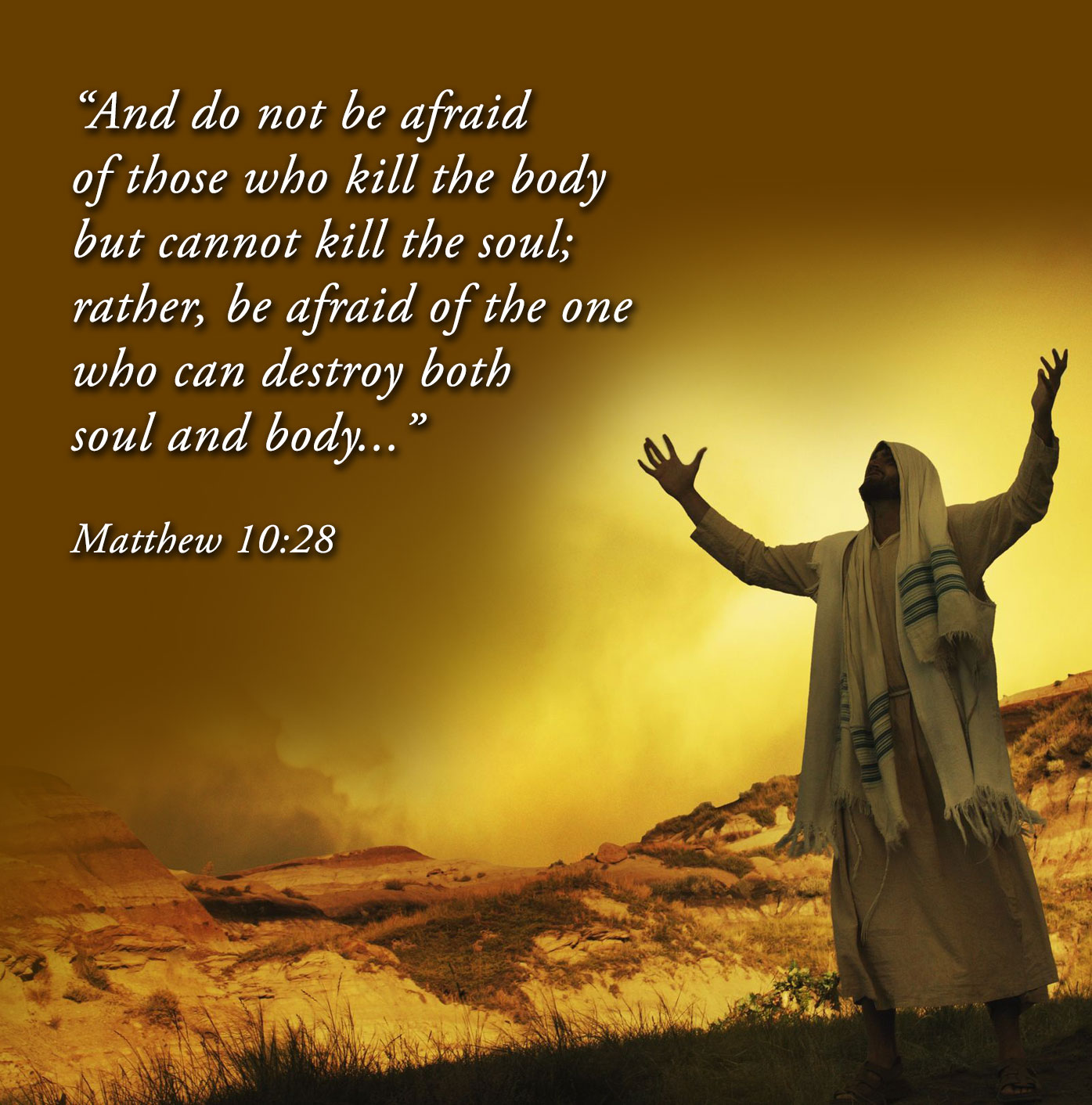 I would like to bring out three points for my reflection today. My first point is (1)recognition. When we follow Jesus it is not automatic that we will be exempted from life's challenges. The more we get closer to him the more we get in touch with our fears. The more we recognize our need for Him. It's good to recognize our fears and to be honest to our Lord on how those fears affect us. But recognizing our fear is not the end of the story, we need to recognize as well that God's providential care is bigger than our fears. It was shown in the 1st Reading for today that Jeremiah was denounced by his compatriots for speaking on behalf of God. Nevertheless, he remained faithful to his mission. He is telling us that we need to expel from our mind all our fear and worry because God is with us, he will protect us from all evil. We should not allow our fear to control us. Let God handle our fears and use them for His greater purpose.

If we remained faithful to Him despite the overwhelming challenges that we may encounter along our way, the Lord will liberate us from all our fears. And this is the second point of my reflection, 2) Liberation. This is the reason why Jesus Christ became human like us to liberate us from our brokenness, sinfulness and all worries in this world. True security does not lie on worldly things. It only comes from God, the source of joy and fulfillment. As what St. Paul said in his letter to the Romans that "The grace of God is great and it is a free gift given to us in and through Jesus." Every act of surrendering all our worries in life and believing that God will take in charge; it is already an experience of liberation.

Once our faith is deepened then we become a new creation. We are no longer those people who lived in darkness because what operates in us is the transforming power of God. And this is the last point of my reflection, 3) transformation. This is the ultimate end of our discipleship. But we won't have a transformative experience if we don't go through the first two elements which are recognition and liberation. We have confidence that we will go through this process because of God's grace. We are special in God's eyes. It is very clear in our gospel that Jesus commanded us "Do not be afraid, we are worth than many sparrows"

Through this reflection, let us ask ourselves this question. "What are the things that you are afraid of? Offer it to God in this Holy Mass and asked for His grace that you will have the courage to recognize them. As you recognize them, believe in his liberating power that He will fix all the brokenness of your lives. By doing this you will no longer be the person who lives in fear. You are now a transformed and new creation that the Lord wants you to be. Be a channel of God's healing love to others. Do not be afraid. Amen.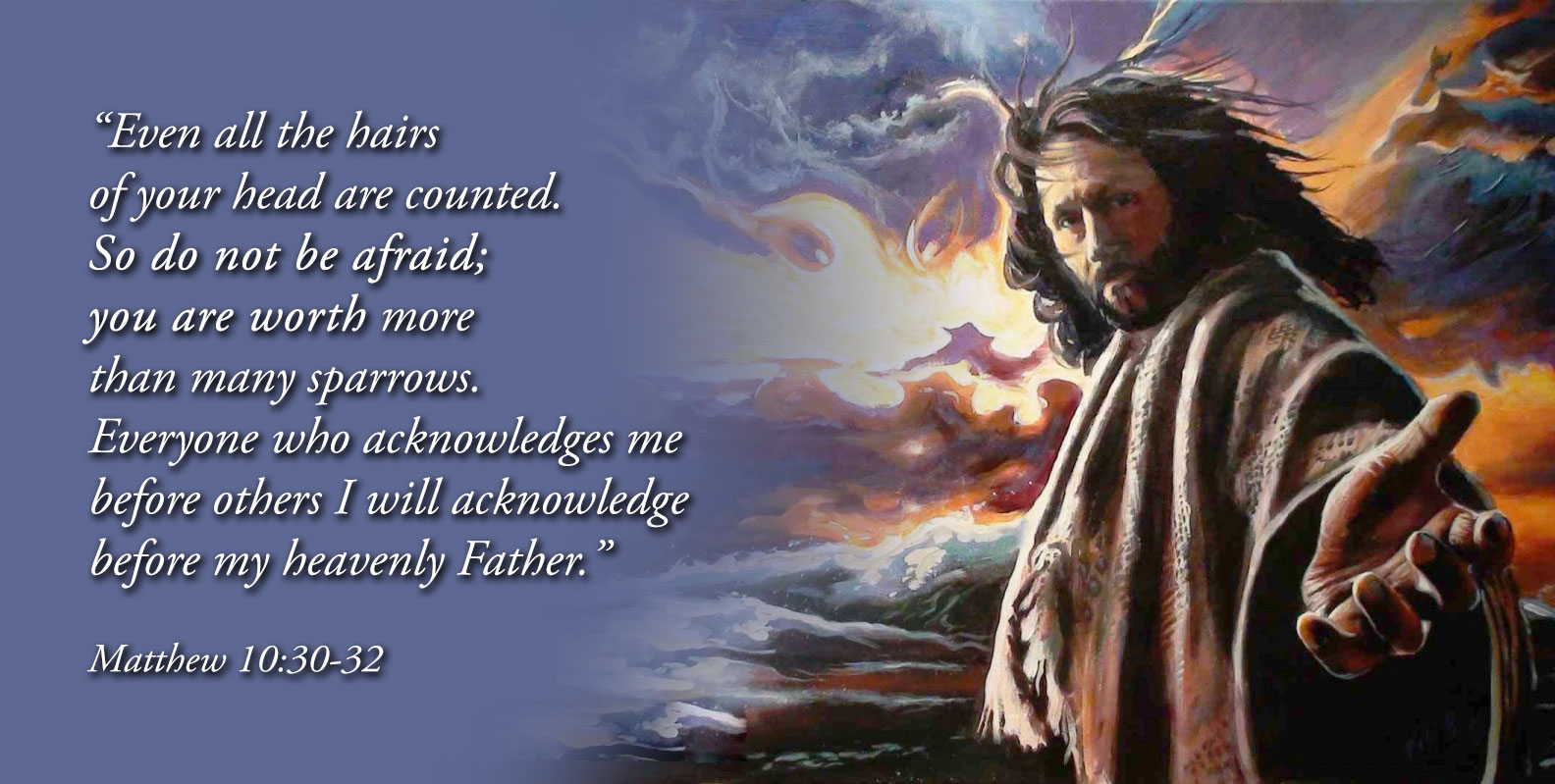 Jesus said to the Jewish crowds: "I am the living bread that came down from heaven; whoever eats this bread will live forever; and the bread that I will give is my flesh for the life of the world."

The Jews quarreled among themselves, saying, "How can this man give us his flesh to eat?" Jesus said to them, "Amen, amen, I say to you, unless you eat the flesh of the Son of Man and drink his blood, you do not have life within you. Whoever eats my flesh and drinks my blood has eternal life, and I will raise him on the last day. For my flesh is true food, and my blood is true drink. Whoever eats my flesh and drinks my blood remains in me and I in him. Just as the living Father sent me and I have life because of the Father, so also the one who feeds on me will have life because of me. This is the bread that came down from heaven. Unlike your ancestors who ate and still died, whoever eats this bread will live forever."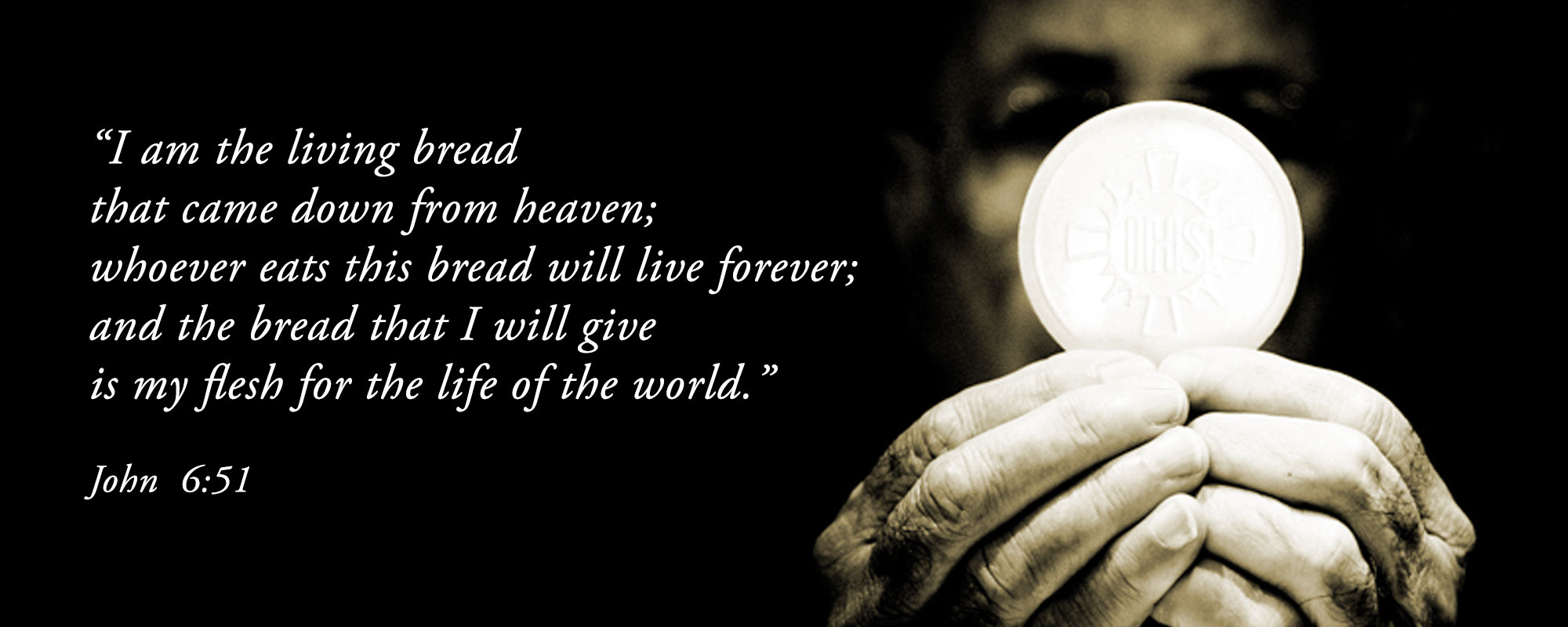 Feast of the Most Holy Body and Blood of Christ
(Corpus Christi) - 18 June 2017
Brother Erl Dylan Tabaco
Do you remember the movie Titanic, Maging Sino Ka Man, and Only you? Or even the famous tagline "May forever ba?" Sounds familiar, isn't it? We are fun of watching romantic movies. Oftentimes we are carried away on how the story unfolds. We even rushed to the story line and jumped to a conclusion that would resort a happy ending. No matter how beautiful the story is nothing could match the greatest love story which happened 2000 years ago. It is a love story of God to humanity expressed by Jesus in Mt. Calvary. Jesus, the human face of God, took the form of a servant and became obedient even up to death, death on the cross. A death which changed the entire course of human history. A death that liberates, heals, transforms and unites. We bring the memory of that love story now. Jesus is here with us now. He tells us how much he loves us. In the form of bread and wine, Jesus is reaching us and inviting us to receive Him. Holy Eucharist, the sharing of Christ body and blood is a celebration of love, a love that is so inspiring which even until now we still celebrate. There is no greater love than this.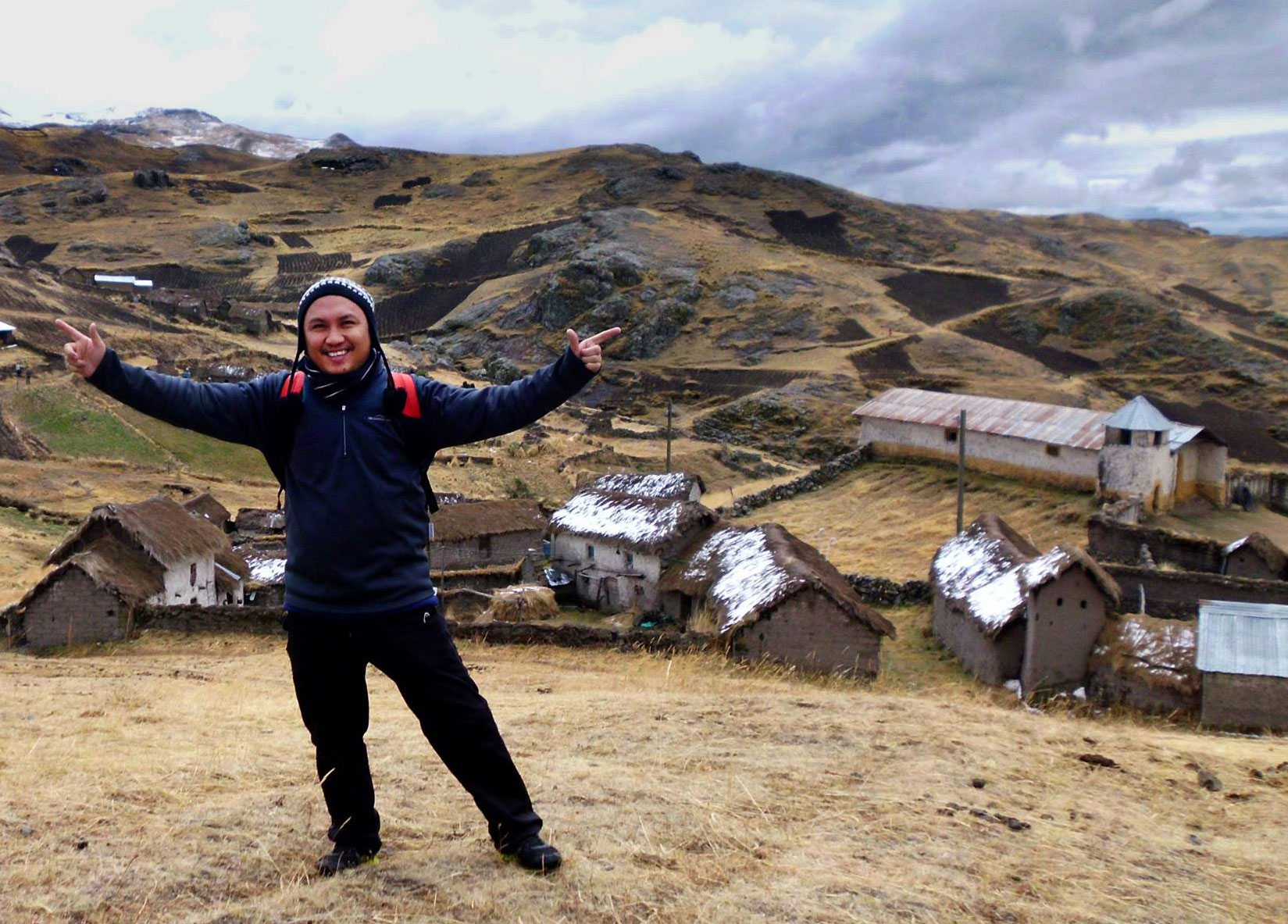 When I was in Peru, I did my mission in a far-flung community which is 4600 meters above sea level, three times higher than Mt. Apo. It is at the top of the Andes Mountain. Imagine how high it is and I even had a problem of breathing because of less oxygen. I felt dizzy and freezing at that time. But one thing that took away my dizziness was when I saw a significant number of people from other distant communities with huge baskets full of fruits and root crops, who were hiking for almost 6 hours just to attend the Mass and there is only one Mass in a year in that community. When they arrived in a small chapel…..they were all excited and their smile was very contagious as they started to greet each other. Then we proceeded to the celebration of the Mass. During the offertory as their leader brought the bread and wine to the altar, they also offered all the fruits of their labor. Everyone participated fully, consciously, and actively in the Mass. It's a foretaste of a heavenly banquet. After the mass we had lunch together. Whatever they have had they shared it among themselves.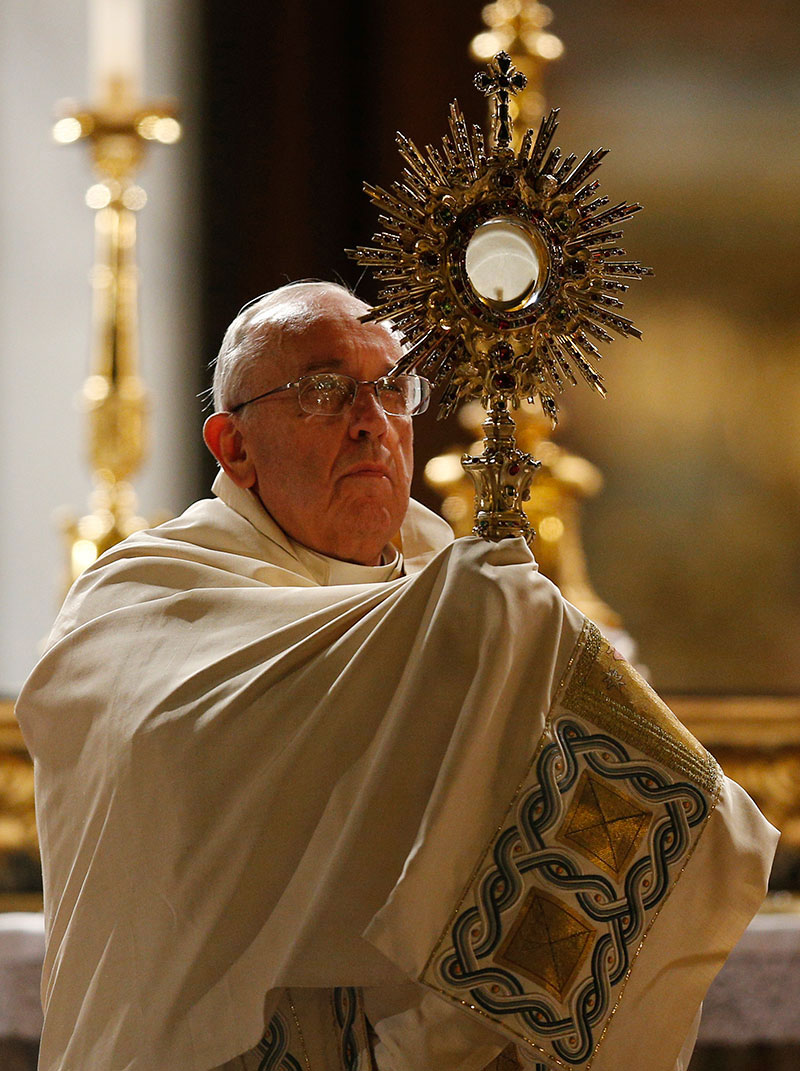 From that story, I could bring out three points for my reflection in relation to our readings for today. My first point is (1)our desire to know our want for God in the Eucharist. In our First Reading in the book of Deuteronomy, it was said "Yahweh made you experience want but he gave you manna to eat for you to show that one does not live on bread alone, but also by everything that comes from the mouth of God." Looking at their journey who had spent 5-6 hours in a narrow and rocky road under the heat of the sun just to reach the chapel and attend the celebration of the Holy Mass, shows how much they hunger and thirst for God. They know what they want. It's more than earthly food. It is the bread of life. Their sacrifice was meaningful because after their long journey they have encountered the real presence of Jesus in the appearance of bread and wine. As they received His Body and Blood they became one with Him and which is the 2nd point of my reflection (2)our desire to be in communion with God and others in the Eucharist. As what St. Paul in his first letter to the Corinthians says "The bread is one and so we, though many, form one body, sharing the one bread." As they offer all their baskets filled with fruits as a symbol of their gratitude to the Lord for a good harvest, they also offered their challenges, pains, dreams, joys and hopes for each other as one community gathered by a loving God who is always been part of their journey. Their admiration to the Eucharist is so intense which moved me deeply. They may not have the same opportunity to attend masses regularly like us here in Malate but their understanding of the Eucharist was so rich and deep. When they shared what they have after the mass, it expresses how their faith has been nourished and became a living witness of what Eucharist is all about. As what we have heard in the Gospel, "I am the living bread. The bread I shall give is my flesh, and I will give it for the life of the world." And this is the last point of my reflection, (3)our desire to be transformed to be a living witness of God's love in the Eucharist. For them there is no gift which is too small. A gesture of compassion, care respect and generosity are the fruits of the Eucharist. True love transcends. Sacrifice born out of love is what Jesus wants us to imitate. And this is the meaning of the Holy Mass.

If we only understand the true meaning of what we are celebrating today "The Body and Blood of Christ" and allowed ourselves to be transformed by the grace that this sacrament brings I believe there will be no beggar on the streets. There will be no violence and hatred among nations. There will be no greed, selfishness, division, corruption and dominance in this world. Because what God wants from us is to share that greatest love story in every people we meet through our words and deeds. Happy feast day and Father's day as well. Amen.





God so loved the world that he gave his only Son, so that everyone who believes in him might not perish but might have eternal life. For God did not send his Son into the world to condemn the world, but that the world might be saved through him. Whoever believes in him will not be condemned, but whoever does not believe has already been condemned, because he has not believed in the name of the only Son of God.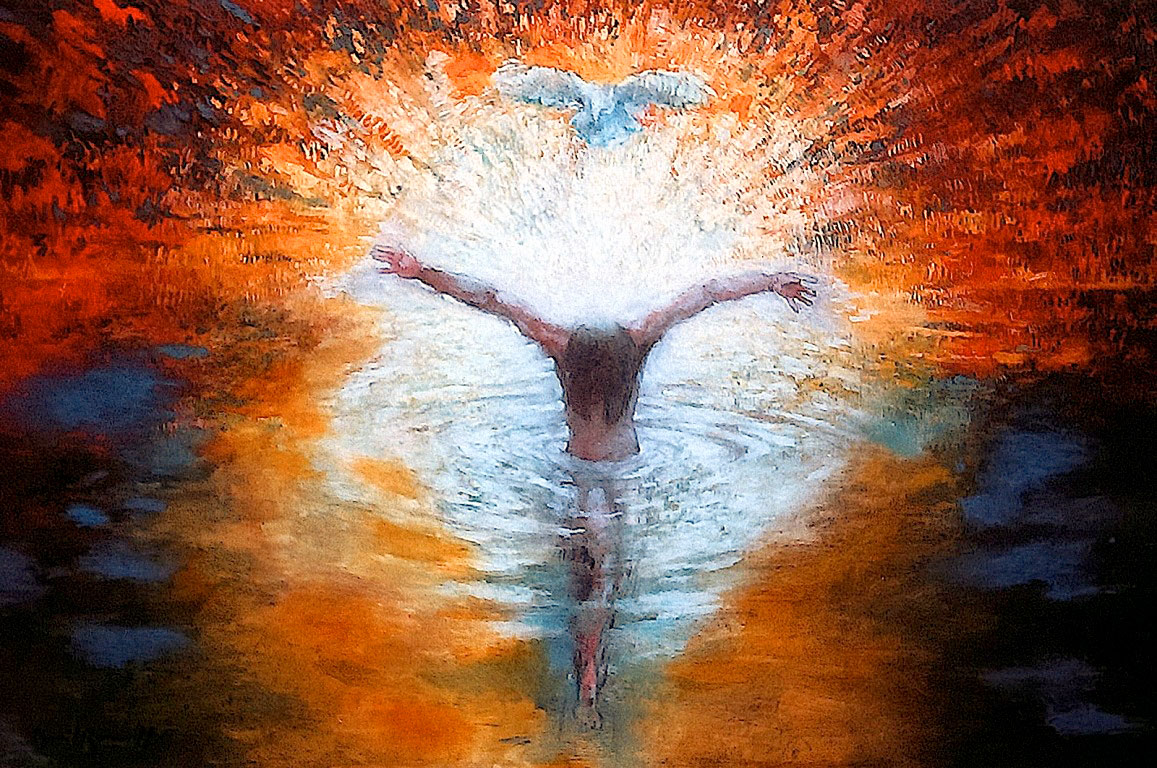 Feast of the Holy Trinity - 11 June 2017
Brother Erl Dylan Tabaco
When I was young around 4 years old, my mother taught me how to make the sign of the cross. That was the earliest memory that I had about the Trinity, the first catechism that I had believing in One God in three persons: Father, Son and the Holy Spirit. As I grew up I became accustomed to it since every gathering that we have had, either in school, church or in our house, we always start and end by making sign of the cross as we invoked the presence of the Trinity. It sounds very simple, even small kids could recite it audibly. But my familiarity with this basic doctrine of our Christian faith remained only as an idea, an abstract idea enough for me to say that I am a Christian, I am a follower of Jesus Christ. The more I became familiar to it the more questions that were puzzling my mind. How can I reconcile my belief that there is only one God but there are three persons? Whom am I worshipping to? Is it the Father, the Son or the Holy Spirit? Is there any difference when I only pray to the Father in the morning, Son in the afternoon and Holy Spirit in the evening? What does Holy Trinity is all about?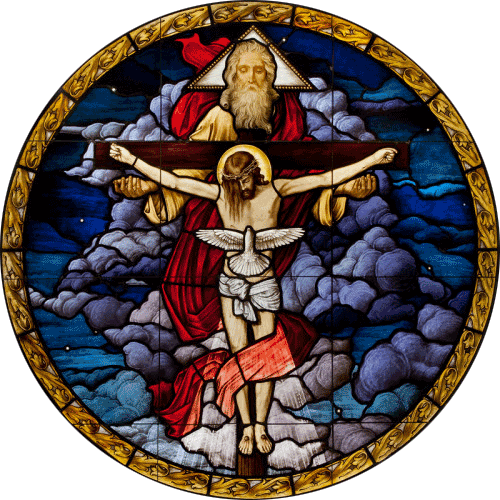 Trying to understand the reality of the Trinity by using concepts, Bible, theology books or even symbols, we will always fall short in understanding its fullness because Trinity is not an idea. It is a living reality bound by loving communion of the three persons in one God. Our task as a Christian is not to explain fully the doctrine of the Trinity. After all Christianity as religion is not just a list of doctrines. Christianity is about relationship. Hence, outside the context of relationship, Trinity is impossible to understand. Human intellect is not enough, we need God's grace. It is the grace of God, the Spirit of God who continuously forms our consciousness and transforms our lives to make the Triune God visible within us in the way we relate with others.

We have heard in our first reading in the book of Exodus, that Yahweh is a God full of pity and mercy, slow to anger and abounding in truth and loving kindness. Upon hearing this, it presupposes that God from the very beginning want to have a loving relation with us and the rest of his creation.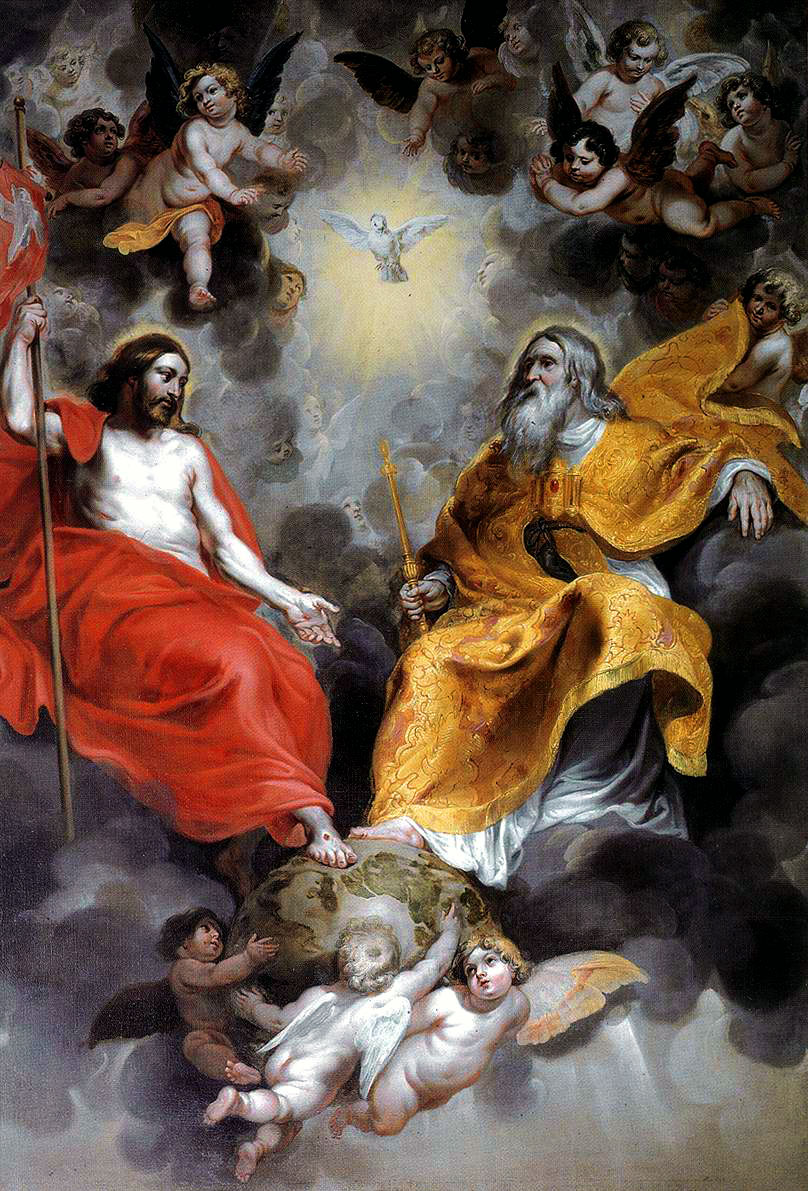 His love is creative and since it is creative, he always provides. God desires humanity to enter into his inner life. This inner life of God speaks of the mutual love of the three persons in one Godhead. Every time we profess our faith during the Mass, we stand in awe and wonder on how God works in our lives. He never stops working in us. Each day is always an opportunity to grow in love with a God who loves us first. Our Creed is Trinitarian in structure: the Father and the Son are united in the Spirit of love. The inmost secret of all reality is the divine loving communion. Trinity is a relationship, it is a community bound by mutual love. Whenever there is an act of love, an act of compassion and an act of mutual sharing, the presence of the Triune God is there. As our 2nd reading in the 2nd letter of St. Paul to the Corinthians highlighted "The grace of Christ Jesus the Lord, the love of God and the fellowship of the Holy Spirit be with us all. He is with us today. This is the reason why we are all gathered here celebrating as one community in Our Lady of Remedies Parish. It's good to hear that as we celebrate Trinity Sunday, we are also celebrating Parish day bearing the theme "Pagdiriwang ng Pag-ibig ng kabanal-banalang Trinidad sa Sangnilikha."

This celebration reminds us of our own calling. We are all different in terms of gifts, history, interests and skills. Yet we share the same calling, our vocation to love. Seeing the things that is happening in our world today, armed conflict in Marawi, extra-judicial killing, destruction of our natural resources, persecution of Christians in different parts of the world, wide gap between the rich and the poor, it's difficult to feel the loving presence of God. So many questions that may come out in our mind. But you know what brothers and sisters, our God is capable of embracing all of human history with all its sinfulness, brokenness and limitations. God draw straight in crooked lines. Nothing can separate us from the love of God. Amidst all these happenings, we are always a community of hope because of our faith that God would never abandon us. We know that out of super-abundant love, God created us and shared his Love for all of us so that in return we will love Him by loving each other and the rest of his creation. This is our challenge to continue hoping and believing. And this is the heart of the message of our Gospel today…..God so loved the world that he gave his only Son that whoever believes in Him may not be lost, but may have eternal life. Jesus the human face of God taught us how to live. As he was sent by the Father to show how much we are loved, we are also sent to show to others how loving our God is.



The mutual self-giving of the Father and the Son bound by the Spirit of love should be our model on how we should live out our lives. It is the love of the Triune God that guides all our decisions in life. This is our mission. It is in the silent sanctuary of our own hearts that we make room for the transforming power of love to grow within us and radiate through us. Love is something that gives meaning to our existence because we are all created out of love. After all love without action remains an abstract idea. But if love is lived out and practiced it becomes a reality that would change the present structure of our world. Each day is an opportunity to let this love grow in whatever ways we express. It is only in loving that would help us understand the Trinity. Start loving yourself and let this love grow in your family, community and to where God is leading us to make a better world. Have a Blessed Trinity Sunday to all.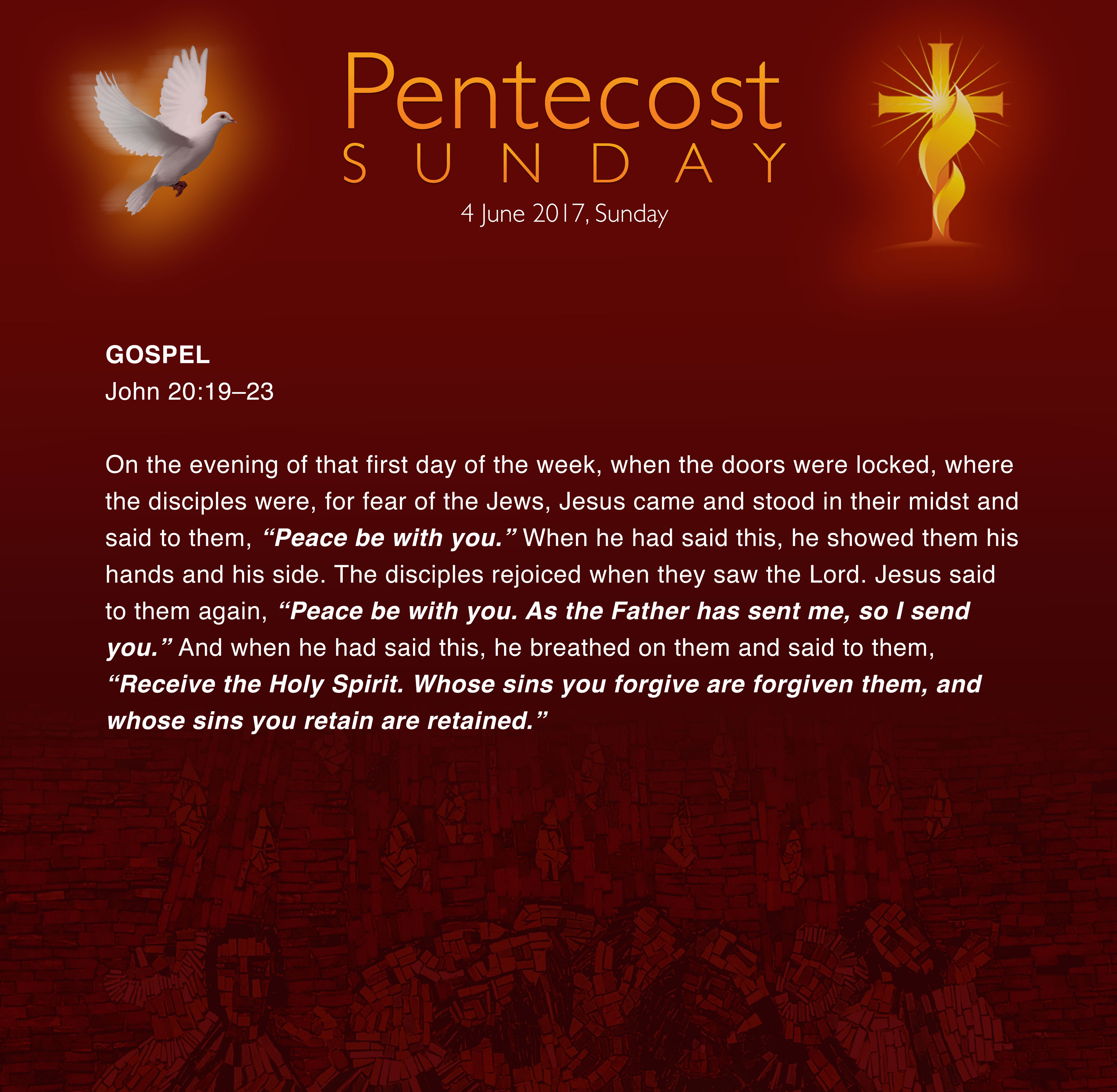 Jesus raised his eyes to heaven and said, "Father, the hour has come. Give glory to your son, so that your son may glorify you, just as you gave him authority over all people, so that your son may give eternal life to all you gave him. Now this is eternal life, that they should know you, the only true God, and the one whom you sent, Jesus Christ. I glorified you on earth by accomplishing the work that you gave me to do. Now glorify me, Father, with you, with the glory that I had with you before the world began."

"I revealed your name to those whom you gave me out of the world. They belonged to you, and you gave them to me, and they have kept your word. Now they know that everything you gave me is from you, because the words you gave to me I have given to them, and they accepted them and truly understood that I came from you, and they have believed that you sent me. I pray for them. I do not pray for the world but for the ones you have given me, because they are yours, and everything of mine is yours and everything of yours is mine, and I have been glorified in them. And now I will no longer be in the world, but they are in the world, while I am coming to you."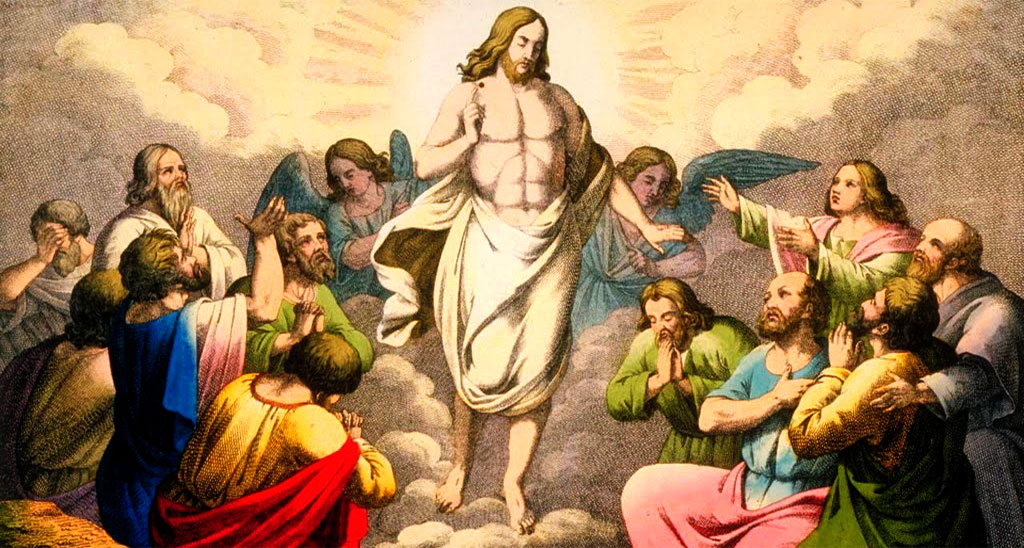 7th Sunday of Easter - 28 May 2017
Fr. Leo Distor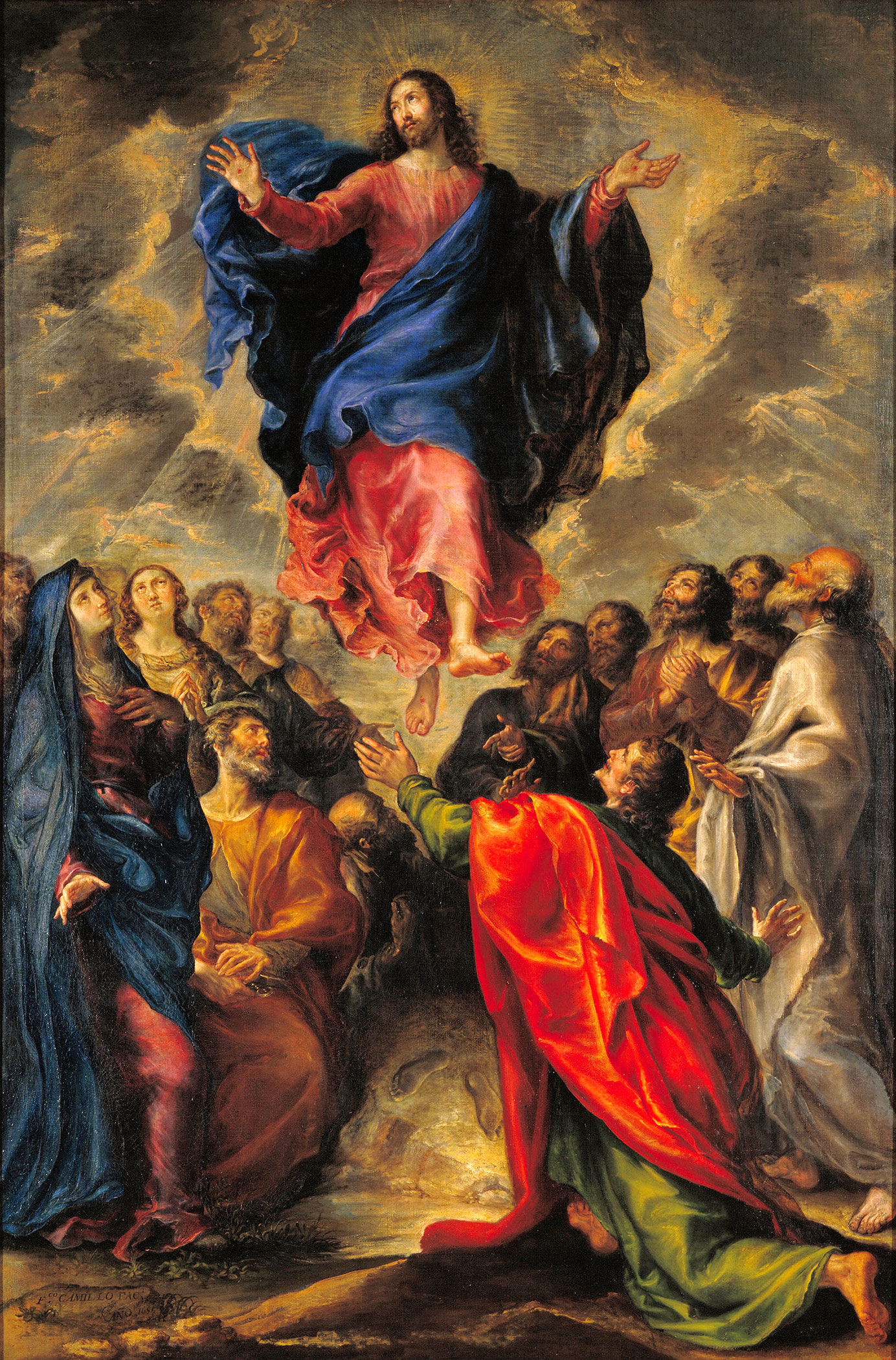 Maaring marami sa atin ngayon dito ay may mga pamilya, kamag-anak o mga kakilala na nasa sa ibang bansa at malayo sa atin. Marami sa ating mga kababayang mga ina at ama, anak, kapatid o asawa ang lumilisan sa bayan at nangingibang-bayan ay sadyang iniiwan ang pamilya upang mag-trabaho sa malayo at kumita ng mas malaki-laki.

Nguni't alam natin na ang paglisan o pangingibang-bayan ng mga kababayan natin ay hindi pag-alis upang mahiwalay, o upang mapalayo. Ito ay isang pagsasakripisyo na ang pakay ay upang lalong mapaghandaan ang darating na kinabukasan ng kanilang mga mga mahal sa buhay. Itong paglisang ito ay hindi pagpapabaya o pamamaalam, kundi pagsisikap, pagtitiyaga, para sa ikagaganda ng buhay ng kanilang mga mahal at ang katuparan ng buhay na ito para sa mga mahal ay tunay nilang tagumpay at kagalakan.

Si Jesus man ay lumisan … umakyat sa kalangitan. Madalas nating ilarawan ang Pag-akyat ng Panginoong Hesus sa langit bilang pag-iwan na sa atin dahil tapos na ang kanyang laban. O kaya naman bilang pagkakamit na niya ng korona ng tagumpay dahil nakamit na niyang muli ang kanyang luwalhati bilang Anak ng Diyos. O kaya naman, tila ito pagpapasa na ng Panginoon sa kanyang mga alagad ng misyon na sinimulan Niya at sila na lang ang bahalang magpatuloy nito.

Hindi umakyat ang Panginoon upang lumisan, kundi upang luwalhatiin ng Ama. Iniluklok ng Ama si Hesus sa kaluwalhatian kung saan ay taglay Niya ang lahat ng kapangyarihan at kaluwalhatian ng langit. Naangkin ni Hesus ang lahat ng kapangyarihan sapagkat bilang ibinangon ng Diyos mula sa kamatayan ay kaniya ang tagumpay at siya ang itinatanghal na Panginoon ng sanlibutan at tagapagligtas ng buong daigdig. Ito ang ipinagdiriwang natin ngayon.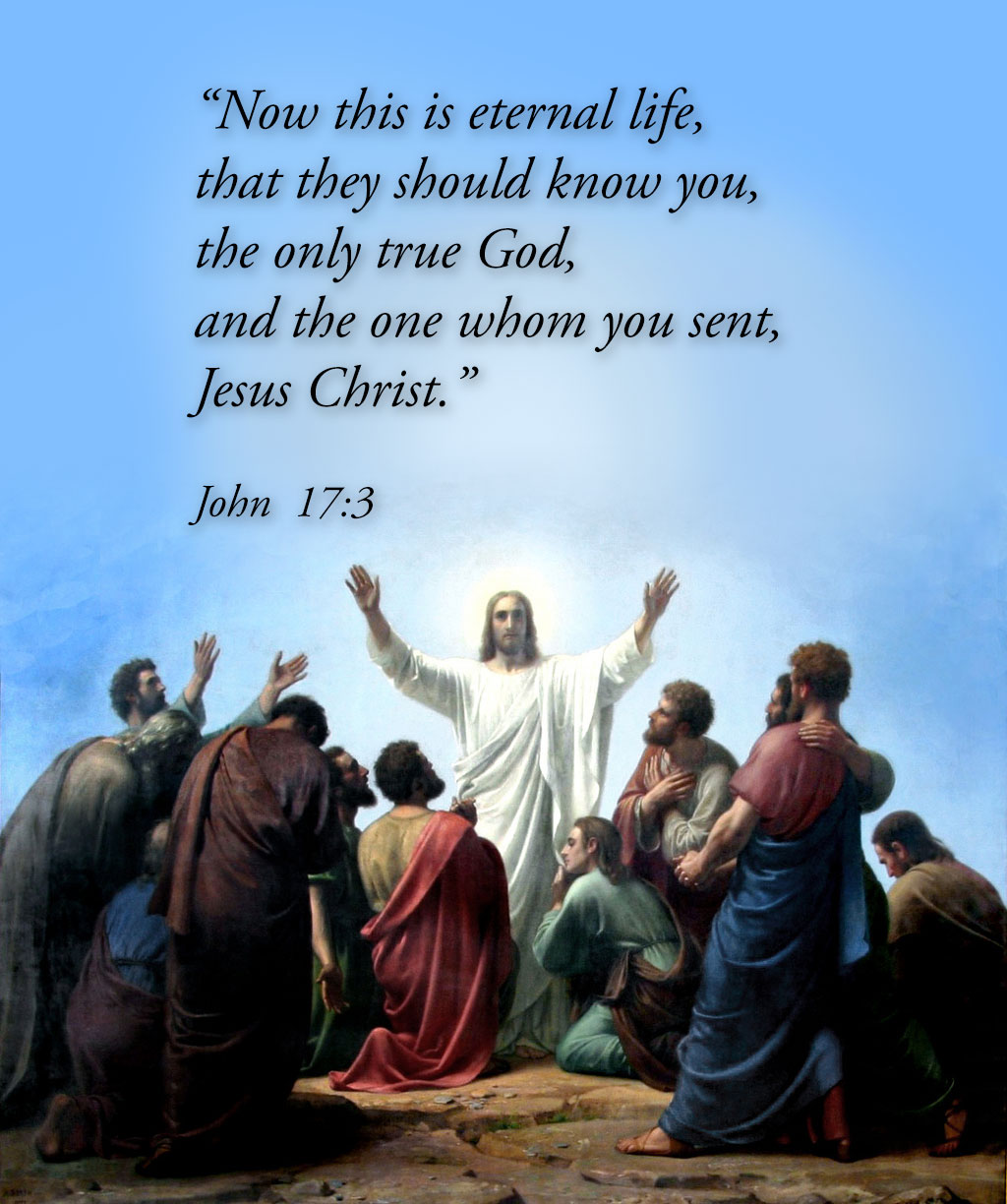 Ang pag-akyat ng Panginoon ay hindi pamamaalam, hindi upang mawala sa ating piling kundi pananatili sa ibang paraan, sa mas mataas na antas sa pamamagitan ng biyaya,. Ang pag-akyat niya ay hindi paglisan kundi para Kanyang tuluyang gawang pagliligtas, at sa pakikipagsalamuha sa atin sa pamamagitan ng kanyang sambayanang Kristiyano….ang kanyang simbahan. Nais ni Hesus na ang lahat ay maging kanyang mga alagad. At ang kanyang pangako….. ay lahat ng araw siya ang kapisan at kaagapay.

Sa pag-akyat ni Hesus sa langit, dala-dala Niya tayo sa kanyang isip, sa kanyang puso. Naalala niya lagi tayo habang nasa luwalhati kasama ng Ama at ng Espiritu Santo. Nananabik siyang makapiling tayong muli at makaugnay muli.

Ang Pag-akyat niya sa langit ay hindi para sa kanyang kabutihan, o kapahingahan, o kaluwalhatian lamang. Bumalik siya sa Ama para sa kapakanan ng kawan na tinipon niya sa lupa, para sa bayang ipinagkasundo niya sa Kaharian ng Diyos. Hindi ba sabi niya na babalik siyang muli?

Ang hamon ay nasa ating mga kamay, hamon na maging tapat sa ala-ala ni Hesus. Ngayong hindi natin siya nakikita sa harapan, minamahal din ba natin ang kanyang ala-ala at lagi ba tayong nabubuhay na may pagtitiwalang nananatili siya sa atin? May pananabik ba tayong makasama siya sa ating buhay? Ang panahon ng pagkakahiwalay natin sa Panginoon ay oras upang pahalagahan at gamitin na inspirasyon ang ala-ala ni Hesus saating pamumuhay. Iniisip niya tayo lagi, ganoon din ba tayo sa kanya?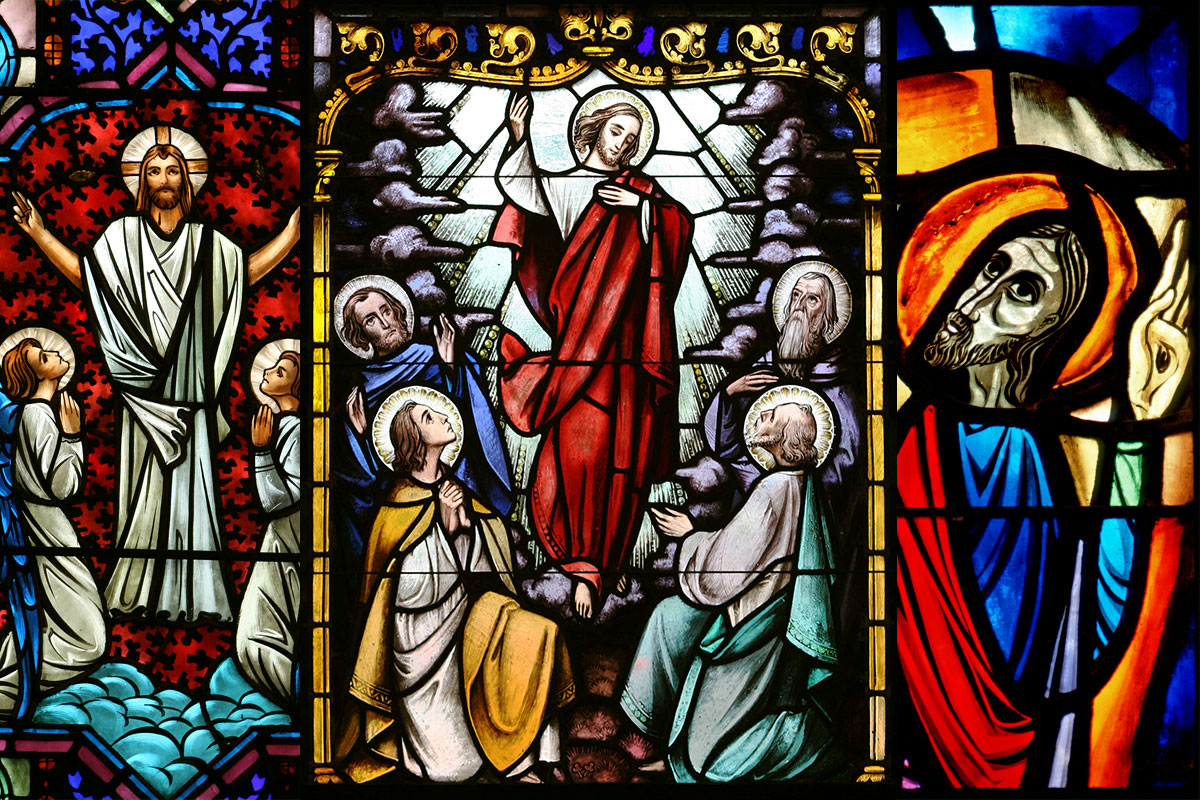 Pero, tingnan nating muli ang ebanghelyo … Hindi siya lumisan. Hindi siya namaalam. Patuloy siyang nananatili, pero may iniutos siya sa atin: "Humayo kayo at gawing disipulo ko ang buong daigdig." Tayo ay itinalaga ni Hesus bilang isang kapatiran ng mga misyonero, mga sugo niya, upang ang lahat ng tao ay makaisa niya sa buhay at pag-ibig ng Diyos. Tayo ay inatasan ni Hesus na ipangaral ang kanyang salita at tanggapin ang sumasampalataya sa ating sambayanang Kristiyano - sa ating kapatiran.

Tayo ay pinagkalooban niya ng kapangyarihan na sa kanyang pangalan ay gawin nating mga alagad niya ang lahat ng mga tao. At siya ay mananatili sa piling natin sa bawat sandali. Siya ang magbibigay sa atin ng lakas at tatag. Siya ang kaisa natin at kapiling kasama ng Ama at ng Espiritu Santo hanggang sa katapusan, na siyang simula ng walang hanggan.

Sa ulitin, ang pag-akyat ay pananatili sa piling natin. Ang pag-akyat niya ay isang paghamon, upang tayo ay gumanap sa kanyang ginanap, ang katotohanan tungkol sa kung sino siya … ang Diyos na sumasaatin!

Ang pag-akyat ni Hesus sa langit ay simula ng bagong panahon. Ito ay ang panahon ng simbahan –ikaw, ako, tayo na puno ng Banal na Espiritu upang ipagpatuloy ang gawang pagliligtas ng Panginoon. Ang kaluwalhatian ng Panginoon ay ang siya rin nating kakamtin. Bawat isa sa atin ay may nakalaang tahanan sa Panginoon. At hindi lamang natin ito makakamtan sa kabilang buhay.

Ayon kay Santo Papa Benedicto, ang pagtungo natin at pakikipag-ugnay sa Panginoon, ay ang nagdudulot sa atin ng langit. Kung magkagayon, ang langit ay hindi lugar dun sa kalawakan, Ang langit ay nasa sa pakikiisa natin.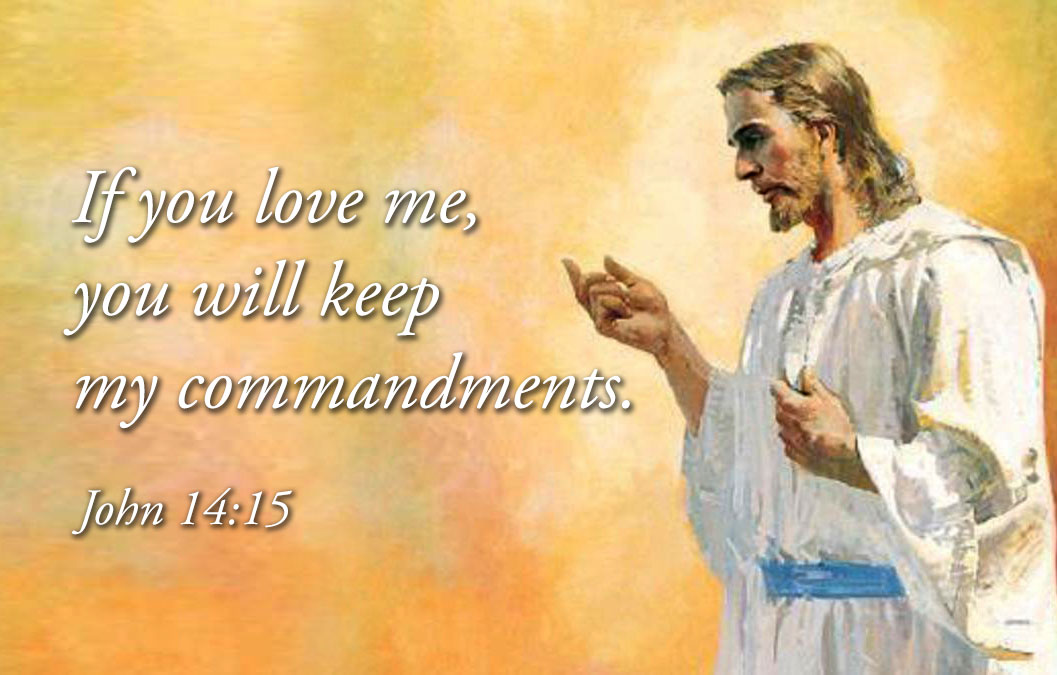 Jesus said to his disciples: "If you love me, you will keep my commandments. And I will ask the Father, and he will give you another Advocate to be with you always, the Spirit of truth, whom the world cannot accept, because it neither sees nor knows him. But you know him, because he remains with you, and will be in you. I will not leave you orphans; I will come to you. In a little while the world will no longer see me, but you will see me, because I live and you will live. On that day you will realize that I am in my Father and you are in me and I in you. Whoever has my commandments and observes them is the one who loves me. And whoever loves me will be loved by my Father, and I will love him and reveal myself to him."


6th Sunday of Easter - 21 May 2017
Fr. Leo Distor
Today Peter tells us in the epistle, "Always be ready to give an explanation to anyone who asks you for a reason for your hope." Peter's statement implies that Catholics are supposed to be persons of hope; and that we need to be capable and ready always to give the reasons for our hope to anyone who asks us. This proclamation of hope is an essential part of the Good News each of us is called to live and proclaim.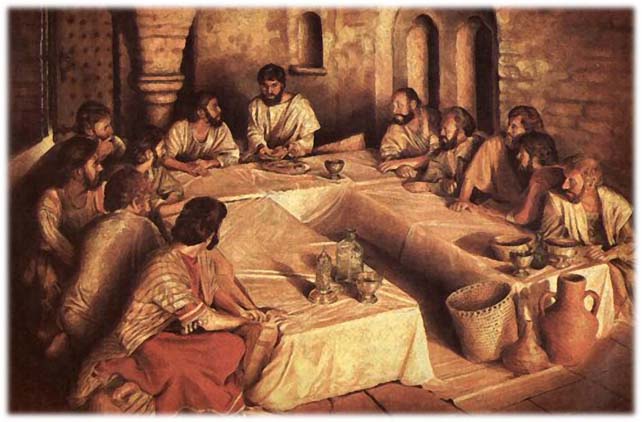 This Gospel of Hope is needed today as much as ever because so many people are living without hope. Many are led to fear, despair and suffering by things and situations in the world - the threat of terrorism, the destruction of environment, the problems flowing from drugs and poverty in our own country. Many lose hope due to situations in their own lives —problems at home – marital problems, family problems, difficulties in work places, various health complications and so many other personal situations. Even within the Church, there are other problems that make people lose hope – scandals in the church, many people are not living-out the faith and people come to church only to pray and ask for their self-centered needs. In positions of leadership, there is the failure of many to lead a life that truly cares for the welfare of others and to sacrifice for the people. With all of these problems we cannot seem to hope and succeed in the struggle to live as God wants.

But despite all of these challenges, which are not greater than the challenges that Peter faced in his own time, we should not despair. Peter easily could have despaired because the challenges far exceeded his human ability to face it, but He counted on the Lord to give him what he needed. That's why Peter's words to us today in his first letter are so important.

The fundamental reason for our hope has nothing to do with our individual talents, bright personalities, educational attainments, great accomplishments, important connections. The essential reason of our hope is GOD. Hope is based on the deep conviction that God is faithful to his promises, that he will always give us what we need and what is best for us. He who is the all-powerful Lord of the universe loves us with an everlasting love, from which no human situation, no matter how seemingly desperate, can separate us from Him. During this Easter Season, we celebrate the fact that not even Jesus death on the cross can extinguish hope! We have hope because God brought the greatest good out of the worst evil on Good Friday.

One essential reason for our hope today is that God has come back to life through the Holy Spirit. In today's Gospel, Jesus tells us that when he goes.





Jesus said to his disciples:
"Do not let your hearts be troubled. You have faith in God; have faith also in me. In my Father's house there are many dwelling places. If there were not, would I have told you that I am going to prepare a place for you? And if I go and prepare a place for you, I will come back again and take you to myself, so that where I am you also may be. Where I am going you know the way." Thomas said to him, "Master, we do not know where you are going; how can we know the way?" Jesus said to him, "I am the way and the truth and the life. No one comes to the Father except through me. If you know me, then you will also know my Father. From now on you do know him and have seen him." Philip said to him, "Master, show us the Father, and that will be enough for us." Jesus said to him, "Have I been with you for so long a time and you still do not know me, Philip? Whoever has seen me has seen the Father. How can you say, 'Show us the Father'? Do you not believe that I am in the Father and the Father is in me? The words that I speak to you I do not speak on my own. The Father who dwells in me is doing his works. Believe me that I am in the Father and the Father is in me, or else, believe because of the works themselves. Amen, amen, I say to you, whoever believes in me will do the works that I do, and will do greater ones than these, because I am going to the Father."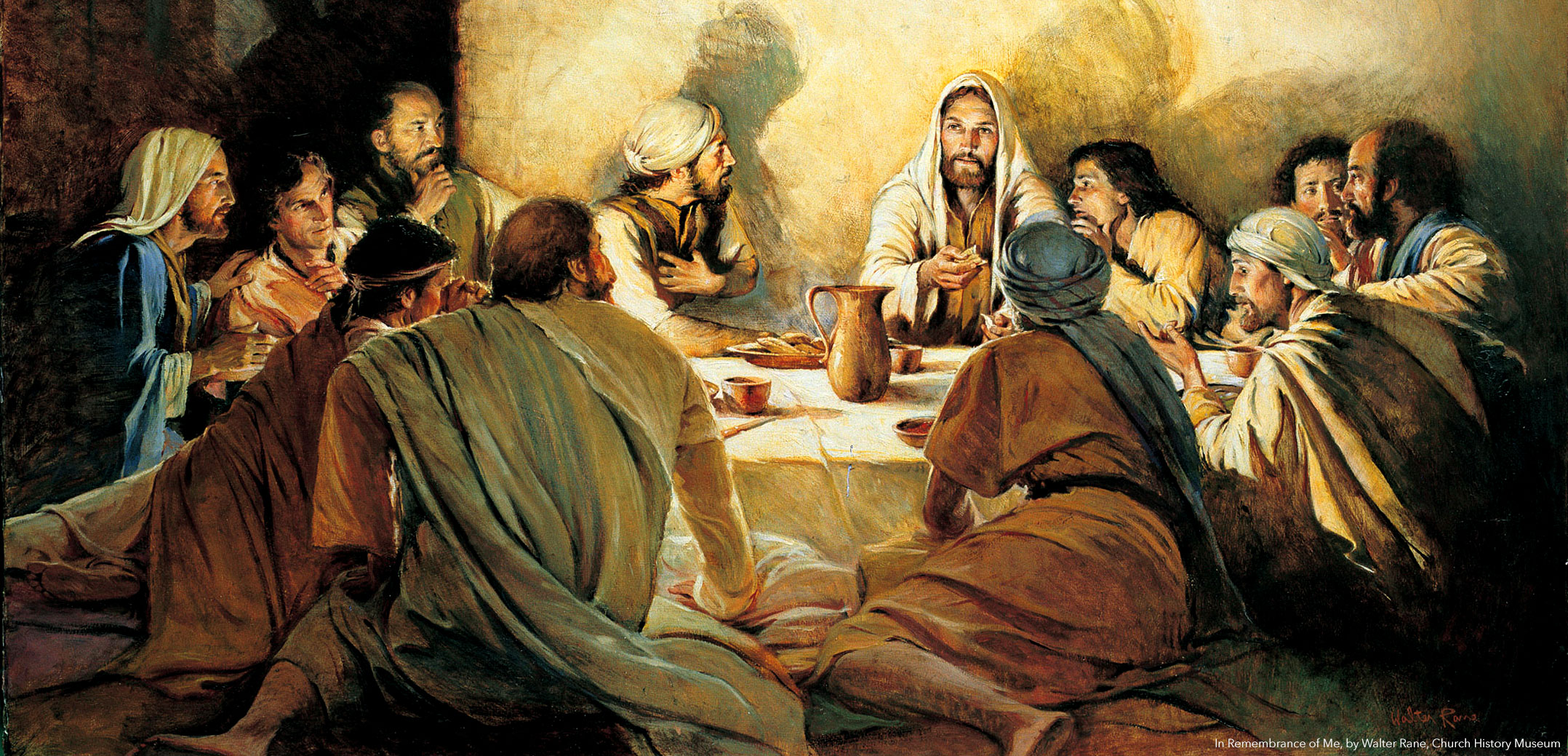 5th Sunday of Easter - 14 May 2017
Fr. Michael Martin
One friend says: Home is where the heart is.
Another prefers: Home is where you are understood.

A young man got involved in crime. He became a robber, and spent 3 years in jail.
Not a single one of his family visited him. He felt disowned by them
Others helped him change. He himself took the initiative and wrote to his parents: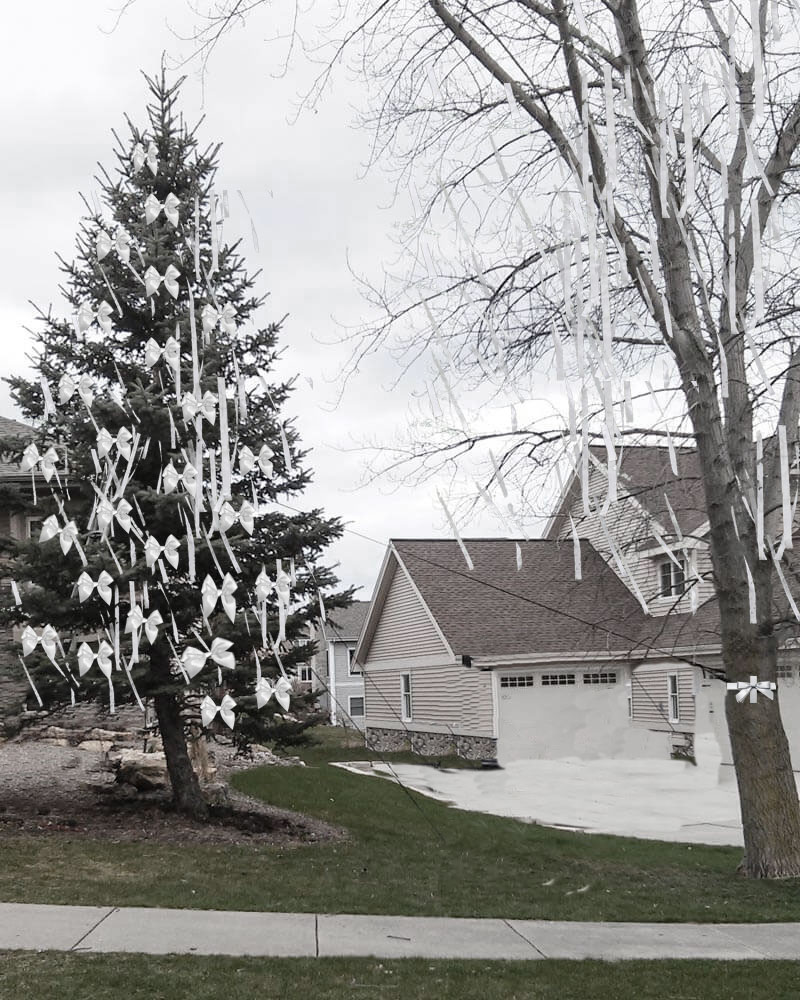 I will be released soon. I do not know if you ever want to see me at home again.
If you do want me to go home: Pin a huge white ribbon on the top of the tall fruit tree in our garden.
If you pin a ribbon on the tree, I will see it from the train which runs past our house.
On the train, he could not sit at rest. The man beside him was willing to listen:
Where is your house, I will keep watch for the tree, but may I ask:
What then is your plan if there is no ribbon?
I will know then that I have no home to go to ever again!
Nervously, the companion kept vigil. Yes, we are getting close now "LOOK, LOOK" the companion said, as both of them looked again and saw the tree, now covered with so many white ribbons

Pope Francis has repeatedly said to us all: Welcome home, the Church was your home; the Church is your home. WELCOME HOME. HEAVEN is our promised home

Jesus repeatedly said: I AM THE WAY, Jesus says. I am going home. I will not leave you orphans. I will come and bring you to where I am. I am the Truth, I am the LIFE. Another translation reads: I am the way, which is Truth and life.


TRUTH: We are a community which gathers to hear God's word, prays together, cares for one another and for all life and creation, breaks the bread, and is faithful to the teaching of the Apostles.
Is it true that EJK does not apply to drug addicts? It is not true. It is lies. Drug victims are humans like you and me. Shame on the Speaker of such words.
Would you believe words like that or do we not admire WHISTLE BLOWERS who speak the truth and have everything to lose and little to gain? LIFE Death penalty handout

Are Malate's financial reports on our Parish blackboards TRUE? I am the way, which is TRUTH
Jesus, the Risen Lord, says to us today:

Home has many mansions - all people are welcome - all are invited - walk the way I walked

Parents get a letter from a daughter coming home to Ireland after several years in Australia/I Will take the boat from England to Ireland/Mother says she will meet her/ Daughter says she will wear a red skirt……

Mother: Do you think a mother will not know her daughter, will not recognize her child
Do you think I could ever fail to recognize you, my daughter?

Jesus will recognize you. He has said so. He keeps his promises

Jesus knows that you witnessed to the truth….and respected life.


You were life giving, healing & uplifting spirits, especially the spirits of those most denied life – in our land, in our parish, in our world today.

Amen!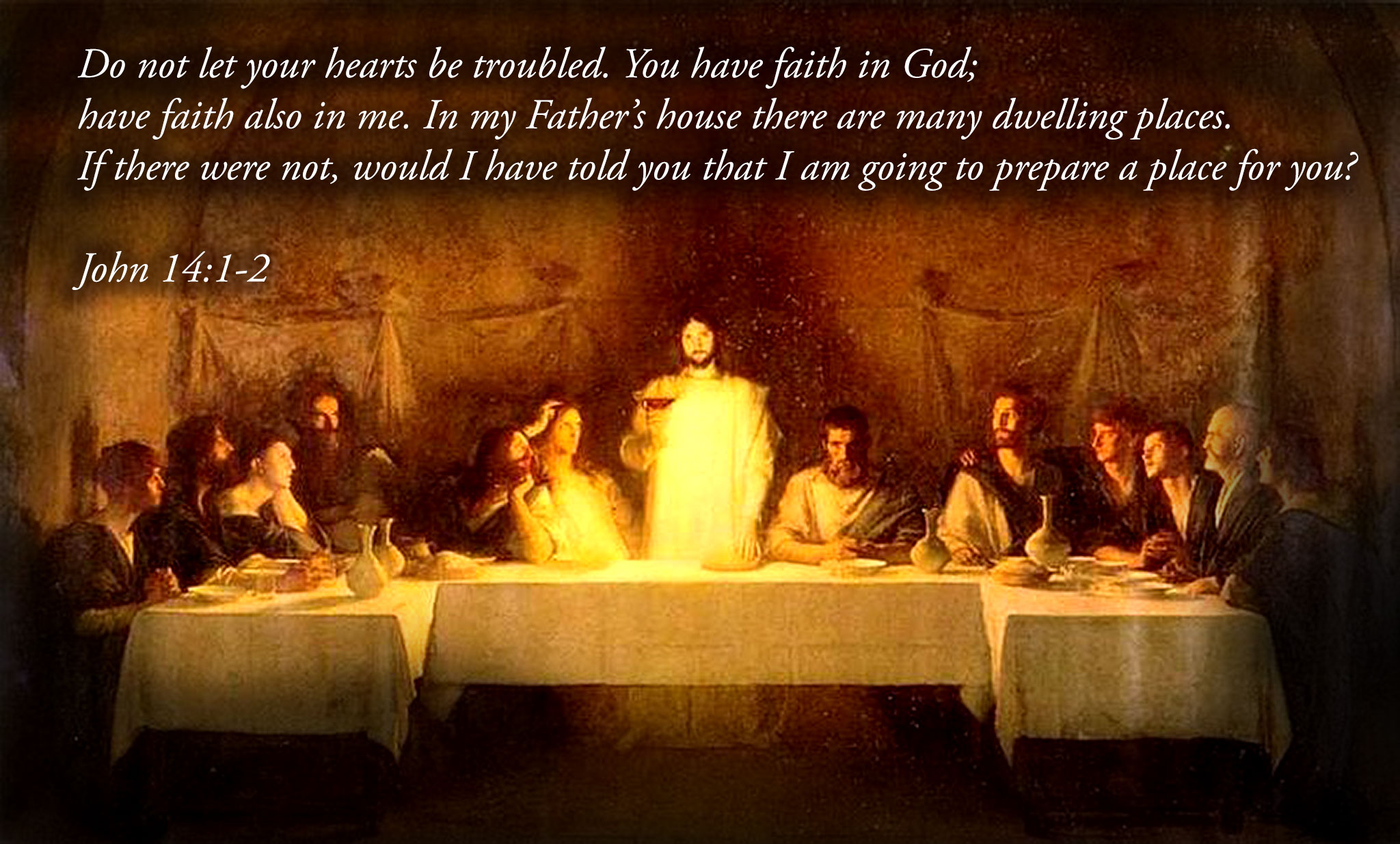 Jesus said:
"Amen, amen, I say to you, whoever does not enter a sheepfold through the gate but climbs over elsewhere is a thief and a robber. But whoever enters through the gate is the shepherd of the sheep. The gatekeeper opens it for him, and the sheep hear his voice, as the shepherd calls his own sheep by name and leads them out. When he has driven out all his own, he walks ahead of them, and the sheep follow him, because they recognize his voice. But they will not follow a stranger; they will run away from him, because they do not recognize the voice of strangers." Although Jesus used this figure of speech, the Pharisees did not realize what he was trying to tell them.

So Jesus said again, "Amen, amen, I say to you, I am the gate for the sheep. All who came be-fore me are thieves and robbers, but the sheep did not listen to them. I am the gate. Whoever enters through me will be saved, and will come in and go out and find pasture. A thief comes only to steal and slaughter and destroy; I came so that they might have life and have it more abundantly."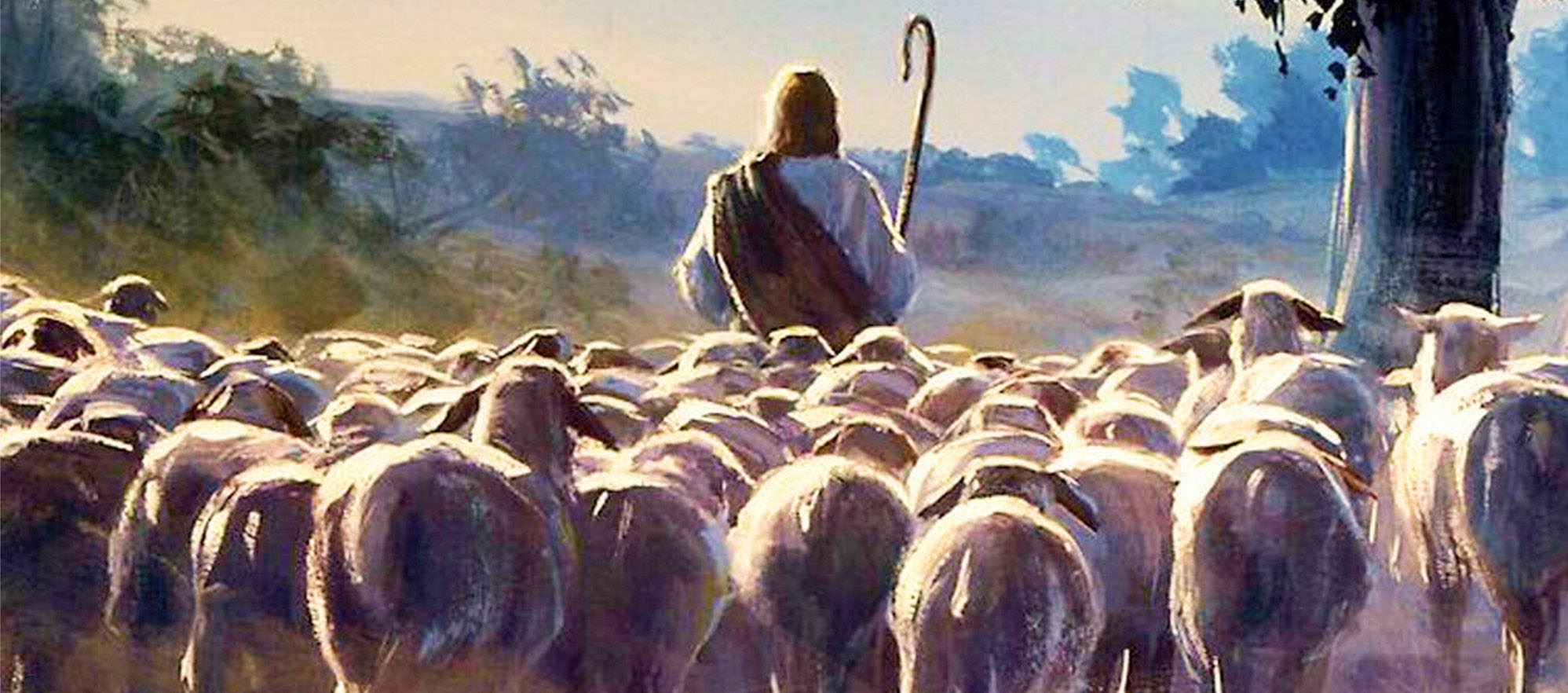 4th Sunday of Easter - 7 May 2017
Fr. Leo Distor
Ang ika-apat na Linggo ng Pagkabuhay ay laging nakatalaga bilang Linggo ng Mabuting Pastol. Sa ating pagninilay sa mga magandang katangian ng pastol mauunawaan natin ang pag-mamahal, pagmamalasakit, pag-gabay, at pagtatanggol sa atin ni Hesus bilang mabuting pastol.

Kung mayroong plano ang Diyos sa atin bilang kanyang mga anak ito'y para sa ating ikabubuti, hindi niya hangad na tayo'y mapahamak kundi nangangarap siya para sa ating ikabubuti. Ang Diyos natin ay hindi lang natin Diyos, kundi Siya'y ating maituturing na Pastol; isang Mabuting Pas-tol na naghahangad lang sa atin ng isang matagumpay na buhay at isang buhay na ganap, sabi nga sa Salmo Responsorio dinadala tayo ng ating Pastol sa "mainam na pastulan at tahimik na batisan.

Sa ating kapanahunan ngayon, maingay ang ating kapaligiran. Marami ang sala-salabat na tinig, marami ang salu-salungat na takbo ng isipan … maraming umaakit at nananawagan ng ating atensyon. Lahat ay nagpapanggap na may hatid na katotohanan … lahat ay nagsasabing wala nang dapat pang pakinggang iba pa. Ito na at wala nang iba.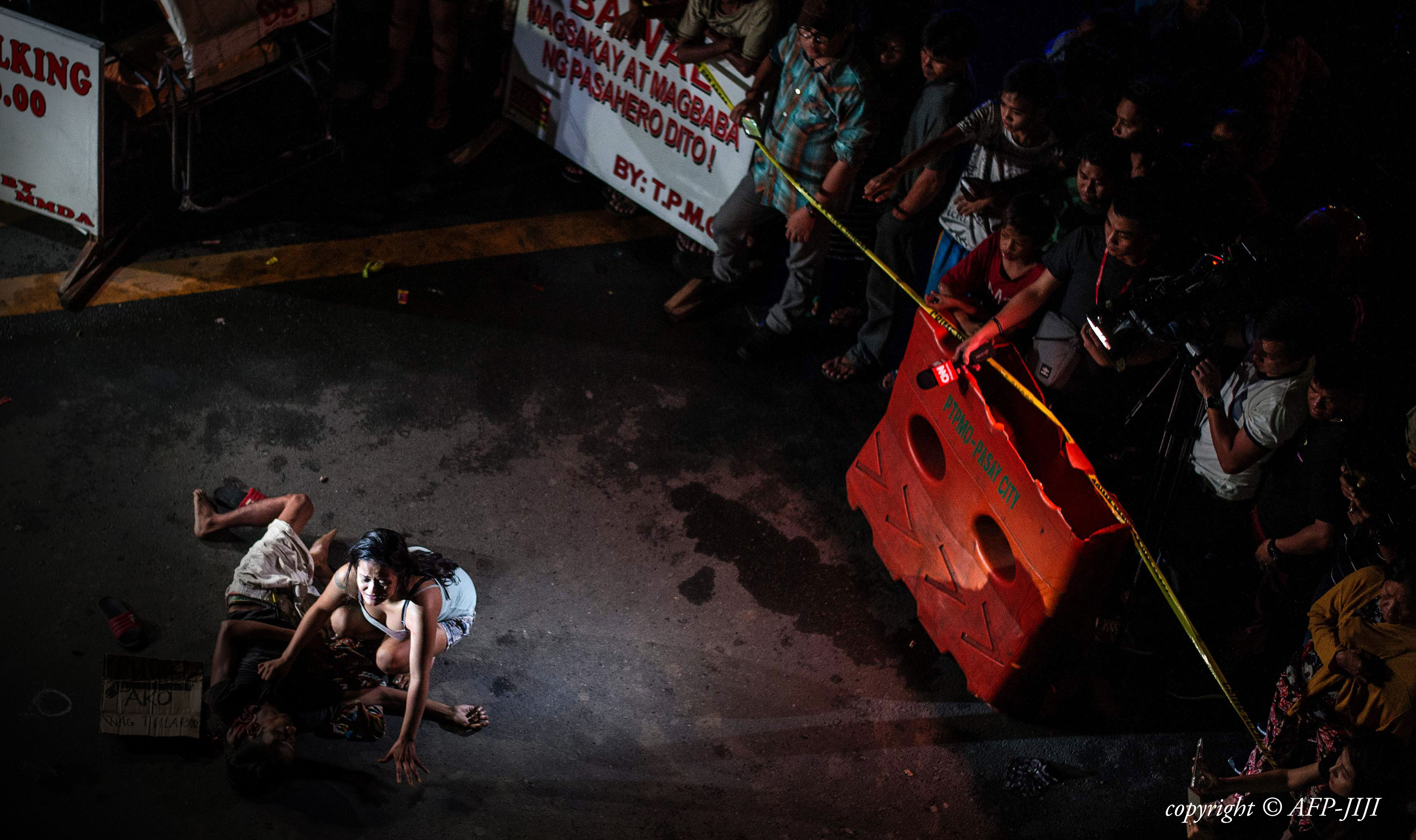 Sa panahon natin ngayon, ang buhay ay masyado nang komplikado. Marami ang nakakatakot at nakakapangamba na mga kaganapan sa ating paligid. Naririyan ang patuloy na pagpaslang sa ating kapwa-tao sa ngalan ng digmaang kontra droga sa paniniwalang ang ganitong paraan ay ma-ghahatid sa ating bansa ng ligtas, matiwasay at maginhawang buhay. Naririyan din ang pagkasira at pagpaslang ng ating kalikasan sanhi ng pagtataguyod ng sariling interés ng iilang nagpapakasasa na sa kanilang yaman subalit hangad pa rin ang magpayaman, kayat patuloy pa rin ang dusa ng kalikasan at ng mga kapatid nating mga katutubo dahil sa iresponsableng pagmimina. Naririyan pa rin ang pamamayagpag sa ating mga pamunuan sa ating gobyerno ang kawalan ng tunay na pag-mamalasakit at pagtataguyod para sa tinatawag na 'common good" at pilit na itinataguyod ang ba-tas na walang puso para sa mga maliliit, kung kaya't talamak at tumitindi pa rin ang kahirapan at pagdurusa ng nakararami.

Kung minsan parang dumarating na tayo sa punto na nagtatanong tayo sa ating sarili, "nasaan na ang kapangyarihan ng Diyos sa mga kalagayang ito", "Nasaan na ang mabuting pastol na gagabay at magliligtas sa atin? Maaaring ang dapat na ating katanungan ay, "kinikilala ba natin ang Diyos na tunay nating pastol"?, "kilala at pinakikinggan ba natin ang kanyang tinig"?, "tayo ba ay mabubuting tupa"?

"Nakikinig sa akin ang aking mga tupa; nakikilala ko sila, at sumusunod sila sa akin". Sa isang maiksing pangungusap nasasaad dito ang mga katangian na inaasahan sa mabuting tupa. Una, nakikinig ang mga tupa sa tinig ng pastol.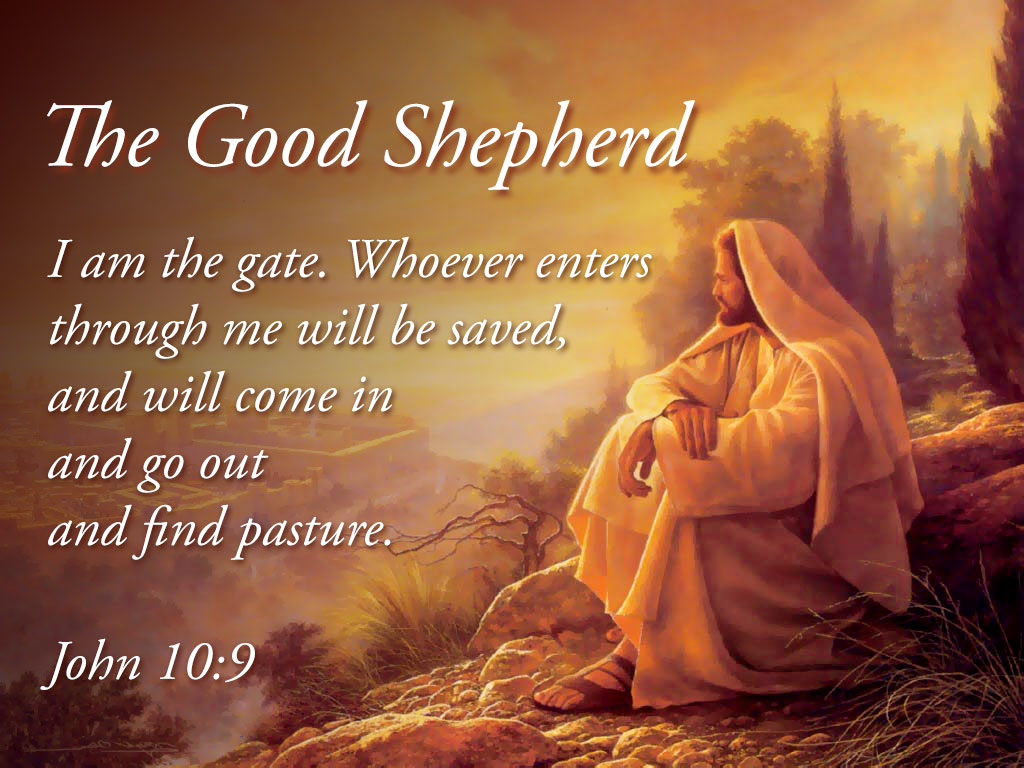 Sa dami ng opinyon na isinusubo sa atin mula sa media, mga namumuno sa ating lipunan at sa maraming iba pa, nakakalito kung sino ang pakikinggan. Kung di tayo mag-iisip at magbabantay sa mga mali, at di tayo matibay sa ating pananampalataya, madali tayong matatangay ng iba't-ibang ingay sa kapaligiran.

Ang isang katangian ng tupa na wala sa ibang hayop ay hindi siya puwedeng mabuhay ng walang Pastol, hindi niya kayang ipag-tanggol at asahan ang kanyang sarili, maari niya itong ikapahamak. Parang tao, hindi maaaring wala siyang Diyos sa buhay, bagamat meron siyang mga ibat-ibang resources na maaari niyang gamitin at panghawakang magsasalba sa kanya sa kanyang buhay pero ang totoo "Kulang tayo".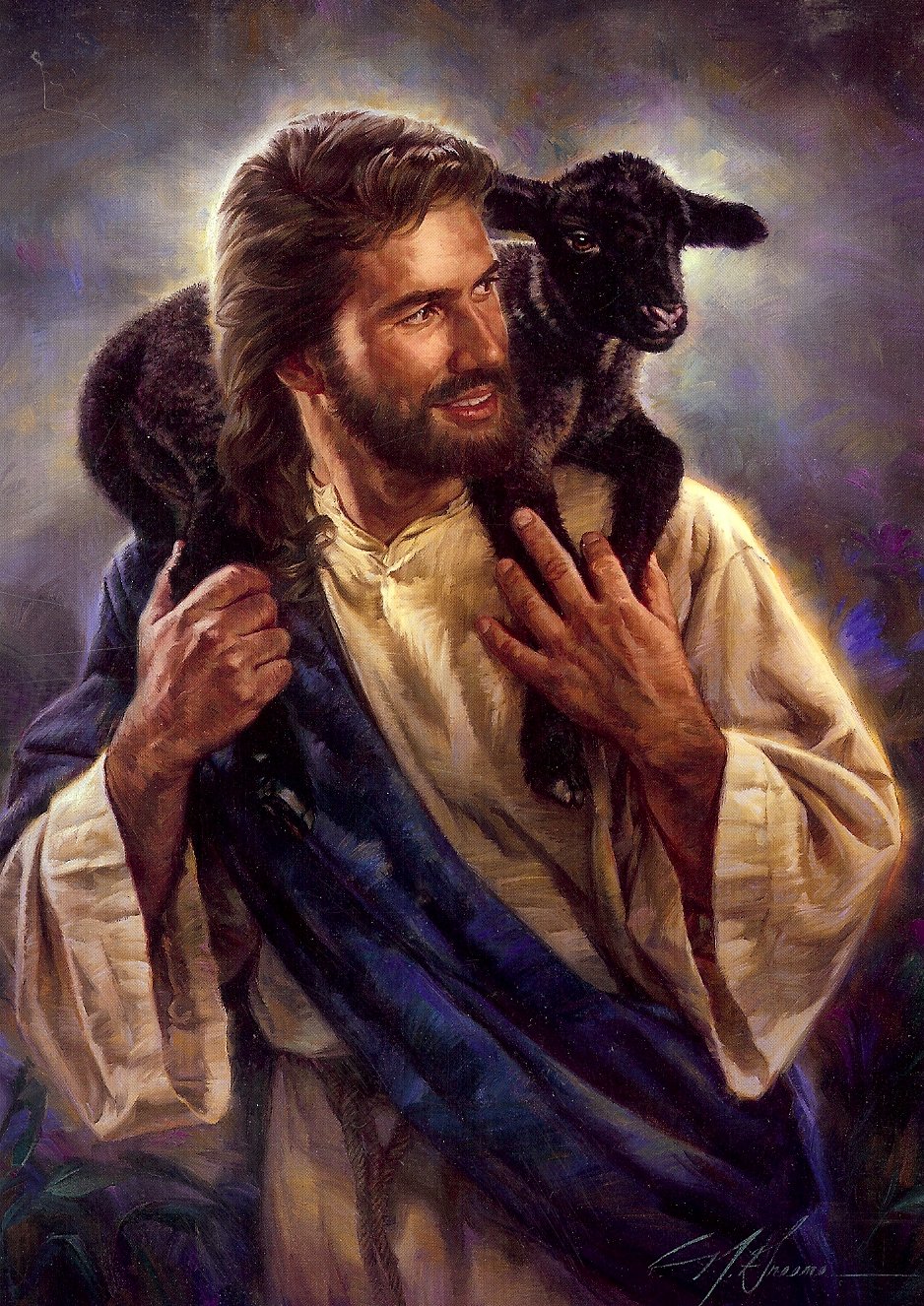 Una. Kulang tayo ng lawak at lalim ng nakikita at nauunawaan kung kaya't kailangan natin ang pag-gabay ng mabuting pastol upang mapaalalahanan at magabayan tayo palayo sa kapahamakan at panganib sa ating buhay paglalakbay. Ang tanong, nag-papagabay ba tayo sa Diyos at sa mga kinauukulang pinagkatiwalaan Niya o mas pinakikinggan natin ang ating mga sarili?

Kulang tayo sa katatagan kung saan ay madali tayong mapanghinaan ng loob, mawalan ng pag-asa, madali tayong ma-destruct sa ating nakikita at nararamdaman, madali tayong sumuko at madaling mapagod. Pero ang ating mabuting Pastol, binibigyan tayo ng "pananaw" sa ating puso upang mag-hangad, upang umasa at mangarap. Ang tanong, mayroon ba tayong mga pangarap at hangarin na magpapabago sa simbahan, kumonidad at lipunan natin o para lang ito sa ating sarili?

Kulang tayo ng pagtitiwala at pakikipag-ugnay sa iba. Minsan pakiramdam natin "kaya nating mabuhay ng wala ang ibang tao", pero ang totoo katulad ng tupa na hindi siya puwedeng walang kawan, nilikha tayo ng Diyos na likas ang kaugnayan sa iba. Sabi sa Banal na Kasulatan kapag ang isang tupa ay nawawala sa kawan, hinahanap ito ng Mabuting Pastol at muling dinadala sa ka-wan. Tunay nating kailangang kilalanin ang Diyos at sundan ang kanyang mapaggabay na tinig pa-ra sa ganap nating buhay. Nakakamtan lamang ito dahil kilala ng tupa ang pastol at buo ang pag-titiwala niya sa kanya.

Maraming paraan nagpapakilala ang Diyos sa atin – sa bibliya, sa sakramento, sa pagtuturo, sa mga nilikha, o sa mga mabubuti at makakapag-bigay buhay, pag-asa, malasakit na mga gawain ng tao sa kapwa. Mahalaga na ilapit natin ang ating sarili sa mga pamamaraang ito at gamitin ito bilang instrumento ng ating pagkilala sa Diyos. Sa mga munting pamamaraan, sikapin din nating maging mabubuting pastol sa mga ipinagkatiwala sa atin.

Ang ika-apat na Linggo ng Muling Pagkabuhay ay laging inilalaan ng Simbahan upang ipagdasal ang pagpapalaganap sa bokasyon hindi lamang ng pagpapari at pagiging relihiyoso kundi sa pagi-ging tunay na kawangis ni Kristo. Malaki ang pangangailangan ngayon ng ating simbahan at ng ating mundo ng mabubuting pastol na naaayon sa halimbawa ni Jesus.





That very day, the first day of the week, two of Jesus' disciples were going to a village seven miles from Jerusalem called Emmaus, and they were conversing about all the things that had occurred. And it happened that while they were conversing and debating, Jesus himself drew near and walked with them, but their eyes were prevented from recognizing him. He asked them, "What are you discussing as you walk along?" They stopped, looking downcast. One of them, named Cleopas, said to him in reply, "Are you the only visitor to Jerusalem who does not know of the things that have taken place there in these days?" And he replied to them, "What sort of things?" They said to him, "The things that happened to Jesus the Nazarene, who was a prophet mighty in deed and word before God and all the people, how our chief priests and rulers both handed him over to a sentence of death and crucified him. But we were hoping that he would be the one to redeem Israel; and besides all this, it is now the third day since this took place. Some women from our group, however, have astounded us: they were at the tomb early in the morning and did not find his body; they came back and reported that they had indeed seen a vision of angels who announced that he was alive. Then some of those with us went to the tomb and found things just as the women had described, but him they did not see." And he said to them, "Oh, how foolish you are! How slow of heart to believe all that the prophets spoke! Was it not necessary that the Christ should suffer these things and enter into his glory?" Then beginning with Moses and all the prophets, he interpreted to them what referred to him in all the Scriptures. As they approached the village to which they were going, he gave the impression that he was going on farther. But they urged him, "Stay with us, for it is nearly evening and the day is almost over." So he went in to stay with them. And it happened that, while he was with them at table, he took bread, said the blessing, broke it, and gave it to them. With that their eyes were opened and they recognized him, but he vanished from their sight. Then they said to each other, "Were not our hearts burning within us while he spoke to us on the way and opened the Scriptures to us?" So they set out at once and returned to Jerusalem where they found gathered together the eleven and those with them who were saying, "The Lord has truly been raised and has appeared to Simon!" Then the two recounted what had taken place on the way and how he was made known to them in the breaking of bread.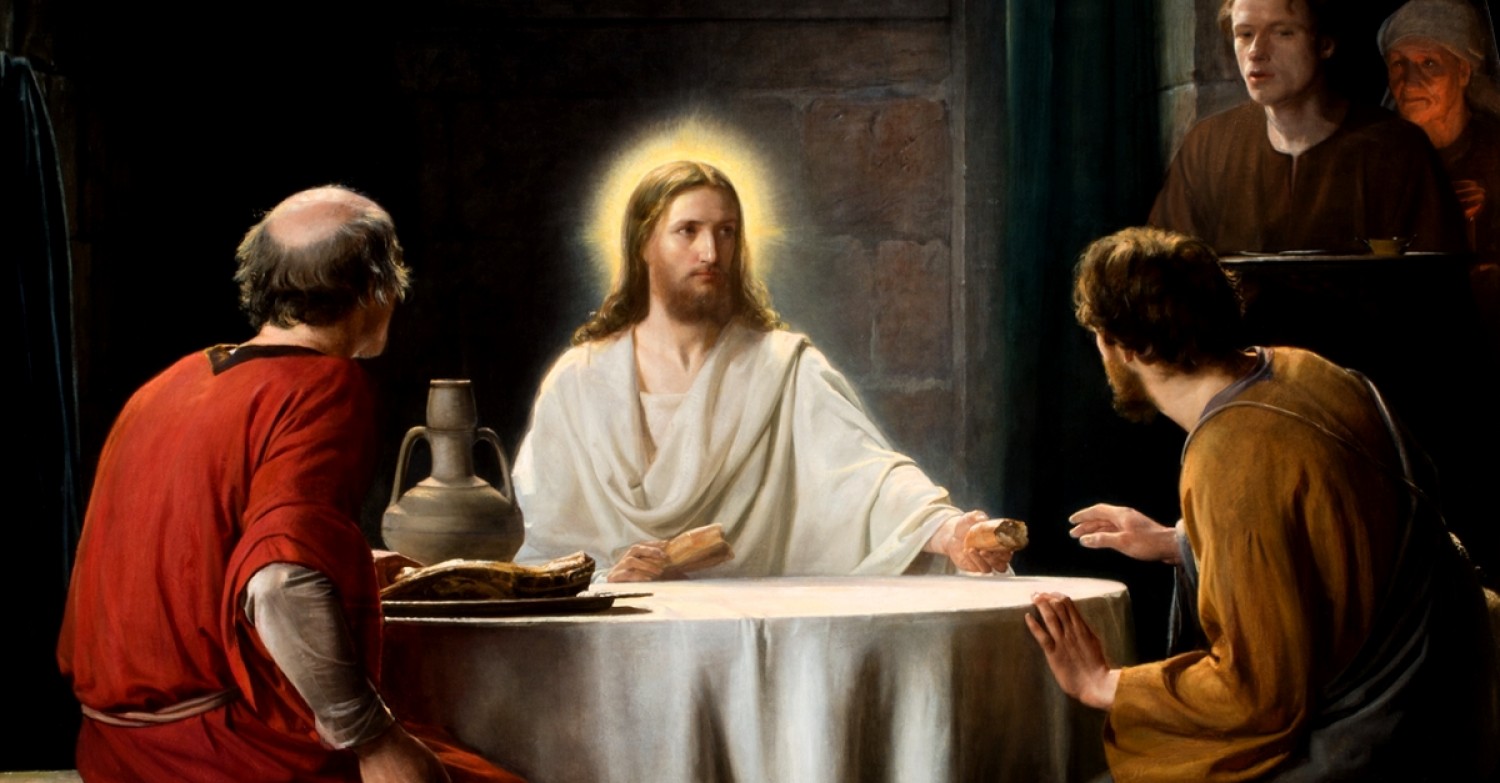 3rd Sunday of Easter - 30 April 2017
Fr. Leo Distor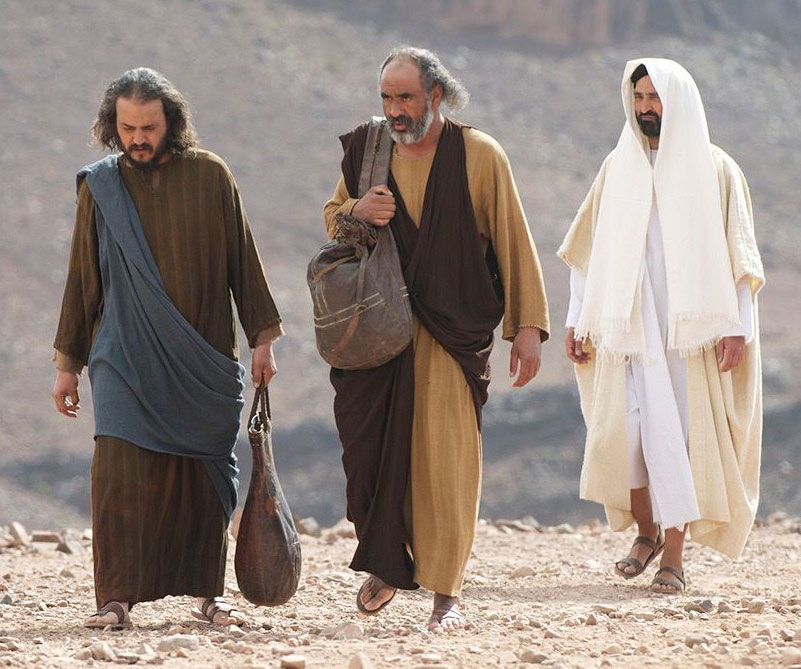 The disciples on the way to Emmaus saw their hopes and dreams smashed and crushed. They were expecting Jesus to be a mighty warrior and liberator. They never imagined the scandal of the cross. Everything seemed finished and they lost hope.

But Jesus himself drew near and walked with the disciples. Jesus entered their conversation without revealing his true identity. He listened to them and in the light of what they said he read the past for them in a new way. Jesus listened patiently to the version of history that those two disciples had. He didn't cut them off. He heard them out. Had Jesus cut them off, their doubts and objections would have remained inside them, suppressed and therefore all the more powerful, it would have buried them in their sad past, in hopelessness and despair.

Many of us still remember the violence done to us and we hold on to the pains it caused us. We give so much power to it and let it control our lives that we can become deaf accordingly to the invitation of Christ. We let our pains, hopelessness, fears and doubts tell ourselves to stop moving on and to give-up, we tell ourselves 'Ganito na ako e, hindi ko na ito mababago, kaya magtiis na lang kayo ".

If this is the powerlessness and hopelessness that color our vision, then we would also believe that someone who is a "trouble maker" will always be a troublemaker and we fail to see the signs that the person is gifted in some area. Or, we would believe that someone who is a criminal will always be a criminal and will never really change for good, even when there are signs otherwise. We tell ourselves not to dare believe and expect the extraordinary to happen and not to see that life can change. We make snap judgments and we miss the incredible reality of what is in front of us. Jesus is with us and in our midst constantly. He promises us: "Behold I am with you always, even unto the end of the world". He's here, but too often we don't see him.



Like those two disciples, beneath our baggage, doubt, sadness and despair lies a deep yearning and a holy hunger. Beneath our disbelief is our hope and our need for God to be alive, vibrant and present.

The risen Christ is with us always… all through the day, in every one we meet. But too often, he goes unrecognized. He is only a Sunday presence at best… here for the breaking of the bread and then ignored in our self-absorption. Jesus does not want His disciples to simply recite a role of hope – reducing hope to an ideology or mere theory, to a mere slogan saying, "Christ is risen", to mere appearances and feelings.

It is not enough that we see Christ in our midst. It is not enough that we recognize him. It is not even enough that we look for Christ in others. We must show the world that the risen Christ lives in us, too. We must actively witness his love. Our lives must be clear proof of the Resurrection. Jesus wants His disciples like us "to be hope". We cannot afford to simply be people "who were hoping." Rather we must become hope.

A grandfather played with his grandson by showing him a cookie on one of his hands then brought his hand behind him and after awhile made his grandson choose which of the closed hands bear the cookie. The grandson opened his grandfather's left hand and found just half of the cookie and the grandfather opened the right hand to show the other half.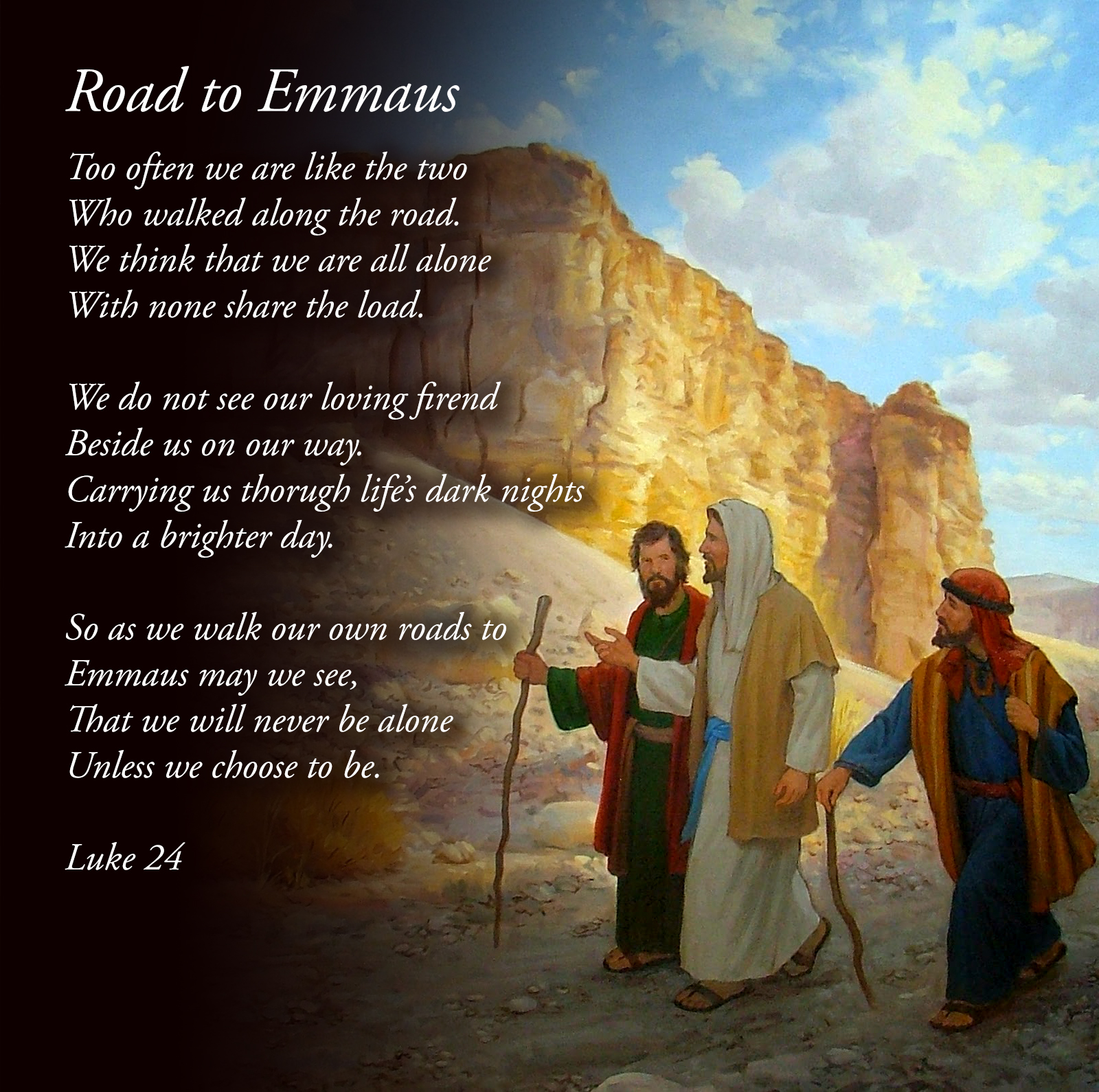 I think that's where hope lies – when we break bread and life like that,"half for us and half for others". There is more love when it is given away than when it is kept. Jesus is inviting us and is teaching us to live in a world of loving sacrifice. When we sacrifice for the good of others and of this world, there will be no scarcity and the 'sacrificers' are fed by their own sacrifices.

We come here week after week, breaking bread and listening to the good news that Jesus is with us. We strengthen one another when we look around with eyes that are looking for the Jesus who is alive. When we look at the world around and really see what is happening around us through Jesus-eyes, we cannot help but see hope and that we can't keep it to ourselves anymore but "to be hope".

As we walk on our Emmaus roads may we dare to turn to those who are walking beside us and see the light of Christ that is in them. Jesus did not call us to be 'alone, but to be the new community. And He is no longer simply a historical figure, a regretted lost friend, a memory; He is risen; He is the way forward; he is the Way to the Father; "through Him we have access in one Spirit to the Father".





On the evening of that first day of the week, when the doors were locked, where the disciples were, for fear of the Jews, Jesus came and stood in their midst and said to them, "Peace be with you." When he had said this, he showed them his hands and his side. The disciples rejoiced when they saw the Lord. Jesus said to them again, "Peace be with you. As the Father has sent me, so I send you." And when he had said this, he breathed on them and said to them, "Receive the Holy Spirit. Whose sins you forgive are forgiven them, and whose sins you retain are retained."

Thomas, called Didymus, one of the Twelve, was not with them when Jesus came. So the other disciples said to him, "We have seen the Lord." But he said to them, "Unless I see the mark of the nails in his hands and put my finger into the nail marks and put my hand into his side, I will not believe."

Now a week later his disciples were again inside and Thomas was with them. Jesus came, although the doors were locked, and stood in their midst and said, "Peace be with you." Then he said to Thomas, "Put your finger here and see my hands, and bring your hand and put it into my side, and do not be unbelieving, but believe." Thomas answered and said to him, "My Lord and my God!" Jesus said to him, "Have you come to believe because you have seen me? Blessed are those who have not seen and have believed."

Now, Jesus did many other signs in the presence of his disciples that are not written in this book. But these are written that you may come to believe that Jesus is the Christ, the Son of God, and that through this belief you may have life in his name.


2nd Sunday of Easter - 23 April 2017
Fr. Leo Distor
On Easter Sunday there was rejoicing on Jesus' resurrection but the very next day after Easter, the disciples were hiding in a locked room in fear of the Jews. They had doubt about what they should do.

It is very, very easy to be a person of faith when all goes well. When life is without any really deep crises, it is easy for each of us to be a person of faith. But when a crisis tears at our hearts, then very often we feel our faith shaken, we begin to doubt if God is really with us and cares for us. Many times we enter into a period of doubt and even of anger at God.



Like the disciples, it was easy to believe in the Lord and stick with Him when they felt the magnetism of His words, when they witnessed His healings, when they saw His miracles. But it was much harder for them to believe and remain with him after He had been taken away to be killed. It was harder for them to believe when they realized that they also could be killed for having been His followers. Thomas doubted the Resurrection because he had suffered the crisis of the crucifixion. His faith in God waned. Like the other chosen disciples, Thomas ran and hid. He was too afraid and sad that he could not remember the promise of the Lord that the Lord will rise back to life.

Thomas was sincere that he really doubted the resurrection of Jesus. He didn't pretend. He was bluntly honest about where he was. He told the truth. Thomas did not understand what was happening, so he did not presume that he knew everything. He could not grasp it fully that a person died and came back to life. He was a man who was having trouble hearing from others that Jesus had been raised from the dead and that it was something to rejoice over.

Doubt is a part of life and it is okay. Who among us can tell that we do not doubt? All of us doubt. But let us use our doubts to inform ourselves about what bothers us and what we do not understand. Doubt is a natural part of the faith journey of many Christians. If you doubt, just like Thomas," Tell the Lord about it. Don't hold back in your prayers. God can handle our doubt. God wants us to be completely honest in prayer for it will lead us to a deeper faith than we had previously.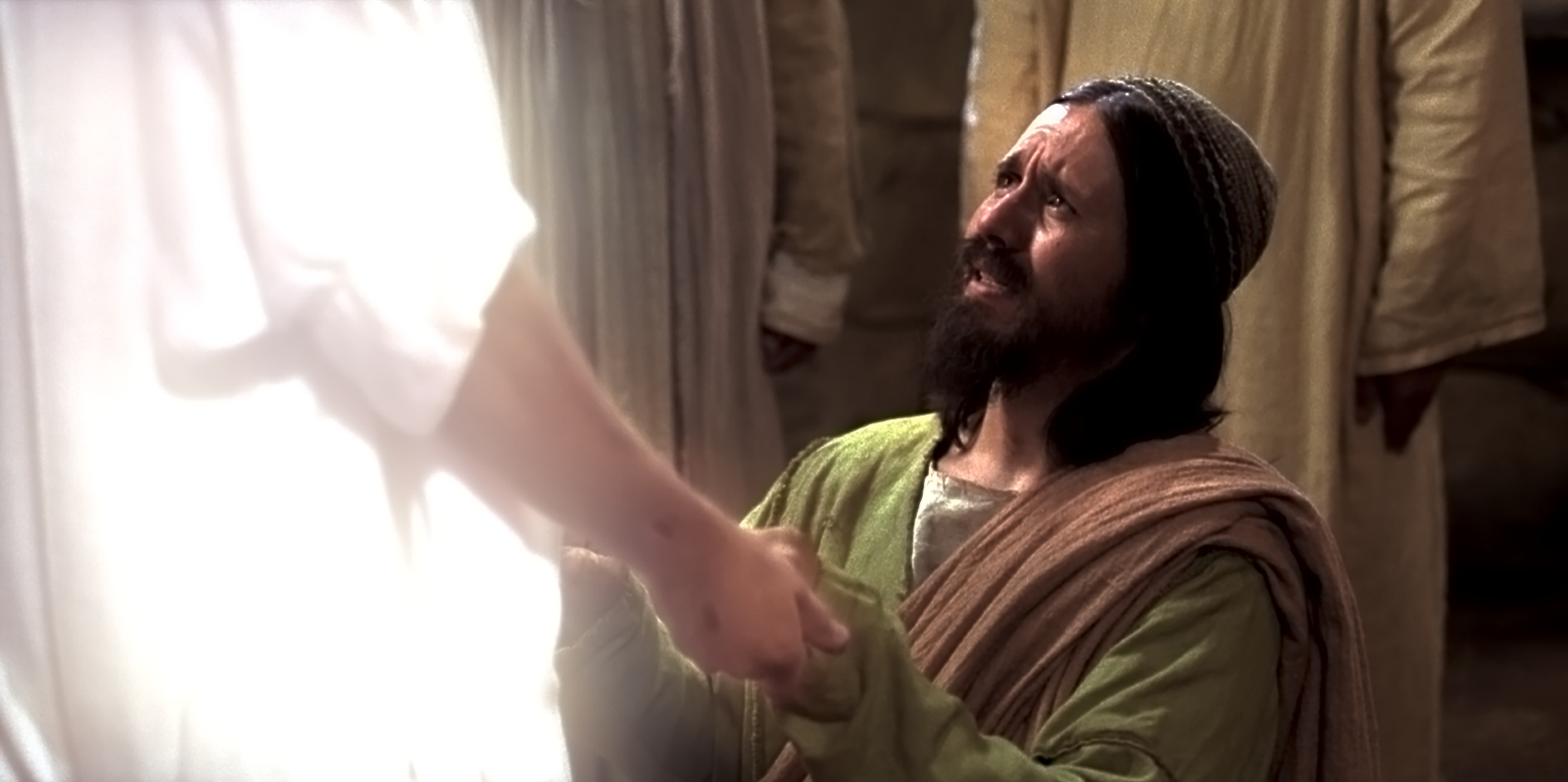 Thomas taught us a lesson that if we do not understand, then, let us humbly, honestly and sincerely accept the fact that we do not know and understand, so we ask others to explain it to us. This does not mean that we have lost our faith. It simply means that we are being called to a deeper faith. At the end Thomas just said: "My Lord and my God!"

At this point Jesus told Thomas about a greater faith, a faith that He has called you and me to grow into. The Lord looked at Thomas and then looked at us and said, "Blessed are those who have not seen yet believe." This is where honesty with God leads. This is the outcome of an open confession of doubt. This is not pretend faith. This is not the sort of Christianity we wear as a wrapping to impress others. It's a genuine faith that comes from the deepest corners of our soul. It's a faith that transforms our lives.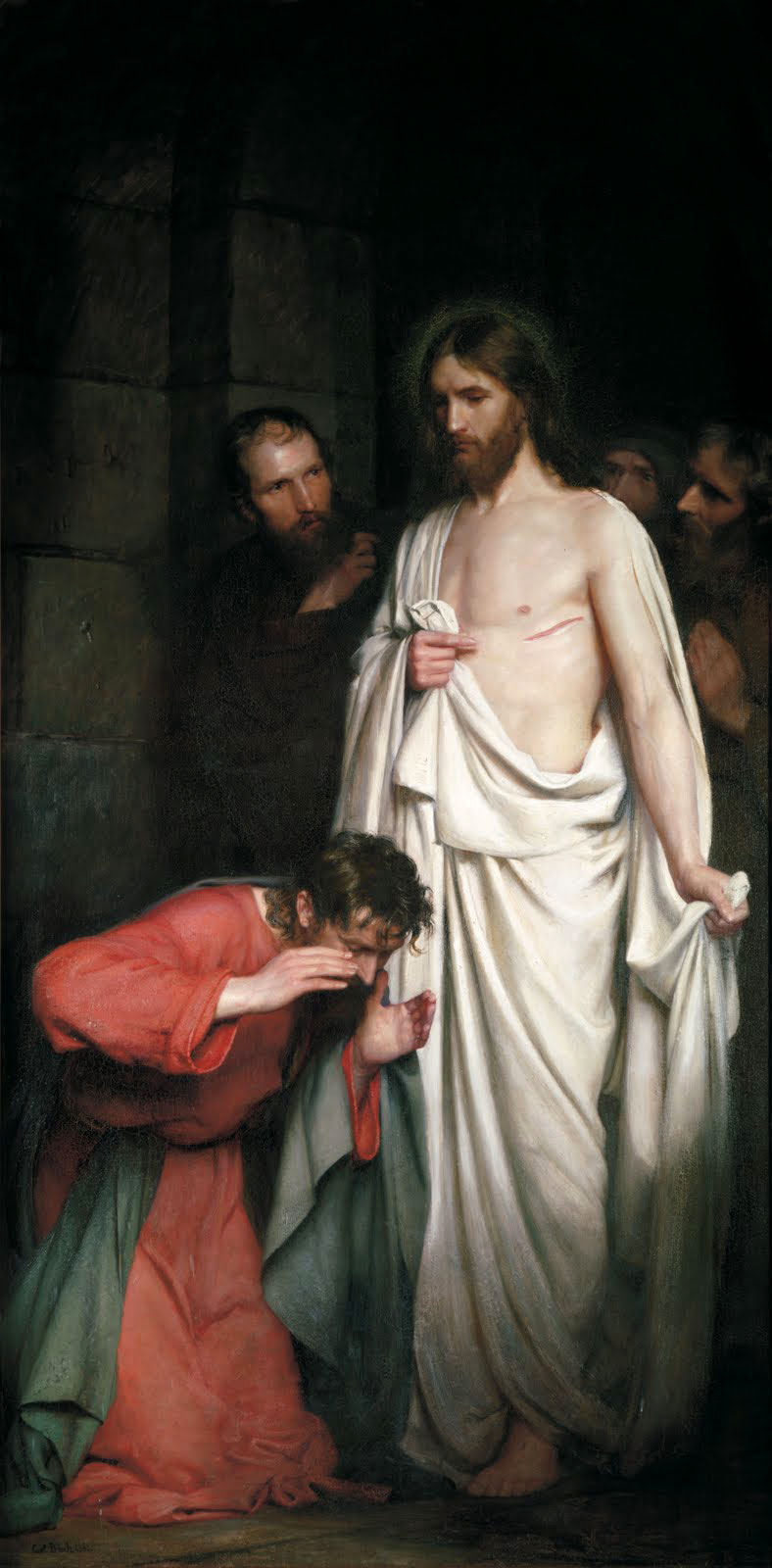 Jesus does not scold Thomas for his unbelief. Rather, he gently and mercifully offers Thomas exactly what he had wanted. Jesus met Thomas right where he was. And he offered himself to Thomas: "Here, touch me, and believe." The same is true about Jesus to us.

In his time and in his way, Jesus comes to us and makes himself known to us. Sometimes he does it in the way we have wanted. Sometimes he doesn't. But he always gives us exactly what we really need. And it comes, not because we have earned it, but by grace.

Many of us struggle with doubt that can seem to choke the very life out of us. We can fall into a pit of despair and cannot get out of it. We can be stuck in unbelief and helpless and hopeless before God. But when we pour our hearts to God, eventually, we may feel a calming presence surrounding and embracing us. The desperate doubts that can torment our souls, is replaced by the deepest peace we desire. Our tears of sorrow may become tears of joy.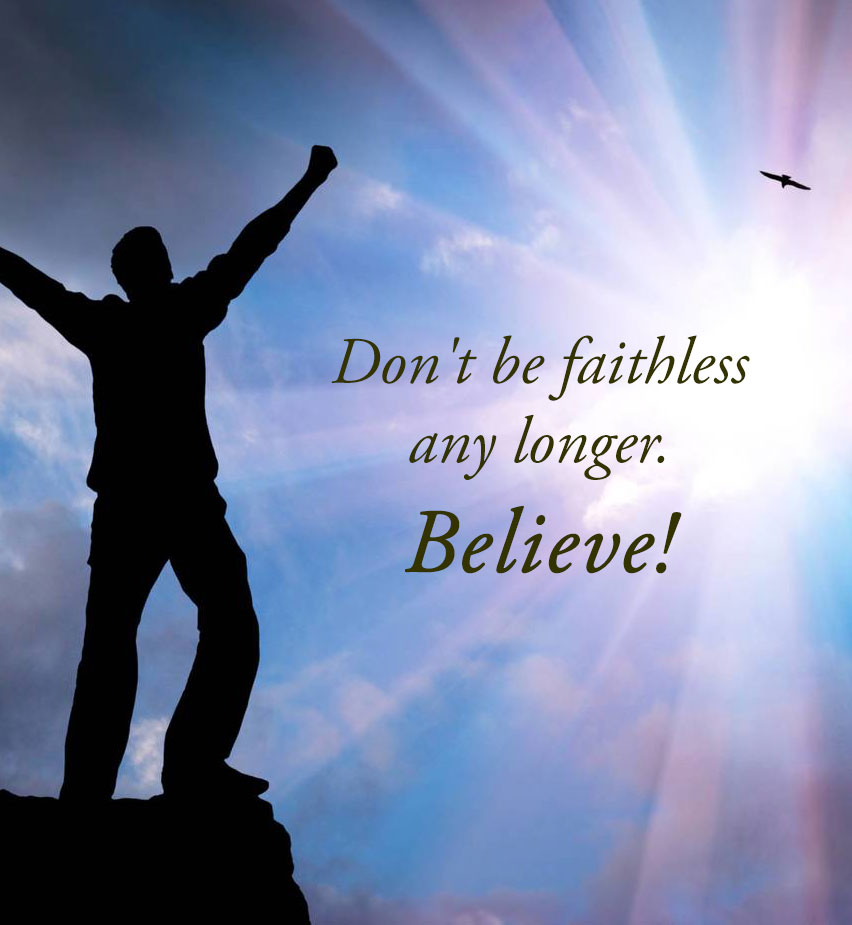 When Jesus said to Thomas: "You believe because you have seen me. Blessed are those who haven't seen me and believe anyway." It's as if Jesus himself is saying to us, "Don't be faithless any longer. Believe!" These are words of encouragement for you and me. Because we don't get to see Jesus, you and I are those who have to believe without seeing.

And in this we are blessed. Being blessed does not mean we are great, or worthy, or morally superior. Being blessed means that God has chosen to pour out his goodness upon us, to be gracious to us, to reveal his Son to us. Indeed, all who believe without seeing are truly blessed.

Let us just listen to his invitation to find true life in Him. No matter where we are in our relationship with Jesus today, though we might still feel like we haven't been ready to put our trust in him, the good news is that he meets us where we are at in our faith life. In his time and his way, he graciously draws us near to his heart so we might know his love and grace. He who gave his life for us so that we might be forgiven, He who was raised so that we might live forever, seeks a genuine, honest relationship with us. He wants, not just a religious performance, but an intimate friendship. So no matter where we are on the road of faith, let the risen Jesus walk with us today, tomorrow, and every day from here on.

One time in a good buffet restaurant where we were invited to dine, Fr. Martin was asked by our host, 'Is your food good, Father?", he replied, "well, if I don't have good food it's already my fault since I have so much that I can choose from". It is when we choose not only the shouts of "Alleluia" but to be with Jesus who invites us to be present in the Easter moment, which is a way of life, then he enters wherever we are and says "Peace be with you" ... in this, we live the good life that is nothing less than the Kingdom of God. Easter blessings!





Urbi Et Orbi (to the city [Rome] and the world)
Message of His Holiness Pope Francis
Easter 2017


Dear Brothers and Sisters, Happy Easter!

Today, throughout the world, the Church echoes once more the astonishing message of the first disciples: "Jesus is risen!" – "He is truly risen, as he said!"

The ancient feast of Passover, the commemoration of the liberation of the Hebrew people from slavery, here finds fulfillment. By his resurrection, Jesus Christ has set us free from the slavery of sin and death, and has opened before us the way to eternal life.

All of us, when we let ourselves be mastered by sin, lose the right way and end up straying like lost sheep. But God himself, our shepherd, has come in search of us. To save us, he lowered himself even to accepting death on the cross. Today we can proclaim: "The Good Shepherd has risen, who laid down his life for his sheep, and willingly died for his flock, alleluia" (Roman Missal, IV Sunday of Easter, Communion antiphon).

In every age, the Risen Shepherd tirelessly seeks us, his brothers and sisters, wandering in the deserts of this world. With the marks of the passion – the wounds of his merciful love – he draws us to follow him on his way, the way of life. Today too, he places upon his shoulders so many of our brothers and sisters crushed by evil in all its varied forms. The Risen Shepherd goes in search of all those lost in the labyrinths of loneliness and marginalization. He comes to meet them through our brothers and sisters who treat them with respect and kindness, and help them to hear his voice, an unforgettable voice, a voice calling them back to friendship with God.

He takes upon himself all those victimized by old and new forms of slavery, inhuman labour, illegal trafficking, exploitation and discrimination, and grave forms of addiction. He takes upon himself children and adolescents deprived of their carefree innocence and exploited, and those deeply hurt by acts of violence that take place within the walls of their own home.

The Risen Shepherd walks beside all those forced to leave their homelands as a result of armed conflicts, terrorist attacks, famine and oppressive regimes. Everywhere he helps these forced migrants to encounter brothers and sisters, with whom they can share bread and hope on their journey.

In the complex and often dramatic situations of today's world, may the Risen Lord guide the steps of all those who work for justice and peace. May he grant the leaders of nations the courage they need to prevent the spread of conflicts and to put a halt to the arms trade.

Especially in these days, may he sustain the efforts of all those actively engaged in bringing comfort and relief to the civil population in beloved Syria, so greatly suffering from a war that continues to sow horror and death. Yesterday saw the latest vile attack on fleeing refugees, resulting in the death and injury of many. May he grant peace to the entire Middle East, beginning with the Holy Land, as well as in Iraq and Yemen. May the Good Shepherd remain close to the people of South Sudan, Sudan, Somalia and the Democratic Republic of Congo, who endure continuing hostilities, aggravated by the grave famine affecting certain parts of Africa.

May the Risen Jesus sustain the efforts of all those who, especially in Latin America, are committed to ensuring the common good of societies marked at times by political and social tensions that in some cases have resulted in violence. May it be possible for bridges of dialogue to be built, by continuing to fight the scourge of corruption and to seek viable and peaceful solutions to disputes, for progress and the strengthening of democratic institutions in complete respect for the rule of law.

May the Good Shepherd come to the aid of Ukraine, still beset by conflict and bloodshed, to regain social harmony. May he accompany every effort to alleviate the tragic sufferings of those affected by the conflict.

The Risen Lord continues to shed his blessing upon the continent of Europe. May he grant hope to those experiencing moments of crisis and difficulty, especially due to high unemployment, particularly among young people.

Dear brothers and sisters, this year Christians of every confession celebrate Easter together. With one voice, in every part of the world, we proclaim the great message: "The Lord is truly risen, as he said!" May Jesus, who vanquished the darkness of sin and death, grant peace to our days.

Happy Easter!

(© Copyright - Libreria Editrice Vaticana)





We are Easter People… and 'Alleluia' is our song!
Fr. Kevin McHugh


One of our parishioners recently reminded me of a Homily I preached one Easter Sunday. It was the opening line that caught her attention. When spoken aloud there is something very solemn, very dramatic about it: We are Easter People… and 'Alleluia' is our song!

St Augustine, one of the great saints of the Church, was a Bishop in the country we now call Algeria. One Easter morning, about 1600 years ago, while preaching in his Cathedral he spoke these immortal lines:

"If we were silent about the joy that comes from the risen Jesus,
the very stones of our cities would cry out.
For we are Easter People and 'alleluia' is our song"!

Here in Malate church we 'sing our song' during the Easter Vigil which begins at 3:00AM. Yes, that's right, 3AM! Those who have been able to join in this dawn celebration will recall the jubilation that is expressed in the opening verses of the magnificent hymn of praise – the Easter Proclamation.

Rejoice, heavenly powers! Sing, choirs of angels!
Rejoice and dance, bright stars and blazing suns!
Jesus Christ, our King, is risen!
Sound the trumpet of salvation.

Let our joyful voices resound this night!
Let God's people rejoice on this Day of days.
With joyful hearts and spirits set afire
draw near to sing this Easter Candle's praise!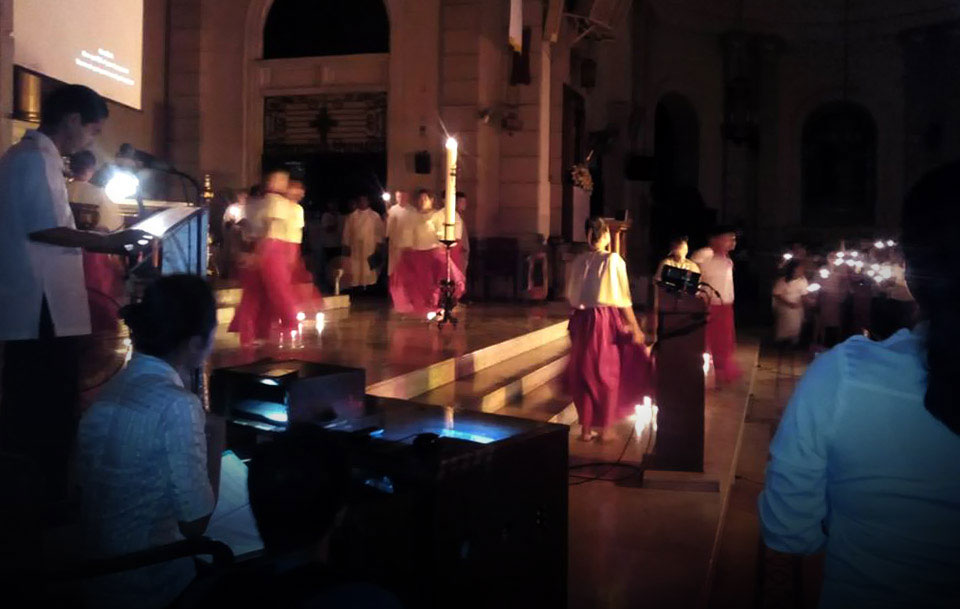 A group of dancers then perform the Pandango sa Ilaw around the Candle as if to say, the Christian community of Malate welcomes the Risen Christ.

The celebration of Christ's Passover from death to life – the Passover of the Christian community – draws powerfully on the rich imagery of the Old Testament Passover stories: the sacrificial lamb, the Passover meal, the passage through the Sea of Reeds, and the entry into the Promised Land.

In the early part of the Vigil the dominant symbol is the Paschal Candle. It is both the 'pillar of fire' that led the people of the old covenant through the wilderness, and the light of the risen Christ that shines in the lives of the people of the new covenant. It is placed in a prominent place in the Sanctuary and is lighted for Liturgical Services during the whole fifty days of Eastertide.

Why is the Easter Vigil the most important celebration in our Christian calendar? Because after joining the disciples in an experience of sorrow and defeat we publicly attest to the foundation of our faith: Christ is Risen!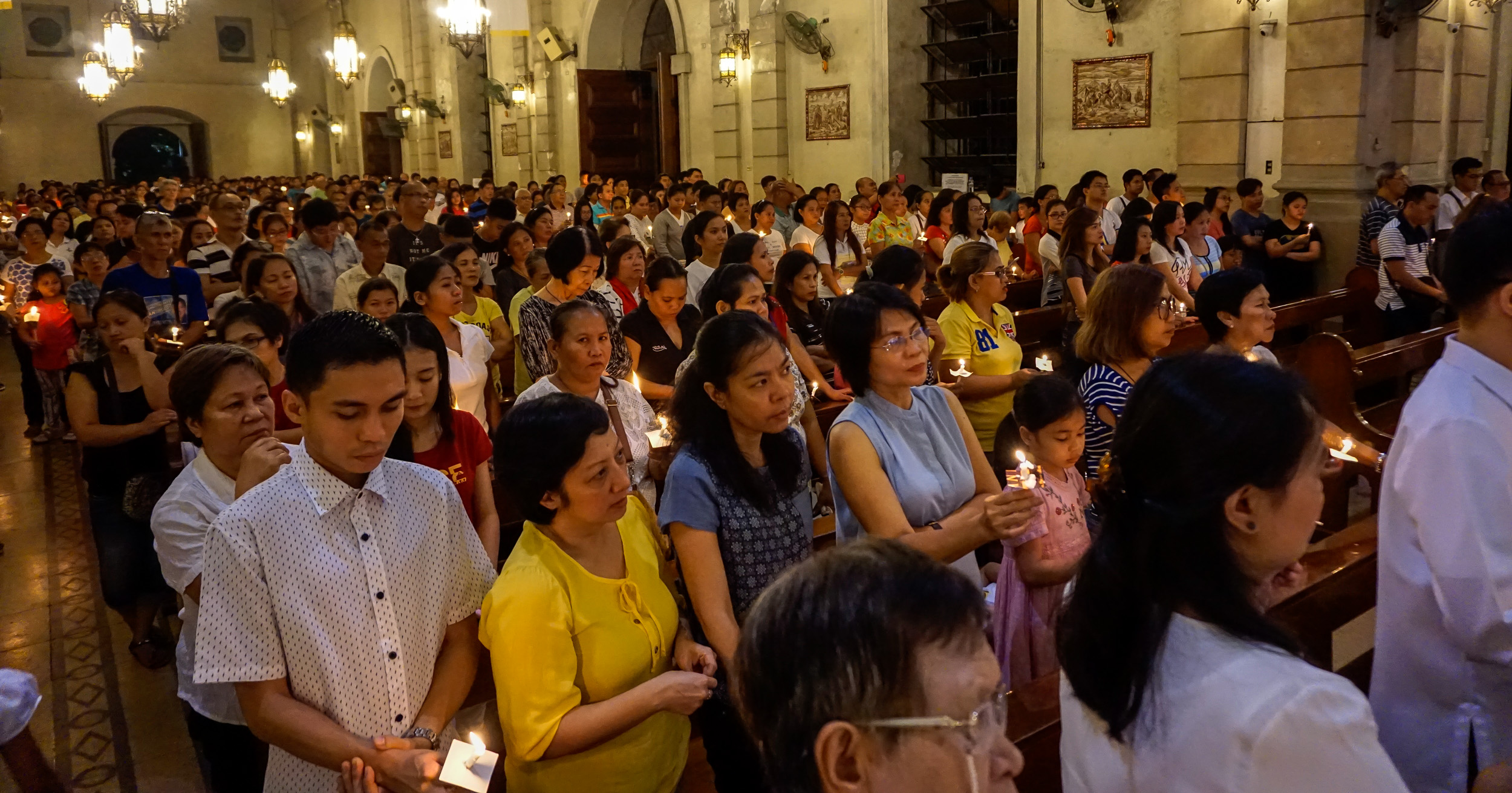 He has conquered all the forces of evil arraigned against him.
By his Death and Resurrection he showed the world that:

Light is stronger than Darkness.
Good is stronger than Evil.
God is more powerful than Satan
Life is stronger than Death!

Jesus opposed the forces of evil in this world and for this he was killed. But this was not the end; Jesus was raised by the Father and is gloriously alive among us today.

It is because of Christ's victory over the forces of evil that we, the baptized, can walk with faith and hope in the newness of life. We can face failure and rejection, persecution, and even death itself knowing that the God of Jesus is also our God who will never desert us.

So, dear readers, with Christians all over the world, let us rejoice during this Easter Season. Christ is risen! Hallelujah! We are Easter People… and 'Alleluia' is our song!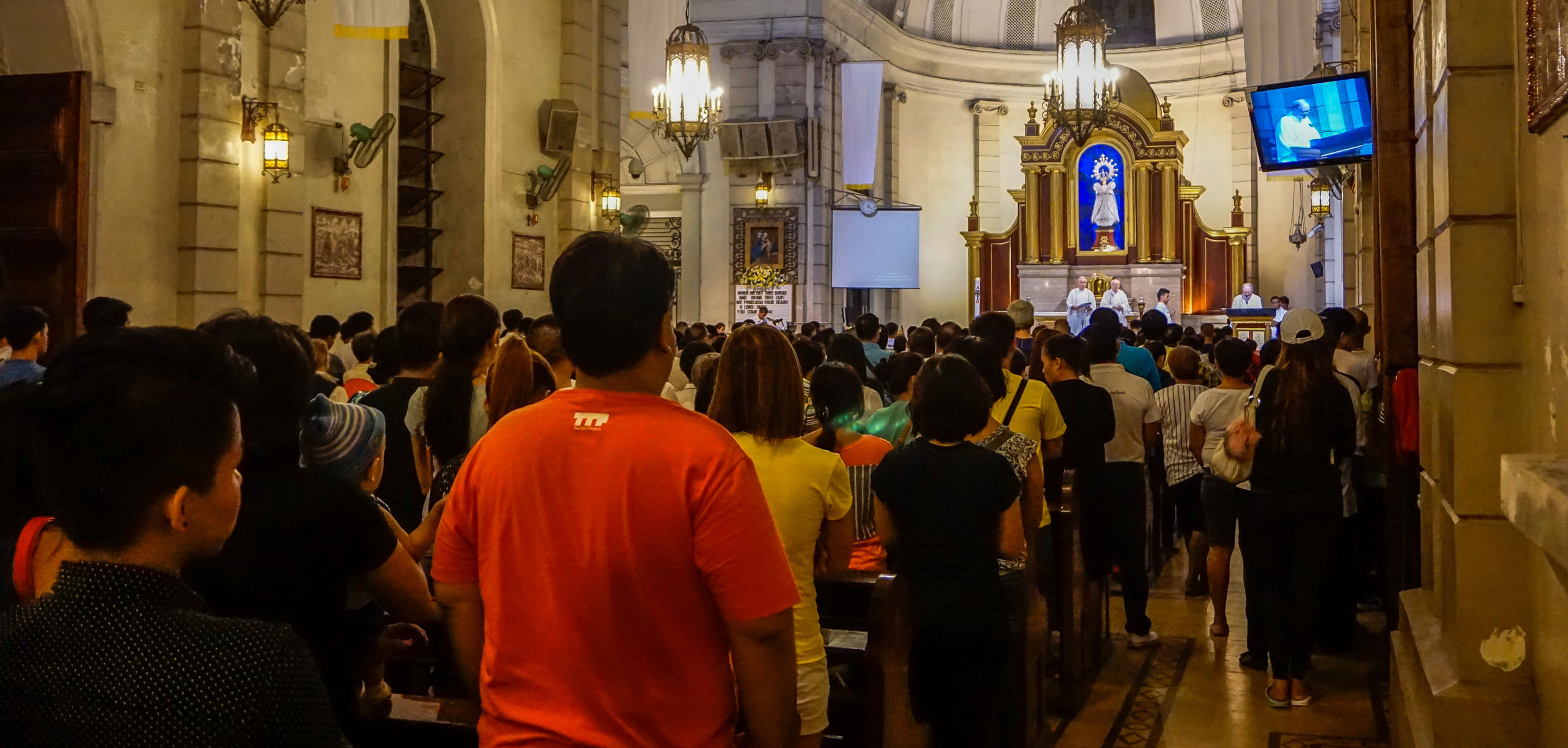 Dust You Are and Unto Dust You Shall Return!
Fr. Kevin McHugh


These are the words you will hear on Ash Wednesday when the Priest or Lay Minister puts ashes on your forehead.

There has been a long custom in our Church to make ashes from palms that were used on the previous Palm Sunday. Ashes are like dust. But what does it mean when we say that we came from the dust of the earth? The Bible does not give us a scientific answer but the Book of Genesis describes the emergence of humanity into our world in this way. "The Lord God formed man from the dust of the ground, and breathed into his nostrils the breath of life; and the man became a living being." (Gen 2:7). We believe that that we have come from Creator God. We are not our own masters. We did not call ourselves into this life. We came from the breath and life of God.

The ashes are reminders of our littleness before God. We are all equal in the sight of God; men and women, young and old, sinner and saint. In themselves, ashes have no value – except in the sight of God. They are nothing but dust. We are nothing without God.

At the beginning of Lent, through the Signing of the forehead with ashes in the form of a Cross, the Church challenges us to take a fresh look at our lives. The message is clear. Don't delay, don't hesitate, now is the time to "Come back to me with all your heart" (Joel 2:12).

What is being asked of you this Lent? Is there something in your life that you need to deal with because you know it is holding you back from wholeheartedly following Jesus? An injury you can't forgive, a jealously that is gnawing at your heart, an anger that is 'eating you up'?

Take time this Lent, even five minutes a day, to sit quietly and look at your life. Ask the Holy Spirit to guide you. The more open and responsive we are to the promptings of the Holy Spirit, the quicker our heart is renewed. "I will give you a new heart and put a new spirit within you. I will remove the heart of stone from your bodies and give you a heart of flesh instead" (Ezek. 36:26).

The penances or little sacrifices we undertake express our desire for this new heart. God works with us and on us in this conversion process, shaping us like the potter forms her clay. How do we compare with those who indeed fasted and prayed but incurred the judgment of God because they neglected that which was far more important - justice? (Is. 58).

True conversion awakens in us a real concern for the plight of others, a determination to fight the causes of injustice, even at great cost to ourselves. "Rend your hearts and not your garments" (Joel 2:12).

Down through the centuries our church, following the Gospel of Ash Wednesday (Matt.1-6, 16-18), encourages us to PRAY, FAST and GIVE ALMS.

In closing I will relate a true story. True, because it happened to me when I was a young boy of 13, a student in a Boarding School for Boys. I 'gave up', that is, I fasted from eating candies for the whole of Lent. Any candies that I received from others I put in a 'supot' and kept for myself. I ate them all on Holy Saturday as I travelled to my home – a four hour journey by bus. I fasted from candies - Good; but I did not share them with others -Bad, Selfish. I had missed the whole point of the exercise. Following the practice of the Death Squad people I should have printed on my T-shirt, DON'T FOLLOW ME!

What are you going to 'give up' or abstain from this Lent? Here are a few suggestions. For children / youth. Depending upon your age you might consider: Cutting down the time on the Computer / Cellphone from 10 hours a day (joke lang) to 1 hour. No drinking of "soft drinks". Limiting yourself to one Snack a day. Offering to help your mother with household chores. Come home from School at the agreed time – it will save you from being scolded, so it is a Win-Win decision. Go to Mass every Sunday during Lent. Befriend someone in school that has few friends.

For Adult men: I will NOT ALLOW other people to make me angry by the way they drive. I will not drink Alcohol….watch inappropriate material on my Computer….. waste time and money in the Casino.

For Mothers. I will spend quality time with my teenage children every Sunday. I will try to convince my family to come together in our home for one meal every Sunday. I will try to minimize the consumption of Water, Electricity, and Plastics in my home.

The Lord is calling all of us to take seriously the words of the Prophet Micah:
"The Lord has shown you what is good.
He has told you what he requires of you.
He wants you to promote justice.
You must love to show mercy.
And you must be humble as you live in the sight of your God." (Micah 6.8.)

Points to ponder:
Do you know of people who would admit that their lives are 'in ashes'?

Do you know people who, though no fault of their own have 'bit the dust of the earth; those who live on the dust of the earth and not in a house, who squat on the bare floor; those who have eked out from the dust just enough to have a small pot of rice for a large family.

There are also those who cry out from the ashes of a broken marriage; or children who suffer from the dust of verbal and physical and sometimes sexual abuse.

We all know people like this so during Lent we are challenged to join the HAPAG-ASA Program of the Archdiocese.



A Woman of No Distinction
By Chris Kinsley & Drew Francis
2007


I am a woman of no distinction
of little importance.
I am a women of no reputation
save that which is bad.

You whisper as I pass by and cast judgmental glances,
Though you don't really take the time to look at me,
Or even get to know me.

For to be known is to be loved,
And to be loved is to be known.
Otherwise what's the point in doing
either one of them in the first place?

I WANT TO BE KNOWN.

I want someone to look at my face
And not just see two eyes, a nose,
a mouth and two ears;
But to see all that I am, and could be
all my hopes, loves and fears.

But that's too much to hope for,
to wish for,
or pray for
So I don't, not anymore.

Now I keep to myself
And by that I mean the pain
that keeps me in my own private jail
The pain that's brought me here
at midday to this well.

To ask for a drink is no big request
but to ask it of me?
A woman unclean, ashamed,
Used and abused
An outcast, a failure
a disappointment, a sinner.

No drink passing from these hands
to your lips could ever be refreshing
Only condemning, as I'm sure you condemn me now
But you don't.

You're a man of no distinction;
Though of the utmost importance.
A man with little reputation, at least so far.

You whisper and tell me to my face
what all those glances have been about, and
You take the time to really look at me.
But don't need to get to know me.

For to be known is to be loved and
To be loved is to be known.

And you know me.
You actually know me;
all of me and everything about me.
Every thought inside and hair on top of my head;
Every hurt stored up, every hope, every dread.

My past and my future, all I am and could be.
You tell me everything,
you tell me about me!

And that which is spoken by another
would bring hate and condemnation.
Coming from you brings love, grace,
mercy, hope and salvation.

I've heard of one to come
who could save a wretch like me
And here in my presence, you say
I AM He.

To be known is to be loved;
And to be loved is to be known.

And I just met you.
But I love you.
I don't know you,
but I want to get to.

Let me run back to town
this is way to much for just me.
There are others: brothers,
sisters, lovers, haters.

The good and the bad, sinners and saints
who should hear what you've told me;
who should see what you've shown me;
who should taste what you gave me;
who should feel how you forgave me.

For to be known is to be loved;
And to be loved is to be known.
And they all need this, too.
We all do
Need it for our own.



I brought a young Filipino priest to his new parish, until then cared for by Columban missionaries.
"How do you like your new assignment?" I asked him when we met a month later.
"Fantastic", he replied, adding a comment which I will never forget:
"The people will convert me – if I let them!"

In 2016, I needed to somehow thank my family and friends whose hearts went out to the survivors of the horrific typhoon that, overnight, killed seven thousand Filipinos.

I put together a small book of short stories about a few of the people who converted and inspired me.
Such people have made me more thankful for the gift of life, the joy of the Gospel, and the call to mission.

I am happy to share a selection on the Malate parish website.


~ Fr. Michael Martin
Columban Missionary


Forgiveness - Elmer Rex
By Fr. Michael Martin
Excerpts from "Walking in Their Light"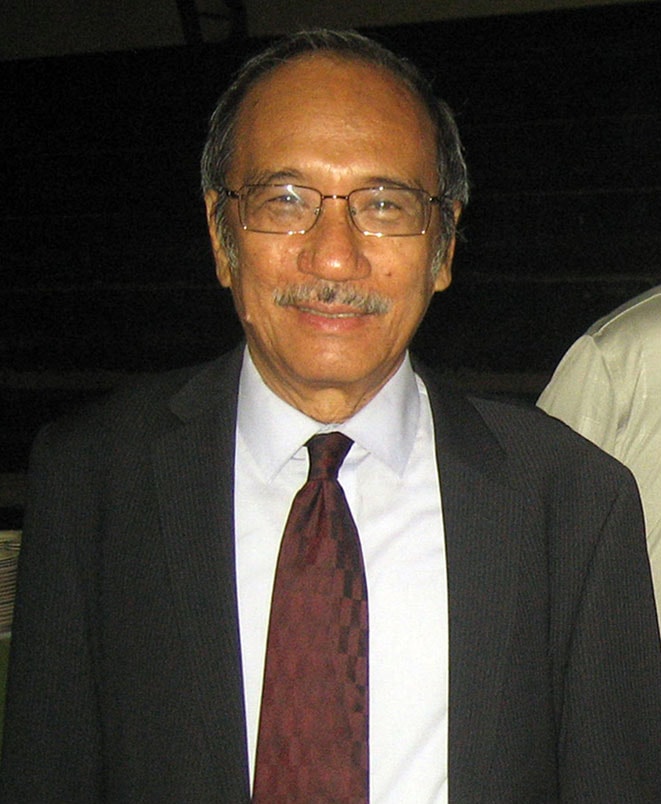 Elmer Rex - This man chose to break the chain of violence.
Going back to Kabankalan, even for a short visit, was a pleasure; I had spent ten years there, it was home away from home.

This time, I was chatting to the relatively new Filipino parish priest, Msgr. Pepe Iledan, when the phone rang. Obviously an emergency, it was a call for him from the local hospital: "Please come over, Elmer Rex has been shot".

In shock, both of us hurriedly got into the nearest vehicle, which was the one I had driven there earlier, and rushed immediately to the town's small, but always busy, hospital. Informed that Elmer was alive and conscious, my companion went straight to him, knowing I would check on other available resources. There were two doctors with Elmer Rex and several nurses were assisting them; he had been shot at close range just above his neck in the back of his head, and they had intervened to limit and stop the bleeding.

The bad news was that the hospital had no X-Ray equipment, and the doctors had no way of knowing what brain damage he might have suffered. We all knew the nearest hospital with proper equipment and specialist doctors was a hundred kilometres away in the city of Bacolod. Kabankalan had its own ambulance, but that had gone off with another patient a short while earlier.

The first good news was that the bullet seemed to be embedded in the skull bone, but obviously treatment was urgent. The immediate available alternative transport was the vehicle I was using, a Toyota HiAce Van. It's usual driver was not with me, so I readily offered to drive, and, within minutes we were on our way, accompanied by a doctor and a few hospital personnel, including Elmer Rex's wife Cecile, who was in fact the head nurse in the hospital.

Elmer Rex and his wife and family were long-time friends. A geologist, he worked for a wealthy enterprising family and in addition, with four young socially conscious town mates, published a local newspaper. Their paper was special; it promoted transparency and accountability, and exposed anomalies.

Politically, Elmer represented those who were most dedicated to social change; he was a friend and adviser to the Church-supported organizers of sugar cane workers and small settler farmers in the hills. He was actually walking towards the office of a Church-sponsored group working with detainees when he was shot from behind, at almost point blank range. He was seen as a threat by some of those entrenched in power. His wife had recently been attacked by a man wielding a knife, so they had been warned.

The result of our mad rush to the city was that Elmer Rex got to the hospital, got an x-ray, was properly treated, and fully recovered. The bullet which was intended to destroy him was a .45 calibre, and it lodged in the skull bone – at its hardest and thickest point - at the back of his head. The surgeon said that the bullet was within a fraction of a millimetre from reaching his brain. He was a lucky man to be alive.

Looking back, the fact that the engine of our HiAce vehicle died out as we entered the city, and we had to transfer all our load to a local shuttle bus, is of little significance to the story – but it did not seem like that to us at the time when we were rushing a seriously injured friend for emergency surgery and treatment.

Elmer, Cecile, and their three children later emigrated to the U.S.A., and brought with them their talents, their love of the Philippines, and their faith. Over the years, we Columbans enjoyed visiting them as friends and seeing their lives as a blessing to many.

In recalling the past, pain is unavoidable, but their forgiveness of those who attacked them stands out. "How can we call ourselves Christians if we get caught up in a chain of violence and retaliation?" the family reflected, "Someone has to stop the cycle of violence." Elmer vividly remembers the shot that was meant to silence him, and says "I prayed for life, I prayed that I would continue to be a voice that would denounce the injustice which breeds violence.

God has given me a voice and extra time so that somehow, wherever we are, we will be life-giving, and forgiving."

Life-giving, yes indeed; forgiving, certainly; light giving, absolutely.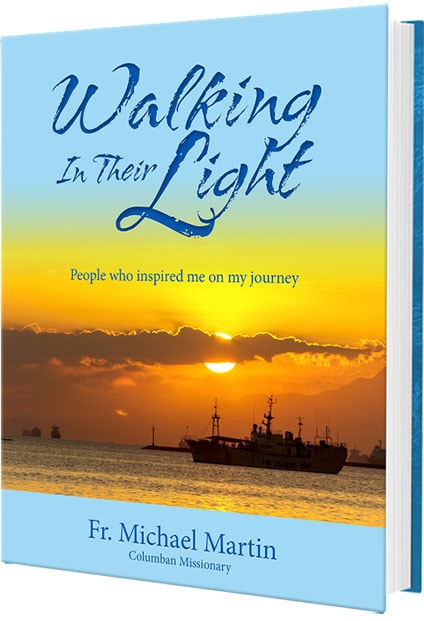 This material is protected by copyright. For more information please write to walkingintheirlight@gmail.com



Advent with Mary
By Sr. Redempta Twomey
December 6, 2016


Advent is the gentlest of times. It is Mary's time and your time and the time when, if you open your heart, you will be aware of a quiet, persistent call underlying all the hard and harsh and difficult things in your life. You are being asked to let go of your very real anxieties, your recurring fears and to trust in the mystery of this time. It takes a good deal of courage and commitment to stay waiting with Mary.

She has so many ways of being present to us, but it is especially in Advent that we meet Mary as one who understands our vulnerability, the terrible fragility of our being human. A young woman, pregnant and with little support, she knows the road we walk. Here she is in the final weeks of her pregnancy, tired from the long journey to Bethlehem, among strangers, alone with poor, anxious Joseph. No angel now. No Elizabeth to help her.

St Paul has written of this great mystery of the Incarnation, 'hidden from all eternity'; saints have exulted in the glory of this unassuming woman; artists have painted her on a thousand canvases, made sculptures, composed great music to honor her. We recognize her as "the highest honor of our race."

But what did Mary know in those final weeks of her pregnancy? What did she have to sustain her, to comfort her at this critical time when the birth of the infant in her womb was imminent? The bleakness and poverty of her surroundings - like so many back alleys, refugee camps or shacks today - were a far cry from the angel's stirring words, the promise of "the throne of David his father" (Lk 1:32). She didn't understand; she reflected over and over on her situation. Regardless of the extraordinary circumstances, of there being 'no room at the inn', of her being without her kin at this most crucial time in a young woman's life, of being far from home and from all that was familiar, she first of all and above all, trusted in God's word to her. She believed. This is what Elizabeth saw and what she sang out so that we, down the centuries, could look at Mary and join in this great song: "Blessed is she who believed" (Lk 1:45).

We can take stock of our lives, often bleak, often anxious, littered with broken promises, with failures and betrayals. It may be that we have no one to help us, no friend to turn to, no hope for the future. Mary knows our situation, understands us like a mother and will help us to believe in God's promises, even as she did. Wait with her this Advent, trust her; she will bring you to her Son.

"Following her, you will never go astray. Asking her help you will never despair. Keeping her in your thoughts, you will never wander away. With your hand in hers, you will never stumble. With Mary protecting you, you will not be afraid. With Mary leading you, you will never tire. Her kindness will see you through to the end." (St Bernard).

Columban Sr. Redempta Twomey is the Assistant Editor of The Far East Magazine in Ireland.




Self-confessed Sinners
By Fr. Kevin McHugh, MSSC



It is over 30 years ago since I heard the story about an Indian Jesuit priest who conducted a Retreat for a group of Religious Sisters here in Manila. One of the statements that helped change my life and my ministry was this. God loves us before we sin, while we are sinning and after we have sinned. And therefore, God forgives us before we sin, while we are sinning and especially after we have sinned. I have tried to apply all this to myself and find that while I believe in my head that this is true, I still find the need to confess my sins…. to "go to confession".

As a Confessor, I have shared this insight with those penitents who had been away from Confession for many years and were carrying a heavy load of guilt. The fear, the doubt that they could ever be forgiven had prevented them from plucking up the courage to go to confession. To know that they had already been forgiven by a merciful God was great news for them; they could now lay down their heavy burden since there was no need to carry it any further.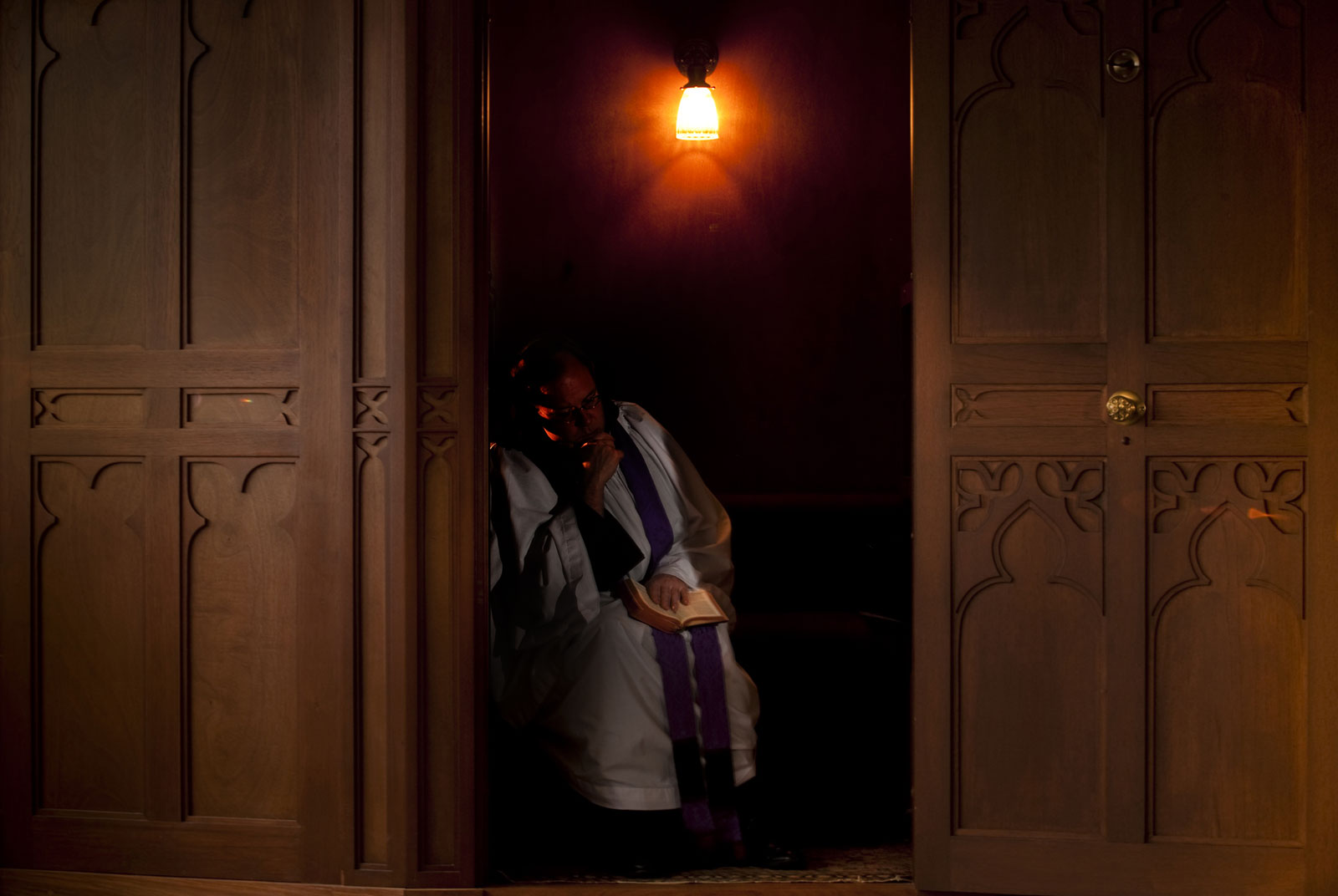 Recently, I chanced to read an article by the late Dominican Theologian, Fr. Herbert McCabe, which gave me additional assurance that what I had been sharing with penitents over the years was accepted Catholic teaching. In Self-Confessed Sinners McCabe says: "When you come to confession, to make a ritual proclamation of your sin…. you are not coming in order to have your sins forgiven…… you come to celebrate that your sins are already forgiven".

To emphasize his point, McCabe says in another place: "You are not forgiven because you confess your sin. You confess your sin because you are forgiven".

Most of us have the mistaken notion that we have to "earn" God's mercy. We have to plead for it, otherwise it will not be granted.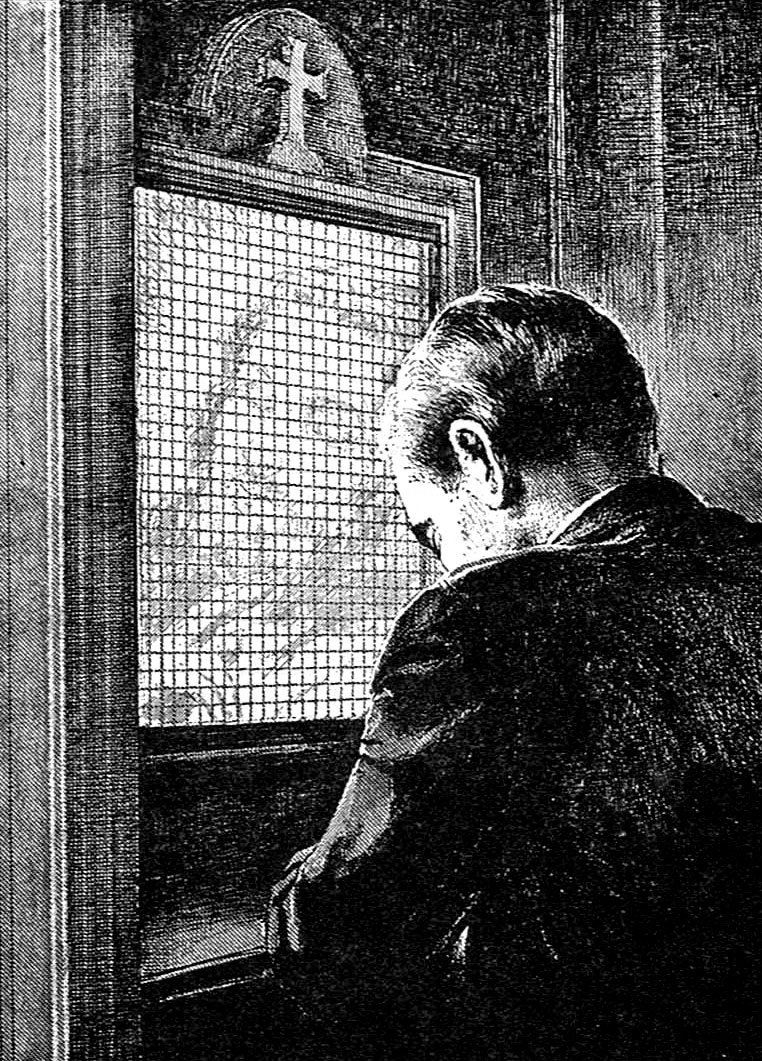 McCabe continues, "Never be deluded into thinking that if you have contrition, if you are sorry for your sins, God will come and forgive you – that he will be touched by your appeal, change his mind about you and forgive you. Wrong thinking! God never changes his mind about you. He is simply in love with you. This is all the real God ever does, because God, the real God, is just helplessly and hopelessly in love with us. He is unconditionally in love with us". "God's love for us doesn't depend on what we do… or what we are like. God doesn't care whether we are sinners or not. It makes no difference to him. He is just waiting to welcome us with joy and love."

The three parables of Jesus as relayed in Chapter 15 of St Luke's Gospel underline this basic truth about God. All three have similar endings. They describe how an ordinary Housekeeper, a conscientious shepherd and a prodigal father insist on a feast to celebrate that what was lost has been found.

In the Opening Prayer that we occasionally use at Mass here in Malate, we pray:

"What do you look like, O God of compassion?
A shepherd who carries home the lost sheep:
a woman who sweeps the whole house to find a single coin:
a father who never gives up hope that the child who hurt him
will come home to be loved.
So in Jesus you have come searching for us -
and when you find us, you welcome us with open arms
May we never forget how much we are loved.
May we never refuse to love others as much.
We ask this through Christ our Lord. AMEN".

In this YEAR OF MERCY, may we all take to heart the advice of Pope Francis and approach the Sacrament of Reconciliation because we know that we have already been forgiven by a loving, merciful God.



Pope Francis' homily at the Mass of the Easter Vigil


"Peter ran to the tomb." (Lk 24:12) What thoughts crossed Peter's mind and stirred his heart as he ran to the tomb? The Gospel tells us that the eleven, including Peter, had not believed the testimony of the women, their Easter proclamation. Quite the contrary, "these words seemed to them an idle tale" (v. 11). Thus there was doubt in Peter's heart, together with many other worries: sadness at the death of the beloved Master and disillusionment for having denied him three times during his Passion.

There is, however, something which signals a change in him: after listening to the women and refusing to believe them, "Peter rose" (v. 12). He did not remain sedentary, in thought; he did not stay at home as the others did. He did not succumb to the sombre atmosphere of those days, nor was he overwhelmed by his doubts. He was not consumed by remorse, fear or the continuous gossip that leads nowhere. He was looking for Jesus, not himself. He preferred the path of encounter and trust. And so, he got up, just as he was, and ran towards the tomb from where he would return "amazed" (v. 12). This marked the beginning of Peter's resurrection, the resurrection of his heart. Without giving in to sadness or darkness, he made room for hope: he allowed the light of God to enter into his heart, without smothering it.

The women too, who had gone out early in the morning to perform a work of mercy, taking the perfumed ointments to the tomb, had the same experience. They were "frightened and bowed their faces", and yet they were deeply affected by the words of the angel: "Why do you seek the living among the dead?" (v. 5).

We, like Peter and the women, cannot discover life by being sad, bereft of hope. Let us not stay imprisoned within ourselves, but let us break open our sealed tombs to the Lord so that he may enter and grant us life. Let us give him the stones of our rancour and the boulders of our past, those heavy burdens of our weaknesses and falls. Christ wants to come and take us by the hand to bring us out of our anguish. This is the first stone to be moved aside this night: the lack of hope which imprisons us within ourselves. May the Lord free us from this trap, from being Christians without hope, who live as if the Lord were not risen, as if our problems were the centre of our lives.

We see and will continue to see problems both within and without. They will always be there. But tonight it is important to shed the light of the Risen Lord upon our problems, and in a certain sense, to "evangelize" them. Let us not allow darkness and fear to distract us and control us; we must cry out to them: the Lord "is not here, but has risen!" (v. 6). He is our greatest joy; he is always at our side and will never let us down.

This is the foundation of our hope, which is not mere optimism, nor a psychological attitude or desire to be courageous. Christian hope is a gift that God gives us if we come out of ourselves and open our hearts to him. This hope does not disappoint us because the Holy Spirit has been poured into our hearts (cf. Rom 5:5). The Paraclete does not make everything look appealing. He does not remove evil with a magic wand. But he pours into us the vitality of life, which is not the absence of problems, but the certainty of being loved and always forgiven by Christ, who for us has conquered sin, death and fear. Today is the celebration of our hope, the celebration of this truth: nothing and no one will ever be able to separate us from his love (cf. Rom 8:39).

The Lord is alive and wants to be sought among the living. After having found him, each person is sent out by him to announce the Easter message, to awaken and resurrect hope in hearts burdened by sadness, in those who struggle to find meaning in life. There is so necessary today. However, we must not proclaim ourselves. Rather, as joyful servants of hope, we must announce the Risen One by our lives and by our love; otherwise we will be only an international organization full of followers and good rules, yet incapable of offering the hope for which the world longs.

How can we strengthen our hope? The liturgy of this night offers some guidance. It teaches us to remember the works of God. The readings describe God's faithfulness, the history of his love towards us. The living word of God is able to involve us in this history of love, nourishing our hope and renewing our joy. The Gospel also reminds us of this: in order to kindle hope in the hearts of the women, the angel tells them: "Remember what [Jesus] told you" (v. 6). Let us not forget his words and his works, otherwise we will lose hope. Let us instead remember the Lord, his goodness and his life-giving words which have touched us. Let us remember them and make them ours, to be sentinels of the morning who know how to help others see the signs of the Risen Lord.

Dear brothers and sisters, Christ is risen! Let us open our hearts to hope and go forth. May the memory of his works and his words be the bright star which directs our steps in the ways of faith towards the Easter that will have no end.

http://www.news.va/en/news/pope-at-easter-vigil-urges-us-to-let-risen-christ